Quick Summary
CyberTrade and Sidus Heroes announced a partnership in order to connect communities and make the metaverse industry a better place for everyone. Let's change the world for the better together.
If you read NFT World News regularly, you should see us reviewing gaming projects on a daily basis. We wrote about Sidus Heroes and CyberTrade here and now we found out these huge gaming projects just announced a partnership. What does it mean? Let's find out!
you might wanna read this: NFT Punks Also Succeeded On Solana Blockchain
CyberTrade x Sidus Heroes Partnership
Both projects are well established in the metaverse gaming sphere and they decided to partner up to support each other instead of competing against each other. This partnership should connect communities of similarly-minded people and they claim it will offer more opportunities in the upcoming months.
CyberTrade received almost 200k pre-registrations for its Alpha Test. Pre-register too here!
The metaverse industry is only in its beginnings, so CyberTrade and Sidus Heroes decided to work on it together and make it a better place for everyone. It's true that many companies are digging into the metaverse industry but it's not that simple. however, these two successful projects have great ideas, skilled people, and funds to deliver the results they plan out.
Sidus Heroes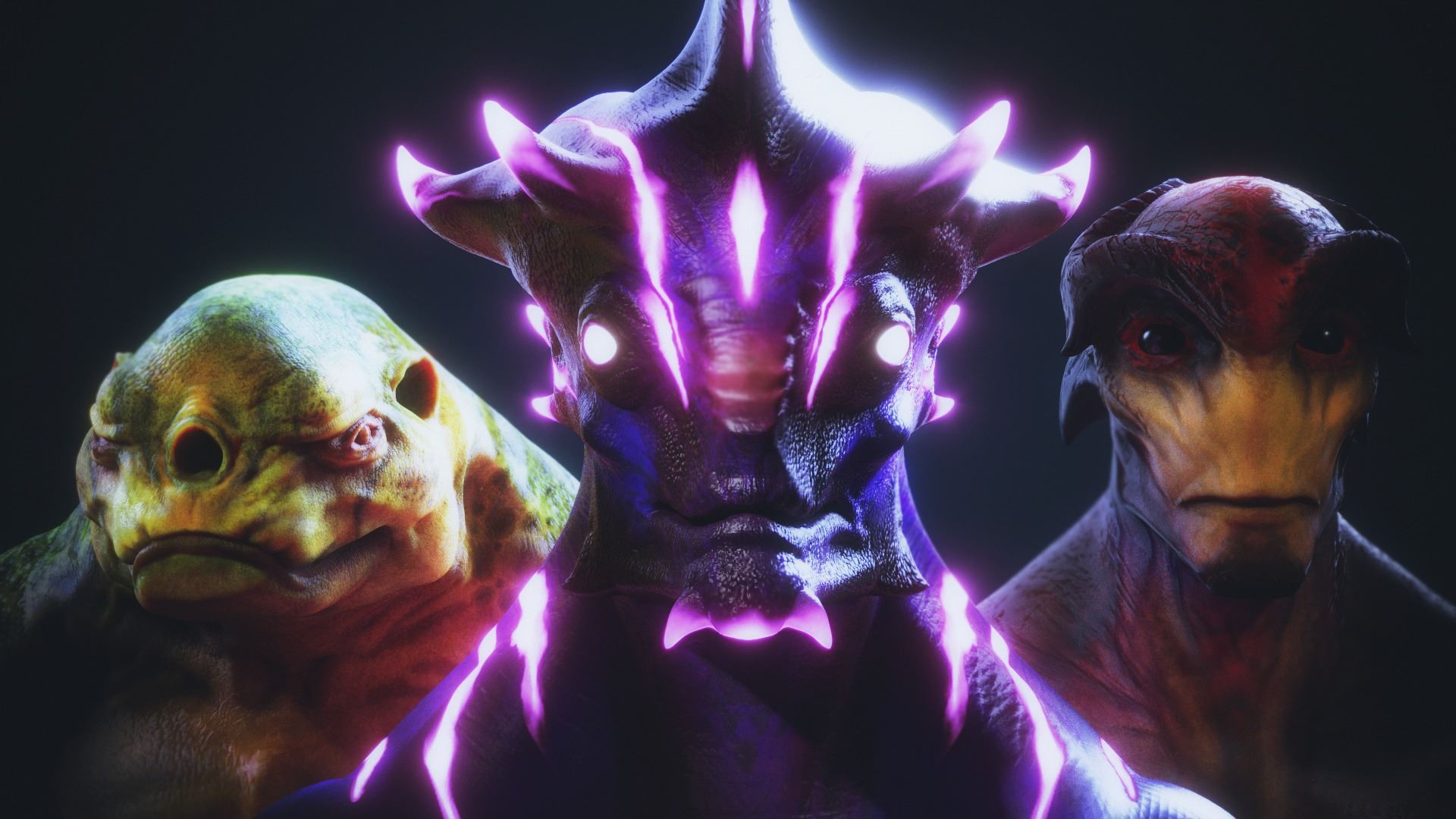 Sidus Heroes did its NFT sale and Alpha Test of the game at the end of 2021 with a sale of their two tokens – SIDUS and SENATE. There's a trading volume of 2.3k ETH on Sidus Heroes' NFTs on Opensea till this day with a 0.37 ETH floor price.
The main token SIDUS had an initial DEX offering (IDO) in December 2021 at a price of $0.0018 per one token. In just a few weeks' time, the SIDUS token grew by 10,000% and now it's around $0.096 with a $53 million market cap. There's a total supply of 30,000,000,000 SIDUS tokens (only 2% are circulating) and SIDUS is listed on listed only on a few exchanges (Gate, Uniswap, Hoo) at the moment, but future listings are very possible and they could be the drivers behind another price surge of the token.
Another important token of Sidus Heroes SENATE launched at a price of $0.18 for one token and it quickly grew to $5.7. Now it's around $3.14 with an $18.5 million market cap. There are only 300,000,000 SENATE tokens in total which is 1% of the SIDUS token supply. The token is listed on the same exchanges as SIDUS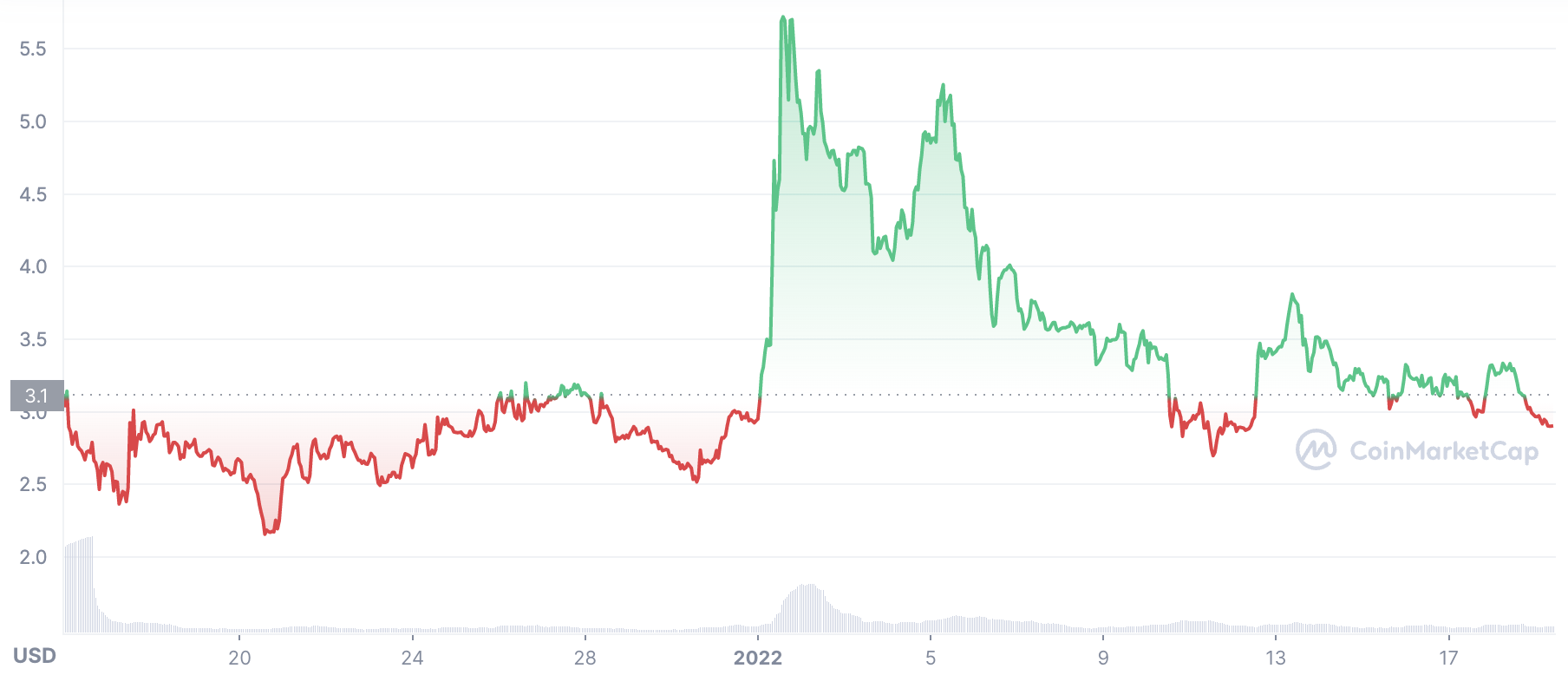 All of these events were very successful and helped Sidus Heroes to present its project to the world. Now there's a Beta version of the game to be launched soon and new milestones to be achieved in the upcoming months.
CyberTrade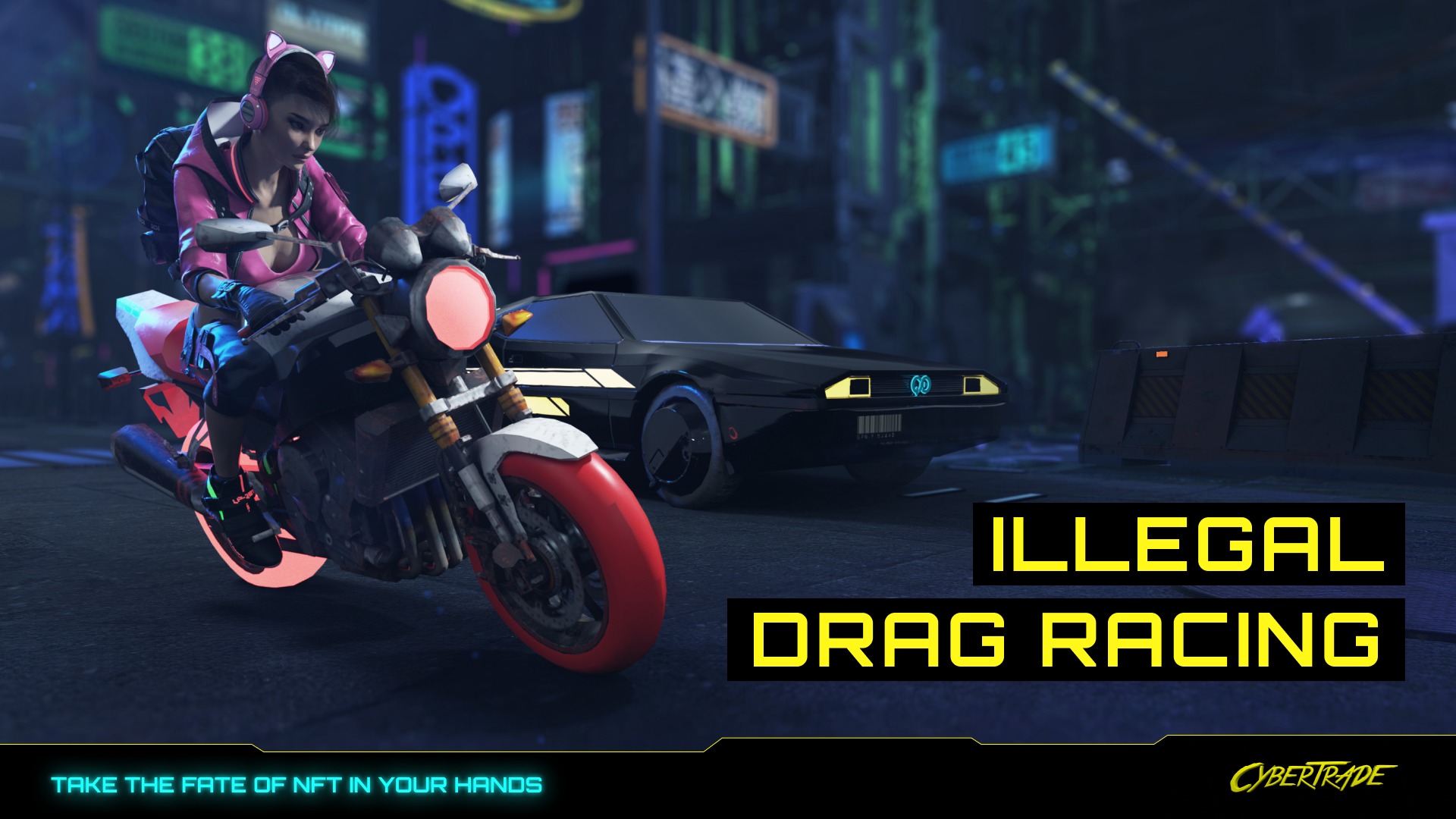 CyberTrade also hosted an NFT sale that sold out through Binance (1,500 NFTs for 199 BUSD) within a few seconds and the second NFT sale is coming on OKEX on January 21 (12:00 UTC), 2022! It will include 1,500 different NFTs consisting of vehicles, fighters and bosses you can use to explore Metropolit and earn $CCASH.
The Alpha Test of phase 1, called Illegal Drag Races, will launch soon and it'll be available for all the early NFT holders. There are rumors that CyberTrade will offer interoperable NFTs which is important in today's market ever-changing conditions and all the NFT vehicles will have crazy-looking futuristic designs like in the picture shown below!
Fighting Games will be available as another phase after Drag Races, and the last phase 3 Crypto Citizen should be launched later this year. Crypto Citizen will offer an amazing open-world metaverse experience with a buildable environment.
There's also a public sale of the CyberTrade's in-game token $CCASH on several platforms – Polkastarter, Firestarter and Seedify. Moreover, there has been a private allocation of $CCASH that got full within several hours. Will $CCASH be another 100x token? We'll see in the upcoming weeks.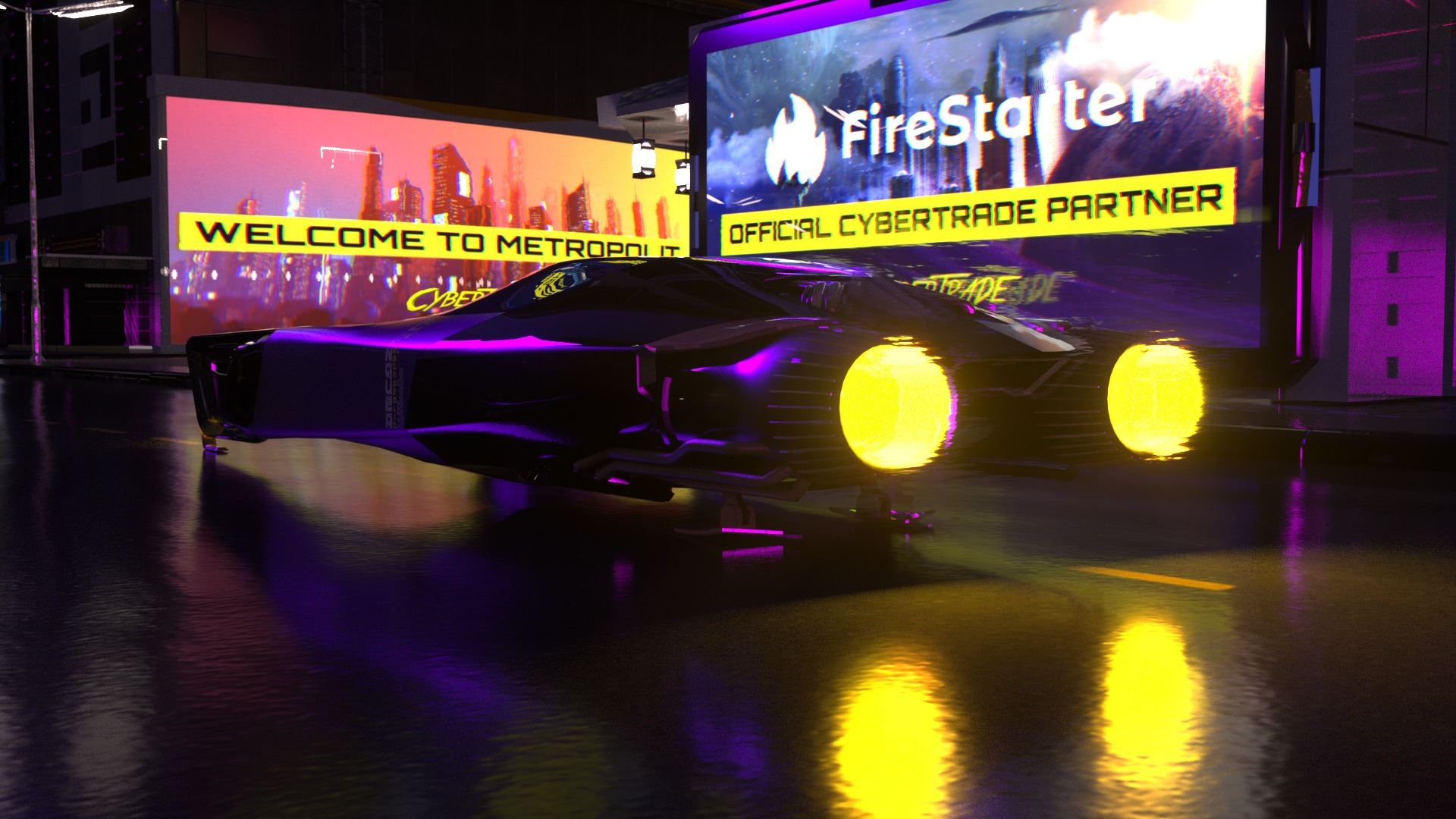 Conclusion
It's great to see that companies and projects don't just compete but actually cooperate and choose to see the bigger picture. The metaverse industry with P2E gaming will change our world forever and companies should work as much as they can to deliver the most beneficial results for all the potential users. Let's see if CyberTrade and Sidus Heroes can help shape this industry for the better.
---
About CyberTrade
CyberTrade is an NFT based game built in full 3D Unity engine with its own Metaverse. CyberTrade is MMO RPG with AAA-level experience and a play-to-earn model. The game mainly consists of Illegal Drag Races, Fighting Games (PvP) and Crypto Citizen (open world Metaverse). Dominate the city of Metropolit with your crime syndicate and become the Boss of all Bosses!
CyberTrade Web | CyberTrade Metaverse | CCASH Web | CT Twitter | CT Telegram | CT Discord |CT Instagram
About SIDUS HEROES
SIDUS HEROES is the first-ever WebGL, AAA-level, Play-to-Earn, NFT and MMO RPG game. The game is set in a space metaverse at a time when technological advancements have reached the level of merging with all living beings.
SIDUS HEROES provides users with multiple gaming scenarios: interstellar exploration, battles and settlements, as well as scope for political, social and economic development. The game relies on a closed economic system based on a limited emission of resources. It incorporates a 'play-to-earn' model into all in-game items and has a two-token-based system.
Learn more about SIDUS HEROES by going to its official social media pages: Website | Twitter |Discord | Reddit | Telegram & Medium and get a taste of the metaverse by playing the demo game at https://play.sidusheroes.com.
more to read
3 Most Anticipated NFT-Crypto Projects In 2022 (part 3)
These NFT Ducks Cost More Than Your Paycheck
---
NFT World News Social Media: Twitter, Instagram, Telegram, Tiktok, Youtube
---
sources: medium, coinmarketcap, binancenft, twitter
author: Rene Remsik
Disclaimer: This article is provided for informational purposes only. It is not offered or intended to be used as legal, tax, investment, financial, or other advice.