Quick Summary
The three most anticipated NFT-crypto metaverse projects for this year are SYN CITY, SIDUS HEROES and Crypto Citizen (CyberTrade). All of these projects have great gaming concepts, partners and prominent investors.
P2E Gaming with non-fungible tokens (NFTs) has seen the biggest rise and interest in 2021. Many gaming studios see the potential in this newly created industry and want to join as soon as possible. SYN CITY, SIDUS HEROES, and Crypto Citizen are one of the latest projects that got the attention of the public and look very promising. Let's have a look at them.
related: The Biggest NFT Events of 2021
SYN CITY – The First Mafia Metaverse
SYN CITY is the first-ever Mafia Metaverse. The Mafia is simply nothing without its members, and for that reason, they created the revolutionary MAFIA as a DAO – MaaD system. Players can grind in daily events, PvE, PvP, and Syndicate events such as cross-chain Mafia wars. You can join a syndicate and run businesses, tax your underlings and pay tribute to your bosses.
SYN CITY is an action-adventure play-to-earn (P2E) role-playing game (RPG) in which the players acquire, manage, trade, and expand members of their syndicate. Climbing to the top of SYN CITY won't be easy, but it will be lucrative and fun! Build up your crew and take on other player crews to earn reputation and currency with server-authoritative and replayable battles.
Become the boss and take control of turf, businesses while looting and raiding other syndicates to expand your empire. Strategize to build a ruthless empire backed by a gritty syndicate of peers, friends, and enemies alike.
Token Information (SYN)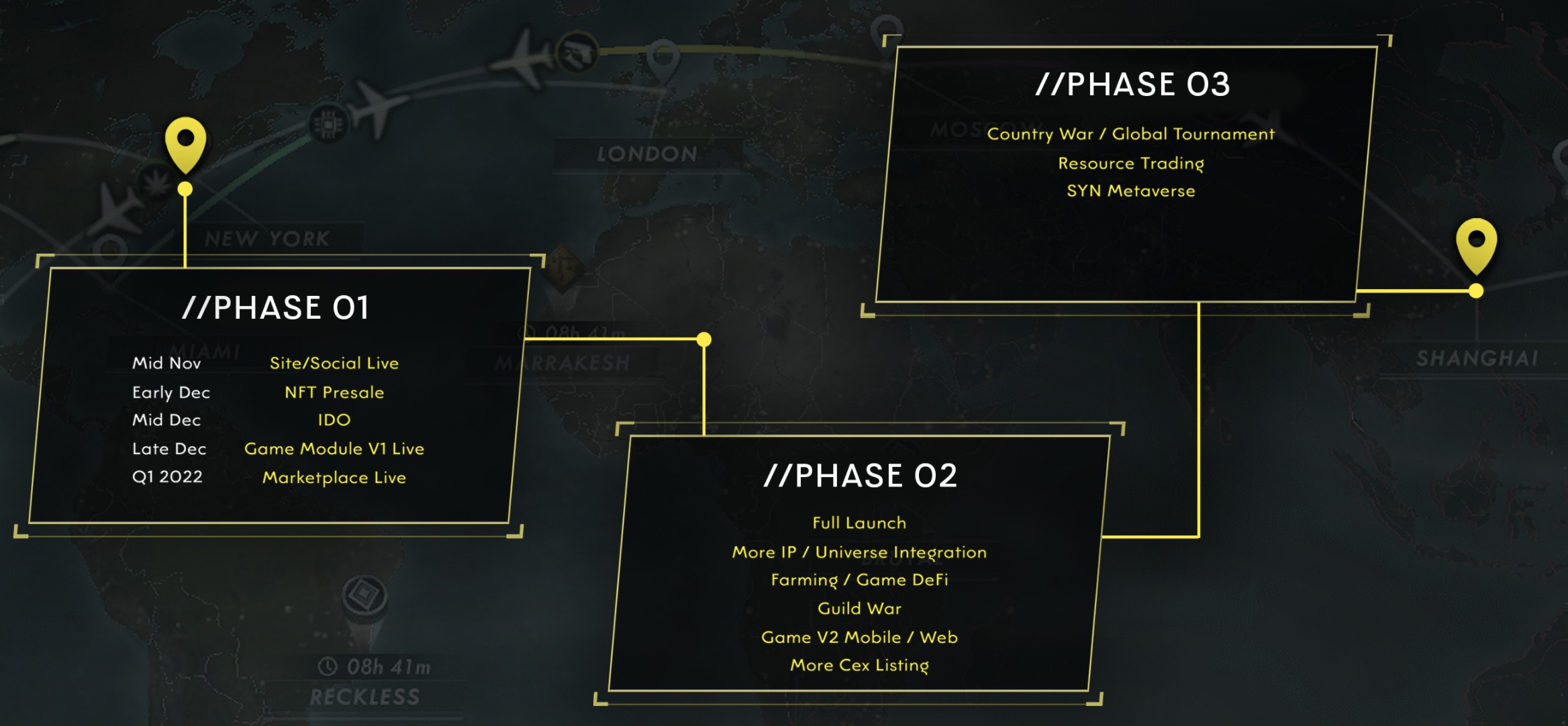 SYN CITY's IDO is planned for January 7, with an IDO price of $0.02 and a fundraising goal of $500,000. Their token is SYN and there will be 25,000,000 of them available on the IDO through the Polkastarter platform.
Partners & Plans
SYN CITY has prominent investors and partners, such as Spartan Group, Shima Capital, iAngels, Animoca Brands, Justin Kan, Robin Chan, Alex Pack, Do Kwon, Paul Menchov, etc. This project is also planning to release staking, governance information very soon. Moreover, SYN CITY will have its own marketplace available on its website.
2. SIDUS HEROES – Space Metaverse
SIDUS HEROES is the first-ever WebGL, AAA-level, Play-to-Earn, NFT, and MMORPG game that is set in a space metaverse at a time when technological advancements have reached the level of merging with all living beings. Every Hero belongs to one of several blockchain races and embodies that chain's strongest attributes. The game provides users with multiple gaming scenarios: interstellar exploration, battles and settlements, as well as providing scope for political, social and economic development.
SIDUS transports players to a world based on crypto and blockchain philosophy in which a major technological transformation has taken place. All living beings in SIDUS have become one with technology. Their characters, features and outlook on life have been predetermined by the tech race they were born into. Inhabited by creatures striving for excellence and power, SIDUS has turned into a war-torn universe, full of chaos and endless clashes.
The game offers several options for its players, such as competing in the battle arena (PvE or PvP), tournaments and fighting legions. Players can also farm and mine resources or craft and build infrastructure. You will also have a chance to be a part of politics in the SIDUS universe or master a certain in-game profession (scientist, engineer, pilot, etc.).
Token Information (SIDUS)
This project had a very successful IDO that happened on December 15th, 2021. There are two tokens that SIDUS HEROES created – SENATE and SIDUS. The IDO happened on 7 platforms: BLOKPAD, Ignition, TrustPad, SpaceSwap, Red Kite, GameFi and Seedify. The starting prices for tokens were set at $0.18 for the SENATE and $0.0018 for the SIDUS. Now, SENATE is valued at around $4.7 and SIDUS at $0.148.
3. Crypto Citizen (CyberTrade)
CyberTrade is a play-and-earn Metaverse game with a futuristic-looking city of Metropolit that's waiting for people like you to conquer it. The city of Metropolit has been taken over by big corporations after a technological revolution and increased poverty pushed many people on the streets. CyberTrade will contain two games from the start – illegal drag races and fighting games PvP (Phase 1&2). The final Phase 3 will be a complete metaverse called Crypto Citizen.
Crypto Citizen Explained
Crypto Citizen is Phase 3 with a massive multiplayer online RPG, where players become citizens of the Metropolit city. It will contain a complete in-game ecosystem, where you can do all kinds of exciting things. You only need 1 character to start playing this game. Crypto Citizen will offer an open world next-gen AAA Sandbox gaming experience where players progress from poor suburbs all the way to the downtown of Metropolit.
Besides the three main components of the game (drag races, fighting games & Crypto Citizen), Metropolit will allow you to gather NFTs from bosses, collect resident taxes, and stake or hodl $CCASH. This cryptocurrency will allow you to live in CyberTrade and buy lands, construct buildings, control factories, conduct financial services, or simply drive the best cars.
Token Information ($CCASH)
The game has its in-game cryptocurrency called CyberCash ($CCASH) that represents a currency of the future in the city of Metropolit. One of the notable long-term positive utilities of the token is its deflationary effect caused by burning tokens in the execution of all transactions that bring revenue to the game. CyberTrade supports long-term token price development by performing buybacks at a market price of 50% of the value of primary sales. Moreover, long-term holders can utilize various staking programs to lock token liquidity and participate in NFT land sales.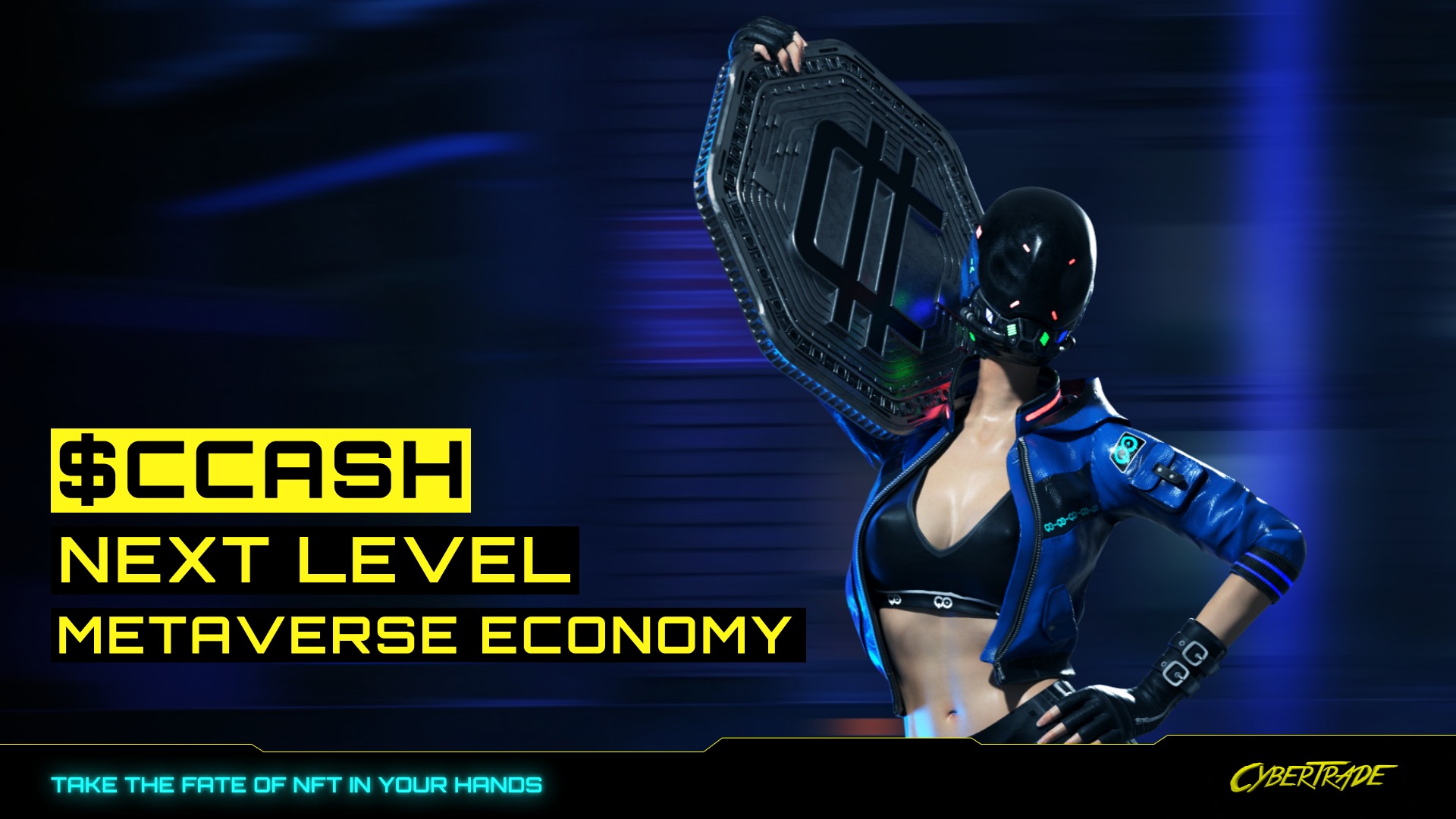 $CCASH will have an IDO on Polkastarter and other similar platforms, besides its private sale allocation running right now. The goal is to raise $650,000 on public sale at $0.07 per one $CCASH. There are 15,000,000 tokens available for public sale on Binance Smart Chain (BSC) network. If you participate in a private sale, the price for one token is $0.05.
Conclusion
All of these three projects are certainly one of the great upcoming gaming projects out there right now, with big investors, experienced founders and partners onboard. Moreover, these projects have very big communities. That's why we expect their launch to be successful and their token may do many X returns in a short period.
more to read
Ray Dalio Is Impressed By Bitcoin
Utility Is Essential In The Fashion NFTs
---
NFT World News Social Media: Twitter, Instagram, Telegram, Tiktok, Youtube
---
sources: binance, coinmarketcap, medium, nftworldnews,sidusheroes
author: Rene Remsik
Disclaimer: This article is provided for informational purposes only. It is not offered or intended to be used as legal, tax, investment, financial, or other advice.