Quick Summary
Metaverse is becoming inevitable in our world and there are several leading companies in this sphere right now. They are Metahero, Wilder World, Cryptovoxels, NetVRk and Trade Race Manager 2. Who will build the best metaverse?
If you missed the second part, read it here.
Metaverse will transform gaming and other areas of our lives forever. There are several companies that already work on creating the best metaverse. But who will be the most successful? Everyone is talking mainly about Sandbox and Decentraland, however, there are other interesting metaverse projects that you should know about. These might be in the early stages with a low market cap but they offer huge potential rewards and profits.
this might interest you: Kalao – Perfect Combination of NFTs & VR
Metahero
Metahero allows 3D scanning and modeling technology that generates ultra-realistic 3D avatars and virtual items to be used across games, virtual reality (VR), social media, and online fashion. The tech also allows the creation of non-fungible tokens (NFTs) from real-world works of art and collectibles.
Metahero has partnered with the world leader in 3D scanning: Wolf Studio. Their cutting-edge technology was extensively tested and used by big industry names; Most recently, CD Projekt created characters for their hot new release, CyberPunk 2077.
Metahero is merging this powerful tech with a marketplace and a deflationary token-based ecosystem to offer users, gamers, artists, and entrepreneurs direct access to virtual opportunities of the future. Wolf Studios' genius and next-generation technology coupled with our expertise in building tech startups from the bottom up will make Metahero one of the hottest projects of 2021/2022.
Metahero has a token HERO that was launched at the beginning of July 2021 at a price of less than $0.01, and now the price is around $0.23. This token was able to increase more than 2,500% in value in a matter of a few months and now the market cap is little more than $1.1 billion. The max supply of tokens is set at 10,000,000,000. It can be traded on exchanges such as Kucoin, Gate, Pancakeswap, and the trading volume on HERO is very high.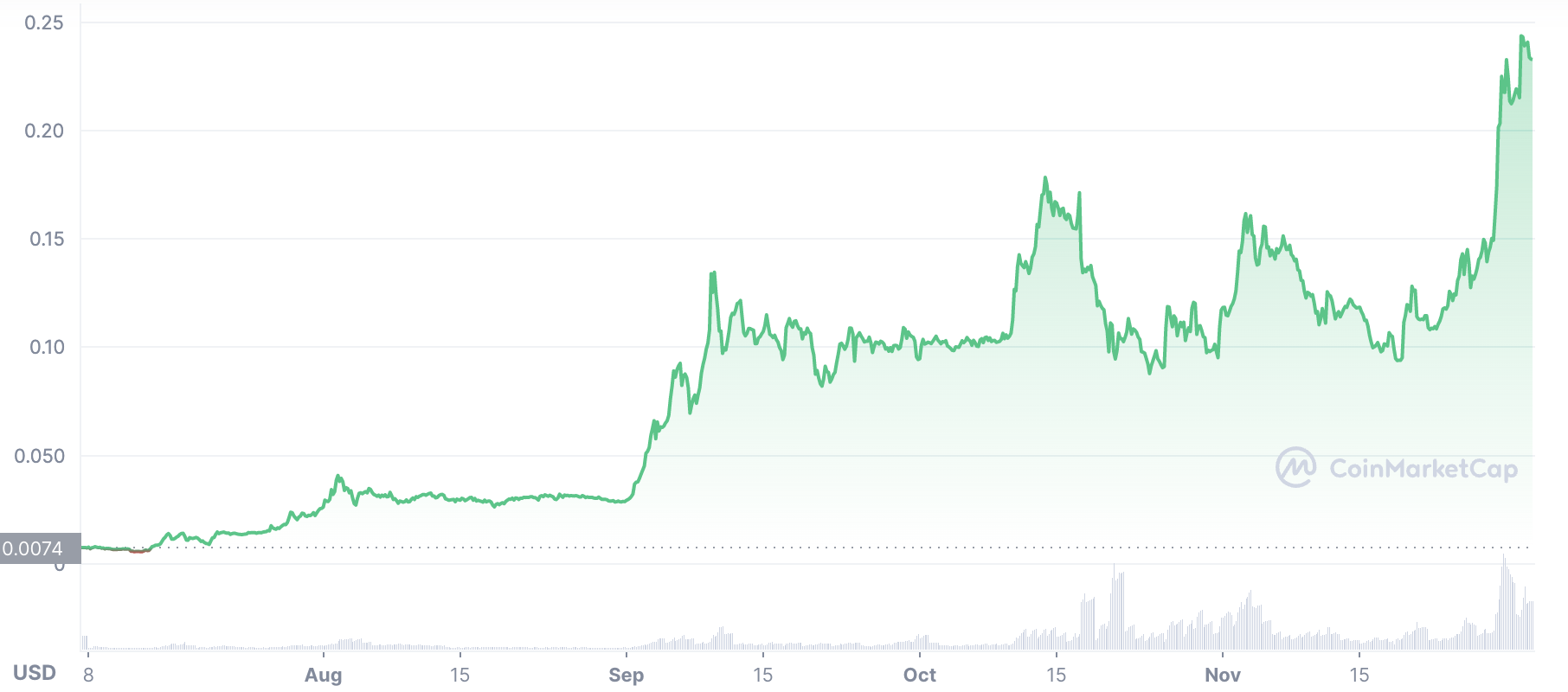 Wilder World
Wilder World is an immersive 5D Metaverse built on Ethereum, Unreal Engine 5 & Zero. This project has its own NFT marketplace with several different categories: wheels, kicks, cribs, land and guild. Wilder World is the first truly liquid, fully decentralized, community-led NFT marketplace with no artist fees and its own dynamic token system that rewards participants.
"We're really building kind of a multifaceted system," said Wilder. "We've approached it from really a holistic viewpoint, seeing other NFT platforms that have come up. It's obviously exploded in 2021. We've been in the space since 2017. It's great to see the other platforms and how they've brought it to the mainstream with things like the sale with Christie's auction house and sales for some of the biggest names out there."
"We have interactive worlds that you can spend time in with other folks," he said. "We're approaching it more on an event to event basis. We're trying to approach it from the lens of how a triple-A game would approach it. There is a lot of tech here and it's a work in progress."
WILD is the native token of Wilder World and serves as the governance token for the Wilder DAO (Decentralized Autonomous Organization). WILD has been launched in May 2021 and the price increased tremendously from $0.5 to today's $5.6 with a $420 million market cap. The max supply of WILD is set at 500,000,000 and the trading volume on this token is significant as it's available for trading on KuCoin, Gate, Uniswap, and MEXC exchanges.
Cryptovoxels
Cryptovoxels is a virtual world and metaverse built on the Ethereum blockchain. You can build, develop, and sell property on the blocks and streets of Cryptovoxels. Players can buy, own and build stores, lands, and art galleries. Editing tools, avatars, and text chat are built in. Users own the land and assets, with ownership and trading history recorded permanently on the blockchain. You can trade land NFTs on OpenSea, where they have a huge trading volume of 21,400 Ethereum (ETH)!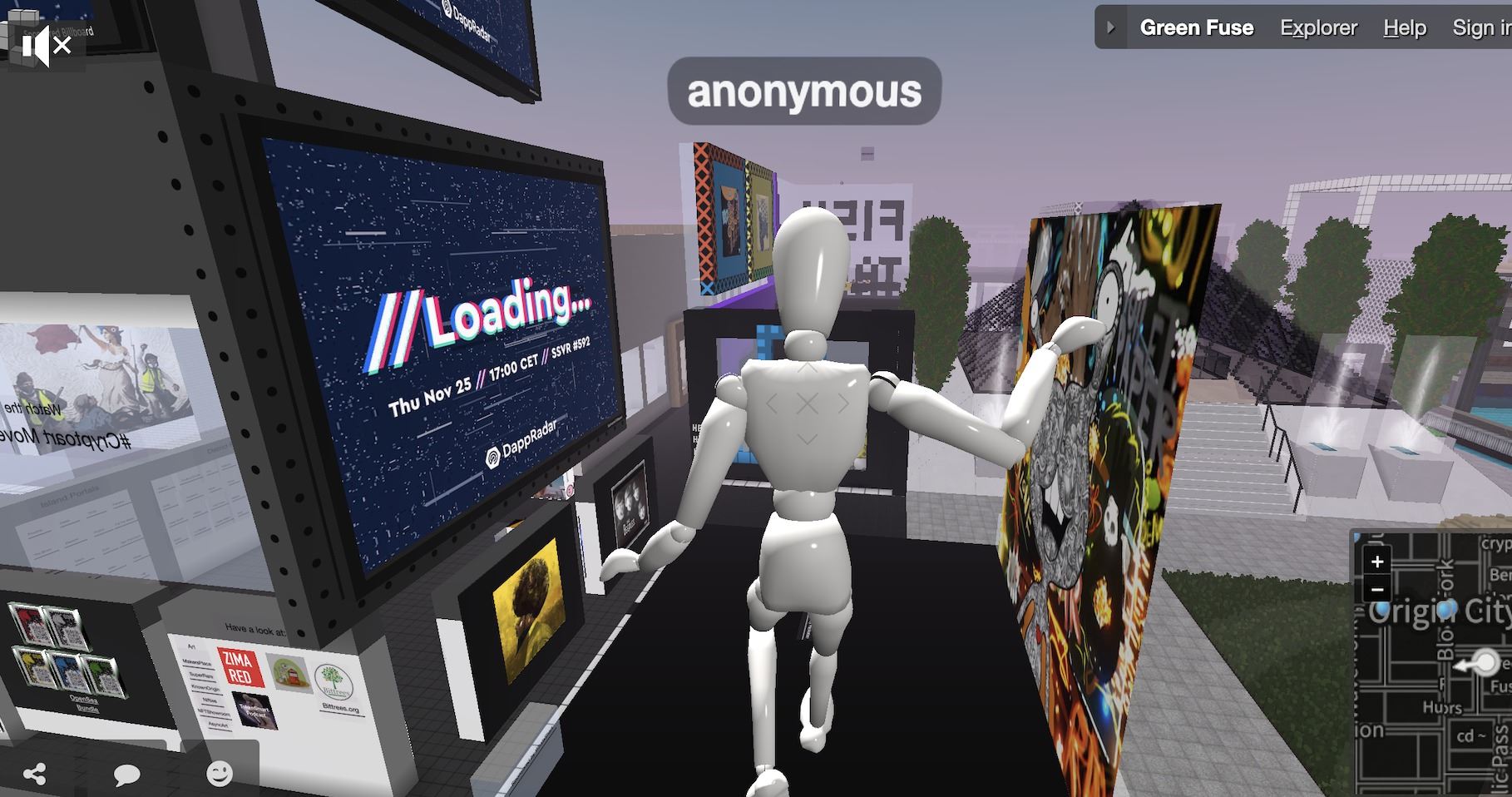 Cryptovoxels is a metaverse you can explore through your web browser with one click! This game is compatible with the Oculus Quest, Oculus Rift and HTC Vive. $COLR was the official currency in Cryptovoxels at the start used as a way to buy the right to place colored blocks on any land. However, after colored blocks became free for everyone in early 2020, it is no longer used. Ethereum is now used for in-world transactions.
NetVRk
Netvrk is a social virtual world built on the Ethereum blockchain that allows its users to make and monetize their creations. NetVRk presents customers to make, rate, and adjust their appearances the utilization of a capacity in-diversion head, discrediting the need for any coding limits or magnificent information. The ability to make in-amusement resources, which may then have the decision to be ventured as NFTs, transforms into as spotless as the utilization of a toiled interface.
The NETVRK token can be used to buy assets within the virtual reality world you are in. Assets can include buildings, vehicles, houses along with many others that will be found in the NETVRK market. Just like in the offline world, the land is also a valuable commodity in the VR world within Netvrk. Tokens can be used to purchase land in the prime real estate hotspots such as overlooking the beach, or right in front of the city.
NTVRK tokens can be used to buy advertising space, which can be used to generate a form of passive income and be on-sold to other parties for a healthy profit. The token can also be used to generate Non-Fungible Tokens (NFTs), yet another way of earning additional income. Another way of earning a passive income with the NTVRK token can be done via staking, which pays stakers a fixed percentage of profits based on staking their tokens in the network.
NTVRK as their token has been launched in May 2021 and decreased in value for a few months, however, it was able to rise from $0.20 to $7 in just a few months! The market cap of this project is currently around $211 million and it's available on exchanges like KuCoin, Hotbit and Uniswap. The token has a max supply of 100,000,000 pieces and has a great trading volume.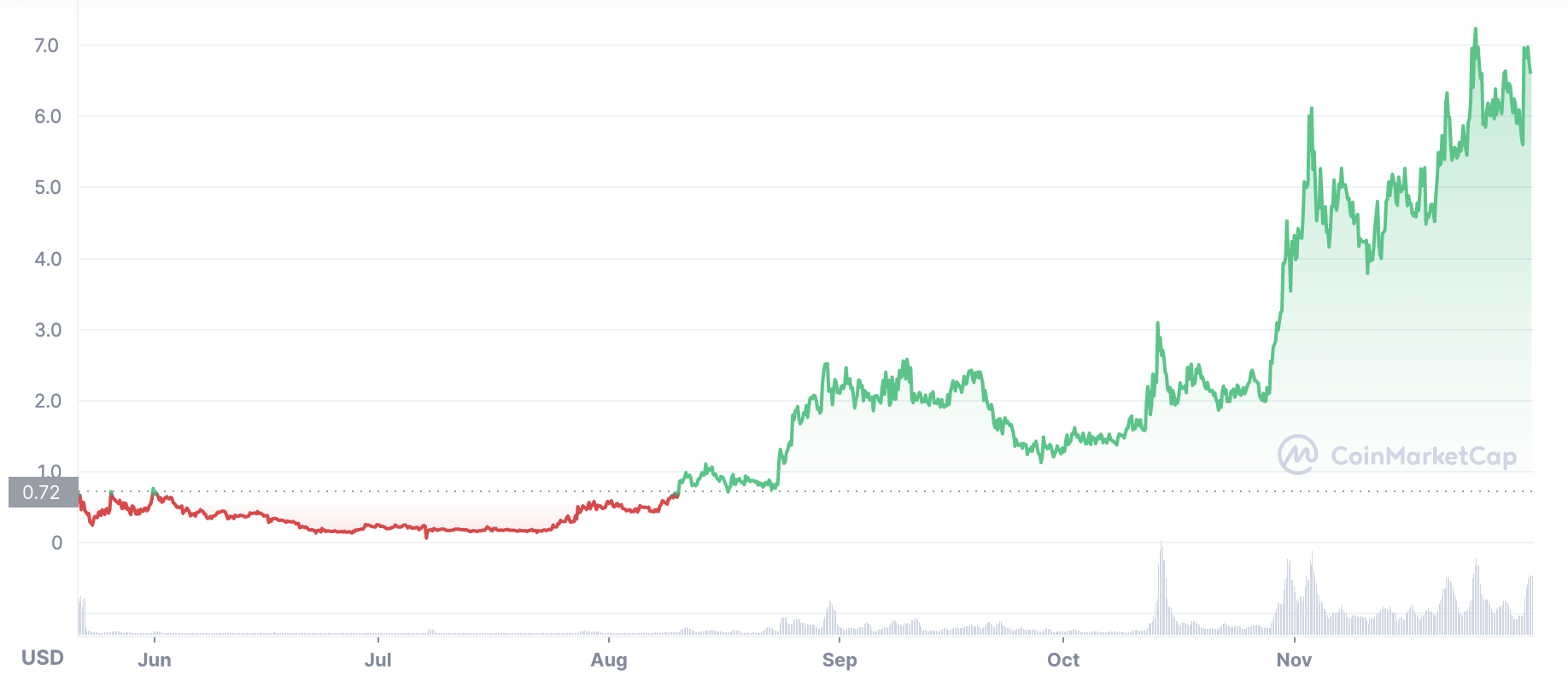 Trade Race Manager 2
Trade Race Manager 2 (TRM 2) is a Trade Racing Simulator where players race and earn IOI tokens in the process. TRM 2 Rich Racer is a revolutionary 3D racing game with a graphically-intense environment and it's the next generation of Play-2-Earn (P2E) gaming that will have its own Metaverse and endless possibilities.
TRM 2 Rich Racer allows its players to own avatars, cars and race tracks as NFTs. Everyone will be rewarded with IOI tokens for playing. Racers get rewarded for winning tournaments or races and owners earn passive income from owning a team or a track! This awesome game just launched alpha testing mode that will last until the end of 2021.
IOI is the utility token for TRM 2 (and Qorpo market) which was launched at the beginning of summer 2021. The market cap of this project is currently around $31 million and the max supply of tokens is set at 37,500,000. This token is available for trading at one of the most prominent exchanges, such as KuCoin, Gate and Huobi. We think this project is undervalued and we wrote an article about TRM 2 here.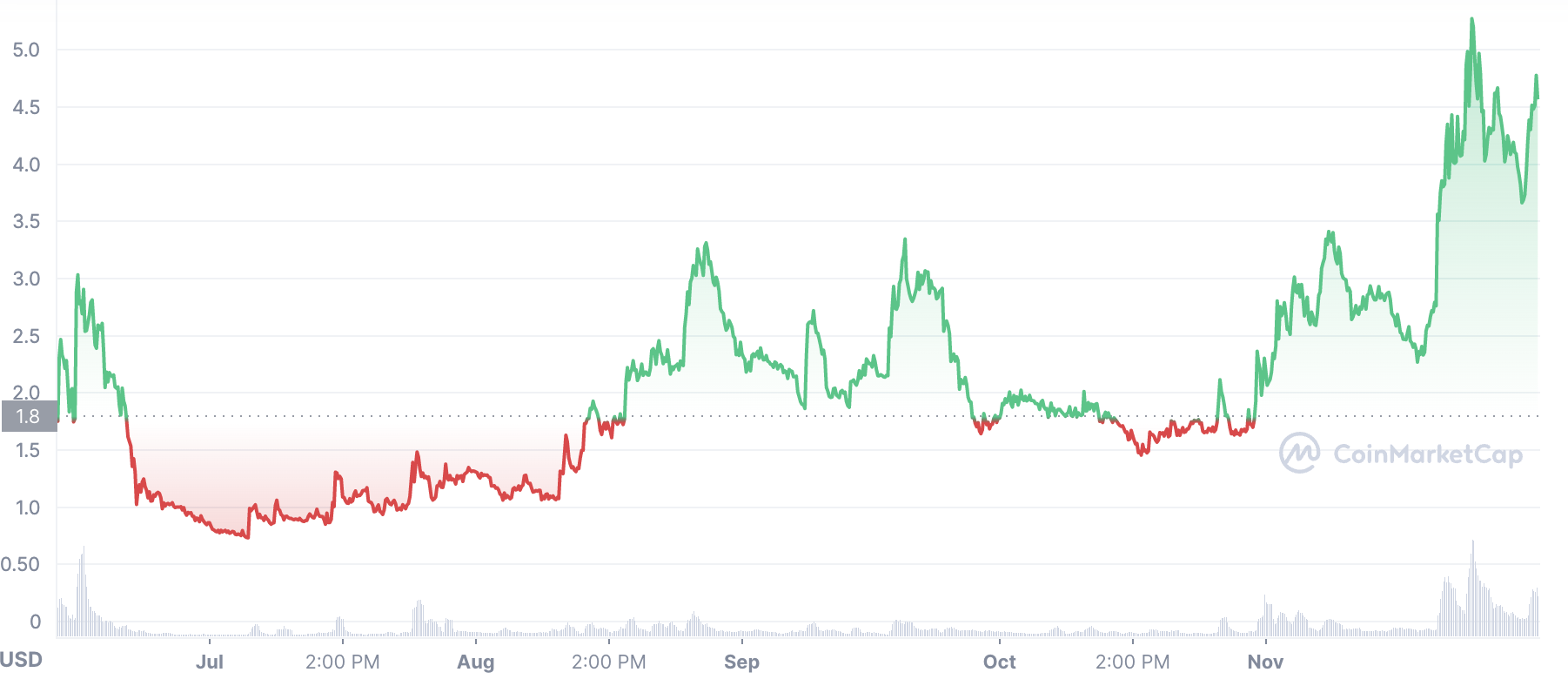 Conclusion
There are many companies building metaverse and not everyone can win. There will be many possible metaverse worlds and only those with the most capital and biggest communities will win. It's hard to say which ones are going to win but you could see the top 15 metaverse companies in our last 3 blogs. Which one will you try out or invest in? Let us know in the comments!
more to read
ZOO Crypto World – Revolutionizing GameFi Project
Sentiment: positive
---
NFT World News Social Media: Twitter, Instagram, Telegram, Tiktok, Youtube, Facebook
---
sources: medium, coinmarketcap, traderacemanager2, wilderworld, venturebeat, netvrk, linkedin, cryptovoxels
author: Rene Remsik
Disclaimer: This article is provided for informational purposes only. It is not offered or intended to be used as legal, tax, investment, financial, or other advice.