Quick Summary
Metaverse is something that will transform gaming and other areas of our lives forever. There are several companies already building the best metaverse possible. Facebook (Meta), Epic Games (Fornite), Sandbox, Illuvium and CyberTrade have the biggest potential at succeeding. Which one is going to win the race?
Metaverse is all over the news. This term is still considered very new in the world but has already gotten the attention of many individuals. It's mainly a result of Facebook headlining almost every media about rebranding from Facebook to Meta, and now everyone wants a piece of the pie. Doesn't matter if it's a chance to profit or simply be a part of it.
Metaverse as a term is huge, and it is coming very soon. Meta has the biggest capital out of all companies trying to build metaverse, so Zuckerberg has the highest chance at succeeding and creating #1 Metaverse. However, the competition is significant and there are other interesting projects out there.
The world of online gaming is a billion-dollar industry and grows every year at a fast tempo. Metaverse could change not just gaming, but how the whole world functions. Now, let's take a look at the most notable and influential metaverse projects out there right now.
NFT World News Social Media: Twitter, Instagram, Telegram, Tiktok, Youtube, Facebook
1. Meta (Facebook)
Facebook is going all-in on metaverse as it recently announced a total rebranding to Meta in order to chase a concept that seemed like a total sci-fi just a few years ago. The metaverse of Zuckerberg's dreams is the sort of place where everyone's plugged into virtual reality, able to teleport, make things happen merely by thinking about them and effectively step beyond the limitations of the physical world into a digital one. The tech billionaire concedes this is still "a long way off."
Most Metaverse worlds are being built mainly for gaming, however, Zuckerberg wants more. He wants to connect people through online meetings, apartment visits, etc. Zuckerberg wants to create a set of interconnected digital spaces that lets you do things you can't normally do in the physical world. More importantly, it will be characterized by the social presence, the feeling that you're right there with another person, no matter where in the world you really are.
Meta already introduced Horizon Home, an early vision for a home base in the metaverse. This is the first thing people are going to see when they put on a Quest headset. Until now, it's just been called Home because the experience wasn't social. Soon, you'll be able to invite your friends to join you in Horizon Home, where you can hang out, watch videos, and jump into games and apps together. Moreover, there will be messenger calls possible in VR, gaming, fitness, and much more. For now, the only way you can invest in Meta's vision is to buy its stocks with an almost $1 trillion market cap.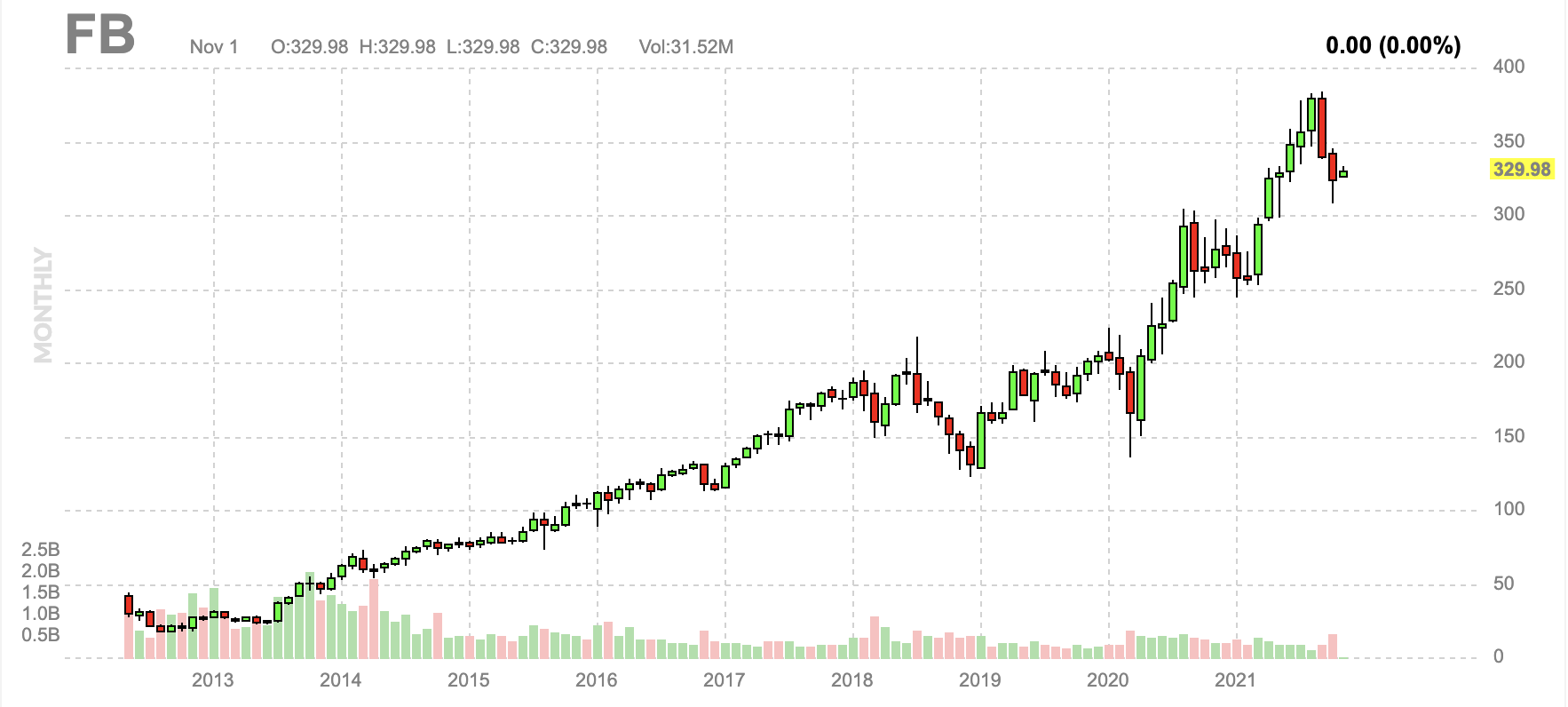 2. Fortnite (Epic Games)
Epic Games is one of the biggest and strongest companies on the market when it comes to gaming and metaverse. Sweeney, CEO of Epic Games, has been publicly pushing for the creation of metaverse for years, and he isn't alone in his desire to push for the metaverse, where the online world echoes and fulfills real-world needs and activities.
Fortnite was able to draw 10 million people to log in to see DJ Marshmello put on a virtual concert in the game, where players would only see 99 other people online. Fortnite matches are still limited and the technology to gather millions in one virtual space is not ready yet. But Fortnite has the capacity to rally and unite millions anyway.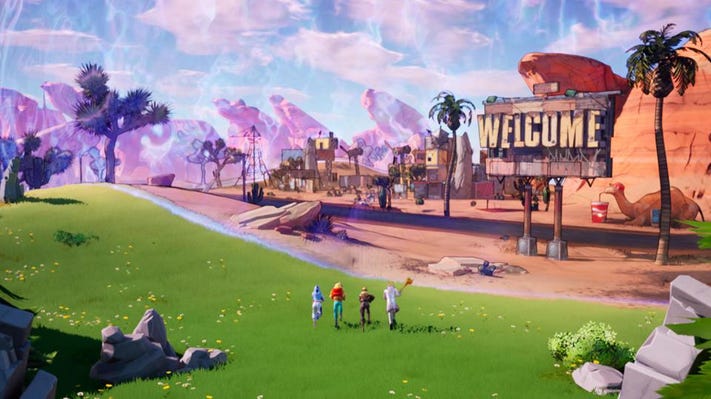 At the core of Epic's metaverse vision is a change in how people socialize on the Internet. Sima Sistani, the co-founder of the video chat social network Houseparty that was acquired by Epic in 2019, believes interactions will move away from "likes, comments, and posts" about people's personal lives towards more complex interactions, where users share and participate in experiences across various services.
"If the last generation is about sharing, the next generation of social is going to be about participating," said Sistani
People moved from traditional media to social media as it became very mainstream, and more than a billion people have at least one account on Facebook, Instagram or TikTok. This is going to change again, as people will move from social media to games&metaverse, and Epic Games plan to be at the forefront of this new wave.
This might interest you: 5 Hot NFT Games to Earn $100 a Day
3. Sandbox
The Sandbox is a blockchain-based virtual world launched in 2011 by Pixowl that allows its users to create, build, buy and sell digital assets in the form of a game. By combining the powers of decentralized autonomous organizations (DAO) and non-fungible tokens (NFTs), the Sandbox creates a decentralized platform for a thriving gaming community. Founders of Sandbox are one of the pioneers of blockchain gaming and metaverse subject as they started out before anyone else.
Sandbox is very interesting because it is possible to create games inside its metaverse. Users of Sandbox have the possibility to create assets in form of NFTs through their VoxEdit tool. Platform users can create 3D assets which then may be sold or uploaded on VoxEdit. This total freedom to create, play and earn money makes Sandbox one of the best NFT metaverse projects out there.
We are probably still at the beginning of actually transitioning mobile app users to Metaverse app users, and then, of course, they can go into VR headsets, desktops, other consoles like, but there's already a big active user base. Sandbox Metaverse has a limited number of 166,464 lands available, which can be used to host games, build multi-player experiences create housing, or offer social experiences to the community.
Sandbox users can make or spend money buying and selling NFTs through their platform, but there is also a way how to invest in their project: through their native token SAND. This token has a max supply of 3,000,000,000 and 2021 is definitely the year for this project as it grew in value by almost 100x! Currently, it has a market cap of $2,5 billion, and with every-year growth of this industry, it could reach much more.
4. Illuvium
Illuvium is an open-world fantasy battle game built on the Ethereum blockchain. Often viewed as the first AAA game on Ethereum, Illuvium wants to provide a source of entertainment to both casual gamers and hardcore DeFi fans through a range of collecting and trading features. Illuvium promises a "journey across a vast and varied landscape on your quest to hunt and capture deity-like creatures."
Players go through the Illuvium landscape battling Illuvials and other players, participating in quests and daily challenges, and participating in the communal storyline. Throughout their journey, they collect Illuvials, which have a range of characteristics that make them variable in their rarity, utility, and desirability. Unlike most blockchain-powered games, Illuvium features a fully 3D environment, with over 100 unique Illuvials scattered throughout all in-game regions. Each Illuvial is designed by a team of world-class artists to ensure it appeals as a big-budget retail game.
Illuvium has been in development since 2020, and is being built by a worldwide team of more than 40 individuals, including the co-founders; serial entrepreneur and early cryptocurrency adopter Kieran Warwick, and experienced game designer Aaron Warwick. Illuvium is marked as one of the hottest NFT projects of 2021 as its token price grew from just $30 to more than $1,100 in a few months. This token has a max supply of 10,000,000 and a market cap of approximately $760 million.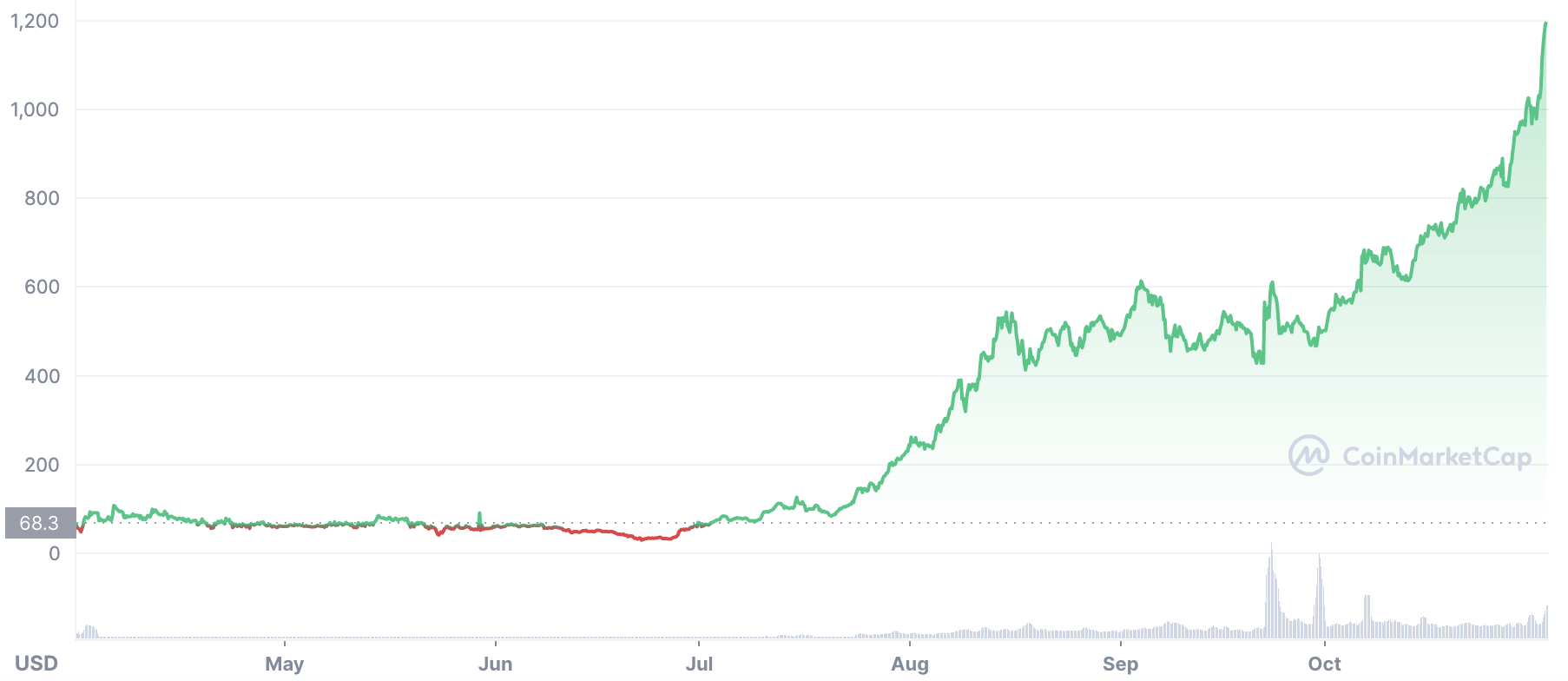 5. CyberTrade
CyberTrade is an upcoming NFT play-to-earn (P2E) game with a futuristic cyber-like looking world. It's a second game coming from Qorpo Company, after already successfully launched Trade Race Manager. CyberTrade realized that metaverse is an essential part of the gaming future and is already working on the metaverse, which will connect all NFTs. It wants to make NFTs from other games usable in their game.
Pre-register for early access to CyberTrade
CyberTrade has multiple game modes (team battles and drag races) where you can choose different fighters, items, race cars and bosses, which have a form of NFTs. There are special characters you can play and fight with in the city of sin, Metropolit, that has been taken over by big corporations after a technological revolution.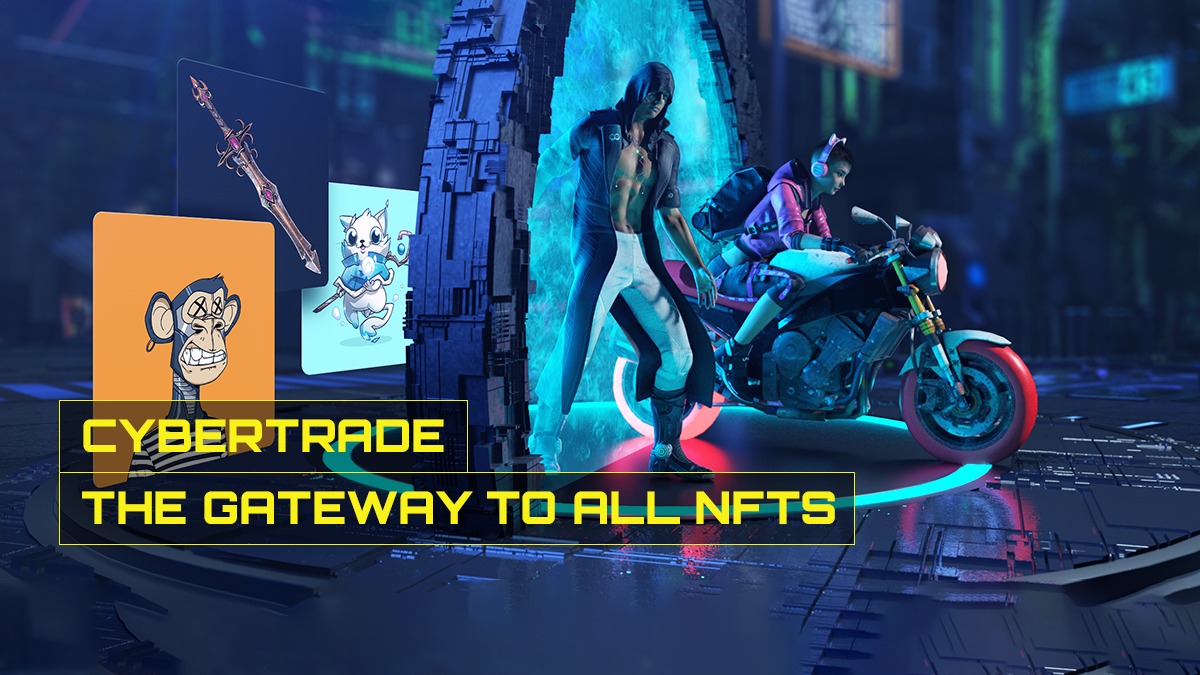 This game has a unique and interesting storyline that will captivate every reader. CyberTrade will have its own metaverse, where you can own lands, buildings and manage your NFT properties. Moreover, you will be able to find NFT drops with various rarities. If you want to get your hands on those properties, you will have to fight for it. There will be a limited supply of NFTs and it will become harder to obtain them over time.
There are many things you can do in the metaverse, such as owning streets, shops, or buildings by holding CyberCash. Cybertrade metaverse will serve as a gateway for all digital assets. That means you can deposit your NFT, which will get locked, and you will receive CyberTrade NFT in exchange, to try out the gaming experience and earn CyberCash at the same time! CyberTrade has pushed the blockchain gaming experience to a whole new level, and gamers will be able to build the game from the ground up, so get ready.
Conclusion
Metaverse has the potential to transform not just how we work, earn and spend, but also the fundamental ways in which we live, plan and run our lives. In essence, they promise to transform the way capitalism functions. Metaverse is definitely here to stay, as there is huge retail and institutional interest. The only question is, which metaverse will be the best and which companies will win this battle? Take your guess, and leave it in the comments.
---
more to read
The Most Anticipated NFT Game of the Year – CyberTrade
The Potential of NFTs is Endless
Sentiment: positive
NFT World News Social Media: Twitter, Instagram, Telegram, Tiktok, Youtube, Facebook
---
sources: medium, coinmarketcap, bloomberg, digitaltrends, tech.fb, washingtonpost, ambcrypto
author: Rene Remsik
Disclaimer: This article is provided for informational purposes only. It is not offered or intended to be used as legal, tax, investment, financial, or other advice.