QORPO Game Studio, a developer of the esteemed hero shooter Citizen Conflict, is progressing fast with their next anticipated game title, AneeMate. The upcoming open-world saga comprises several game modes, including adventure, action, and creature-collecting with RPG elements. Partnering with OKX, AneeMate brings the next page of the incredibly successful Stickers Book NFT Drop. 
AneeMate Stickers Book Vol.2 Overview:
20 adorable cartoon-themed AneeMate stickers
Custom skins for in-game gadgets
Early access to AneeMate
$QORPO token Airdrop chance
Scarcity-powered NFT value
The collection runs on a Polygon chain
Pave your way to AneeMate world with fancy stickers
Inspired by the Pokémon franchise, the enchanted realm accessed via the portal not only brings AneeMates to life but also melds diverse beloved game modes to elevate your creature-catching journey. This multifaceted experience is brimming with action, seamlessly integrating turn-based strategy to fuse the thrill of the arcade with team-based tactics. Robust RPG elements add depth to the characters, steering your AneeMates through different evolution stages.
QORPO Game Studio is tirelessly developing the final vision of AneeMate, unleashing the second free NFT collection to offer a taste of what's about to come.
"This NFT drop is a unique chance to reclaim your childhood with AneeMates. Players are hence welcome to secure their own piece of the game and actively contribute to the project's success through a player-driven economy facilitated by token airdrop and personalized in-game skins." – Rastislav Bakala, CEO & founder of QORPO Game Studio.
Premium utilities free of charge
AneeMate Stickers reach far beyond just looking awesome with their extra dose of cuteness. Every AneeMate Stickers NFT holder is also a holder of premium utilities.
Each NFT Sticker is a custom skins for in-game gadgets
Full collection offers early access to AneeMate game
AneeMate sticker holders will be eligible for $QORPO token airdrop
Stickers are completely free, collectors need to cover only a small Polygon gas fee
This is the highly limited collection that will never be minted again.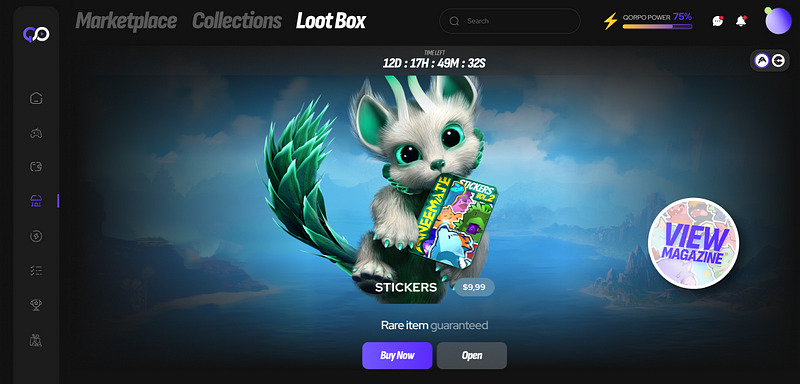 NFT Drop is LIVE on OKX – how to collect stickers for free
AneeMate Stickers infuse vitality into the pages of your Stickers Book. Unlock your share of Hidden Islands and gather all 20 distinctive AneeMate NFT stickers. The finalized Stickers Book acts as a portal to another realm, serving as your entrance to the AneeMate Early Access whitelist.
As a bonus, 1,000 lucky campaign winners will enjoy a special airdrop of 5 complimentary stickers from the team ahead of the official launch of the QORPO WORLD campaign by the end of November.

How to AneeMate Stickers Vol.2 tasks with ease?
Go to this OKX page.
Download the OKX Wallet browser extension and create your OKX Wallet account.
Your wallet has to hold at least 0.1 MATIC – You can deposit it from Metamask or Trust Wallet.
Connect your OKX Wallet to your X (formerly Twitter) account by clicking on the "connect button".
Complete all OKX tasks – Import your connected wallet and share the event to social media.
Complete all Twitter tasks – Follow @playaneemate, repost and like their post.
Don't forget to click "VERIFY" button in every tasks. If you completed all tasks and are in green – please click on "SUBSCRIBE" button to finish it!
Pro tip – Save yourself troubles, and start completing tasks with OKX Wallet, not Metamask or any other Web3 wallet.
Future Development and AneeMate Evolution
AneeMate Stickers Book Vol.2 is the next page in the adventurous voyage across Hidden Islands, a land of myths and wonder far away, behind the secret portal. This epic tale will introduce a captivating journey full of personalized heroes, whimsical creatures, and a gripping storyline that progresses within the first MMO (massively multiplayer online) creature-catching game. Learn more about the future prospects and AneeMate development.