The Terra Luna crash brought a lot of attention to stablecoins and their functioning. Regulators are already eyeing stablecoins and looking for ways to get more security to this market. It just can't happen on a regular basis that one of the TOP 10 crypto firms disappears within a few days, and more than $40 billion gets wiped out.
related: The Rise and Fall of Terra Luna
TerraClassicUSD Stablecoin
TerraUSD (UST) is the Terra blockchain's decentralized and algorithmic stablecoin. Terra stablecoin is described as a scalable, yield-bearing coin that's tied to the US Dollar in terms of value. TerraUSD was designed to provide value to the Terra community and to provide a scalable alternative for DeFi in the face of severe scaling issues that other stablecoin leaders, such as Dai, are experiencing. As a result, TerraUSD users should expect increased scalability, interest rate accuracy, and interchain usage.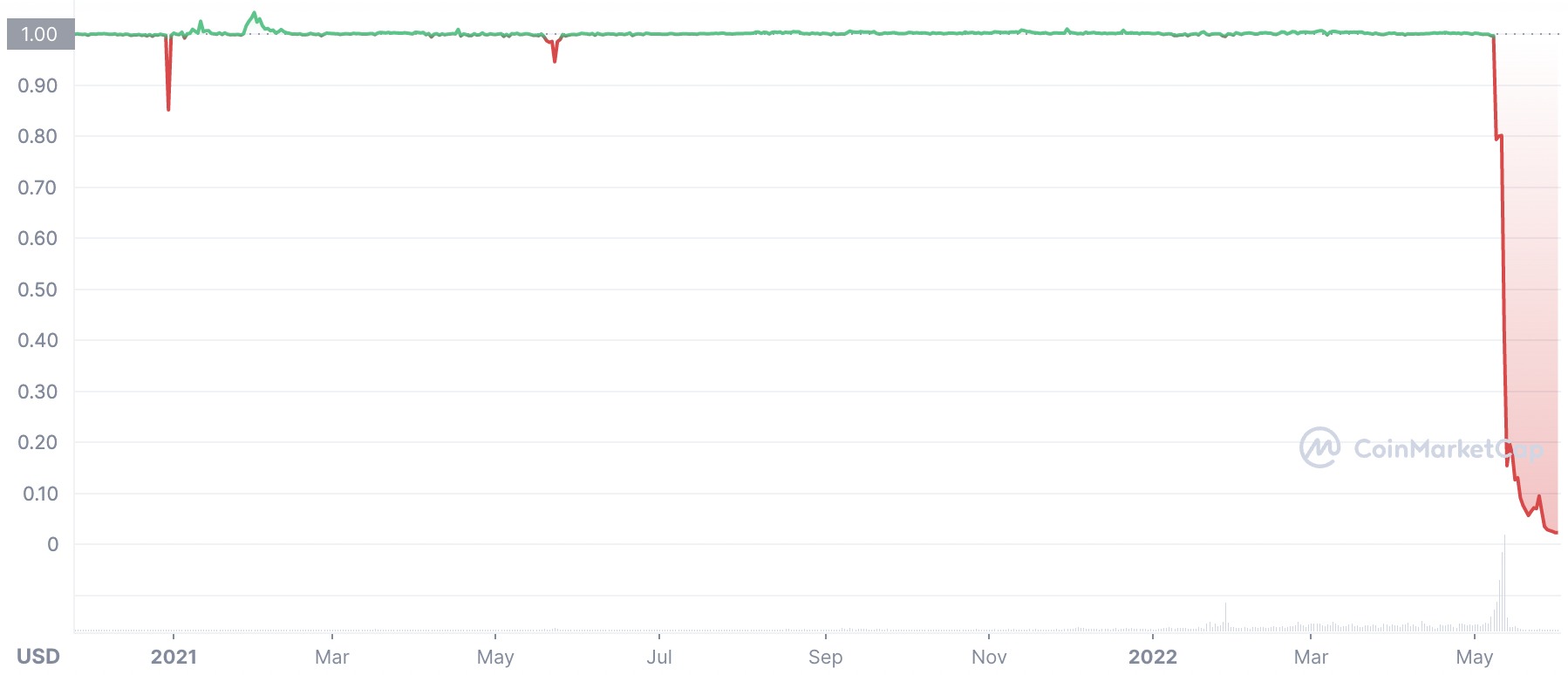 Terra Luna
Terra is a blockchain protocol that powers price-stable global payment networks with fiat-pegged stablecoins. According to its white paper, Terra combines the price stability and widespread use of fiat currencies with the censorship resistance of Bitcoin (BTC) to provide quick and economic transactions. Terra's development began in January 2018, and the mainnet launched in April 2019. However, the problem came when the company had accumulated a lot of Bitcoin. So when the bear market hit and Terra, with its stablecoin, started to fall, they had to sell all of their BTC.
Terra offered a very competitive fixed APY of 20% even though the bear market came, which was not a very good step to sustain some form of stability. The panic began when Terra fell from $100 to less than $30. People started panicking and selling all of their positions, and traders even aggravated this fall by shorting with heavy amounts, causing an even more substantial fall. So now there's attention on other stablecoins; can they stay stable?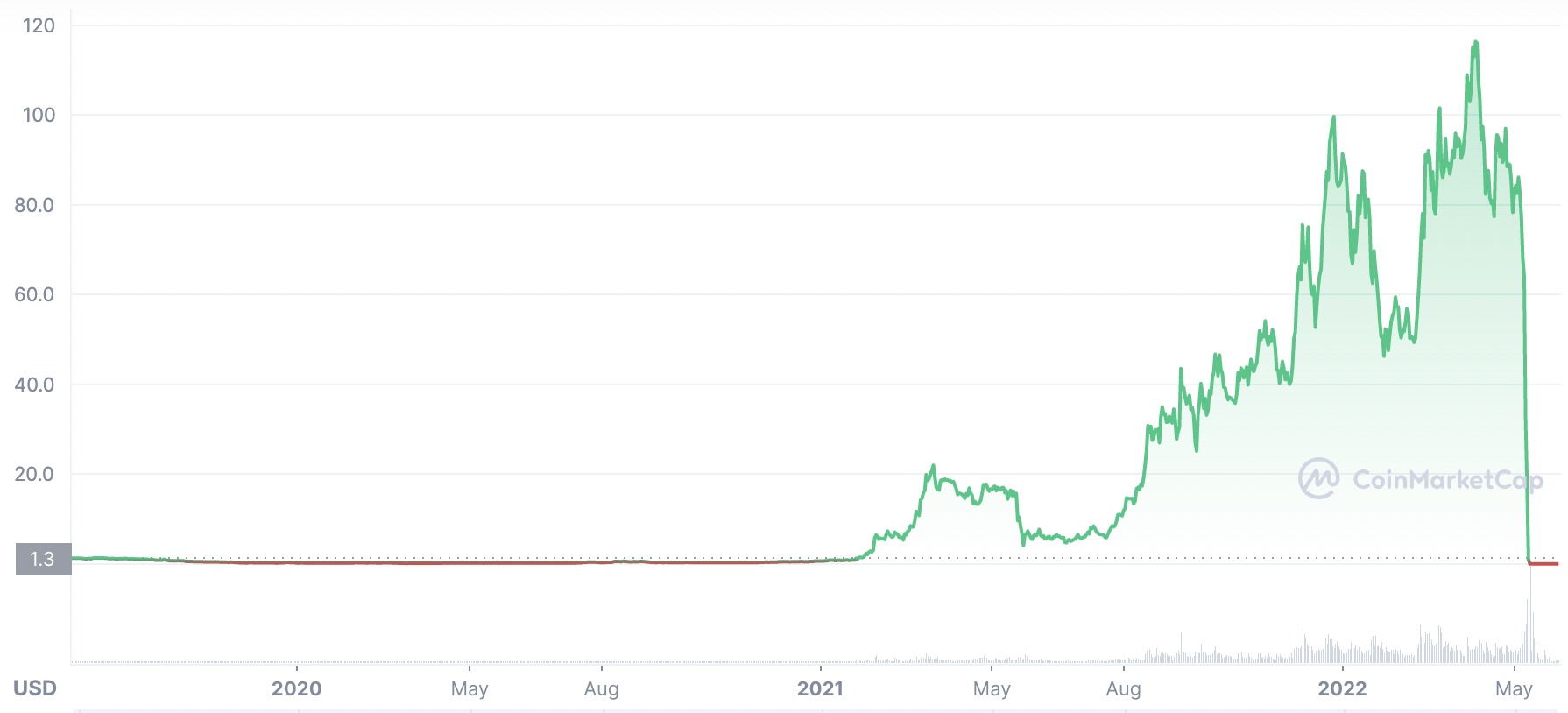 Tether USDT Stablecoin
Stablecoins are very sensitive to high volatility, and any time there are considerable selloffs in the market, there are temporary depegs of stablecoins. This market crash even caused USDT, the biggest stablecoin in the world to depeg from $1 to $0.97 for two days, but the price recovered very soon. Tether is not the only piece of the puzzle here. Other stablecoins like Neutrino USD by Waves company fell as well.
However, why did some stablecoins fall a little while others fell much more drastically?
There are different kinds of stablecoins, such as fiat-backed, crypto-backed, commodity-backed, and algorithmic. It's safe to say that the most stable ones are fiat-backed, while others are considered experimental and still in development. The stablecoin of Terra was backed by algorithms and smart contracts, which obviously could not handle the intense volatility and market selloff. This later led to a total failure. Nevertheless, Do Kwon, the founder of Terra, doesn't give up. Right after Terra turned into dust, he proposed a new solution called Terra 2.
Terra 2.0 As The Solution?
Terra (LUNA) is a public blockchain protocol that arose from the Terra Classic platform. Terra Classic is the home of TerraClassicUSD, an algorithmic stablecoin (UST). It's currently known as the LUNC token collateralized UST, and it went bankrupt in May 2022. As a result, LUNA's value plummeted to almost nothing, prompting the creation of a new chain, Terra Classic, and Terra. So while Do Kwon lost investors billions of dollars, he could freely create a new cryptocurrency with its original name and continue his endeavors. So is this the web3 space that people wanted so much?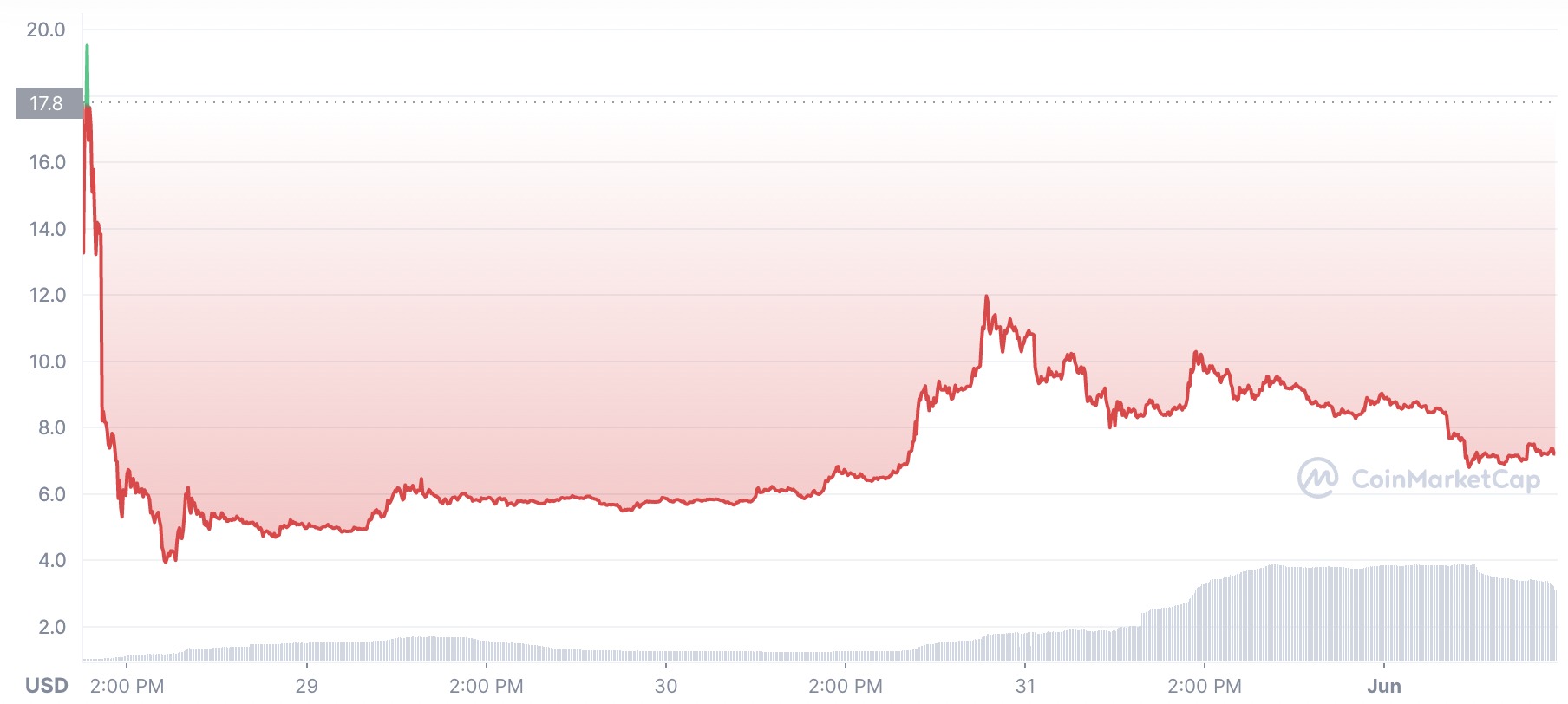 Conclusion
While the Terra 2.0 launch hasn't been so problematic, people are not buying it as much as the original Terra because everyone knows Terra is forever doomed to fail. It's a "mission impossible" for the community to trust some crypto project again if it literally bankrupted in a matter of a few days.
While Do Kwon may have good intentions with the launch of Terra 2.0, things will never be the same, and there is more attention on stablecoins now than ever before. If you want your funds to be safe in volatile times, use the most time-tested stablecoins, such as USDT and USDC.
more to read
CoinBlock Capital Is Taking Over The Crypto Space
eBay jumps into NFT market, launching first NFTs
---
Follow NWN: Twitter, Instagram, Telegram, Tiktok, Youtube, Twitch
---
sources: coinmarketcap, twitter,
author: Rene Remsik
Disclaimer: This article is provided for informational purposes only. It is not offered or intended to be used as legal, tax, investment, financial, or other advice.