Quick Summary
Audius is a decentralized music streaming protocol and platform living on Solana. This project aims to decentralize the whole music industry and as a result, fans can listen to songs for free.
Decentralization brought many benefits to users all around the world and the whole concept of unlimited usage and getting rid of the middlemen is disrupting almost every industry in the world. One of the latest discoveries is in the music industry and Audius has some smart decentralized solutions for the people who are ready to change the music industry forever. 
you might wanna read this: Whitelisting As The Best Way to Profit on NFTs?
Audius – The Future of dMusic
Audius is a decentralized music streaming protocol initially built on POA network, but now living on Solana. Audius was launched to remedy the inefficiencies of the music industry, which is plagued by nontransparent music rights ownership and intermediaries standing between artists and their audience.
Audius aims to align the interests of artists, fans, and node operators through its platform powered by its native AUDIO token. Artists can upload music, stored and distributed by content and discovery nodes, that fans can listen to for free.
This project rewards content creators through rewards like featuring in the weekly trending lists at the moment. In the future, it plans to integrate stablecoins for artists to offer paid content, as well as artist tokens that give fans the ability to access exclusive content.
Audius is still in an early stage but already received attention from famous celebrities. People like Katy Perry, Nas, The Chainsmokers, Steve Aoki, and Jason Derulo are investing in this project as they see a huge potential in this project.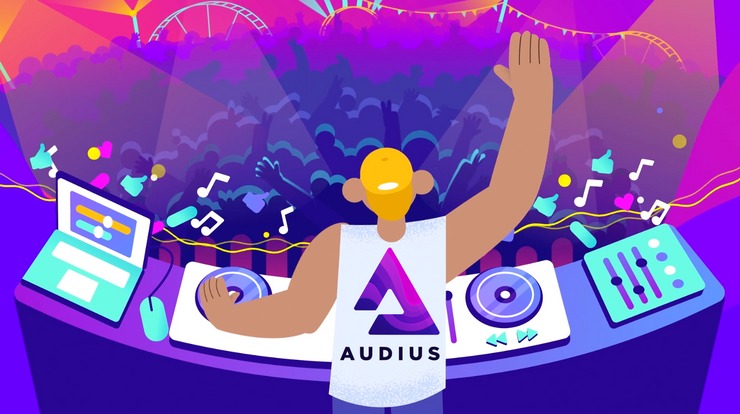 How Audius Works
The Audius ecosystem consists of four main participants: artists, fans, content nodes and discovery nodes.
Artists publish their work on the Audius content ledger. They can do so for free and the music is streamed at 320kbps, comparable to standards of Spotify and Google Play Music. Because of Audius' decentralized nature, there is no copyright protection, although the protocol is working on an arbitration system that will be overlooked by the community.
Artists can use Audius to experiment or share bonus tracks, and the platform plans to include artist tokens to facilitate monetization, subject to artists staking AUDIO. Artists can also participate in reward schemes that see tokens airdropped to the most popular artists.
Fans can listen to tracks for free and may in the future be able to stake AUDIO to participate in artists' growth on the platform. They can also showcase their verified NFTs through the platform and earn different badges.
Content nodes maintain the availability of content on AudSP, the platform-native extension to IPFS. An artist's client elects a set of these nodes to do so automatically on the artist's behalf, while fan clients fetch the content, submit proof, and request keys to content nodes. Artists could also choose to run their own content nodes and maintain greater control over their content distribution. The content ledger maintains a record and a single source of truth for all actions on the protocol.
Token Information (AUDIO)
Audius platform has its own token AUDIO with a max supply of 1,100,000,000 tokens. The token was launched in October 2020 at a price of $0.2 and it rose to $4 in a matter of a few months' time! Currently, the market cap of this project is around $860 million and it has a big trading volume. If Audius gains a bigger user base and people start to use this platform, the project could be easily valued at several billion dollars. For example, Spotify is valued at $44 billion right now.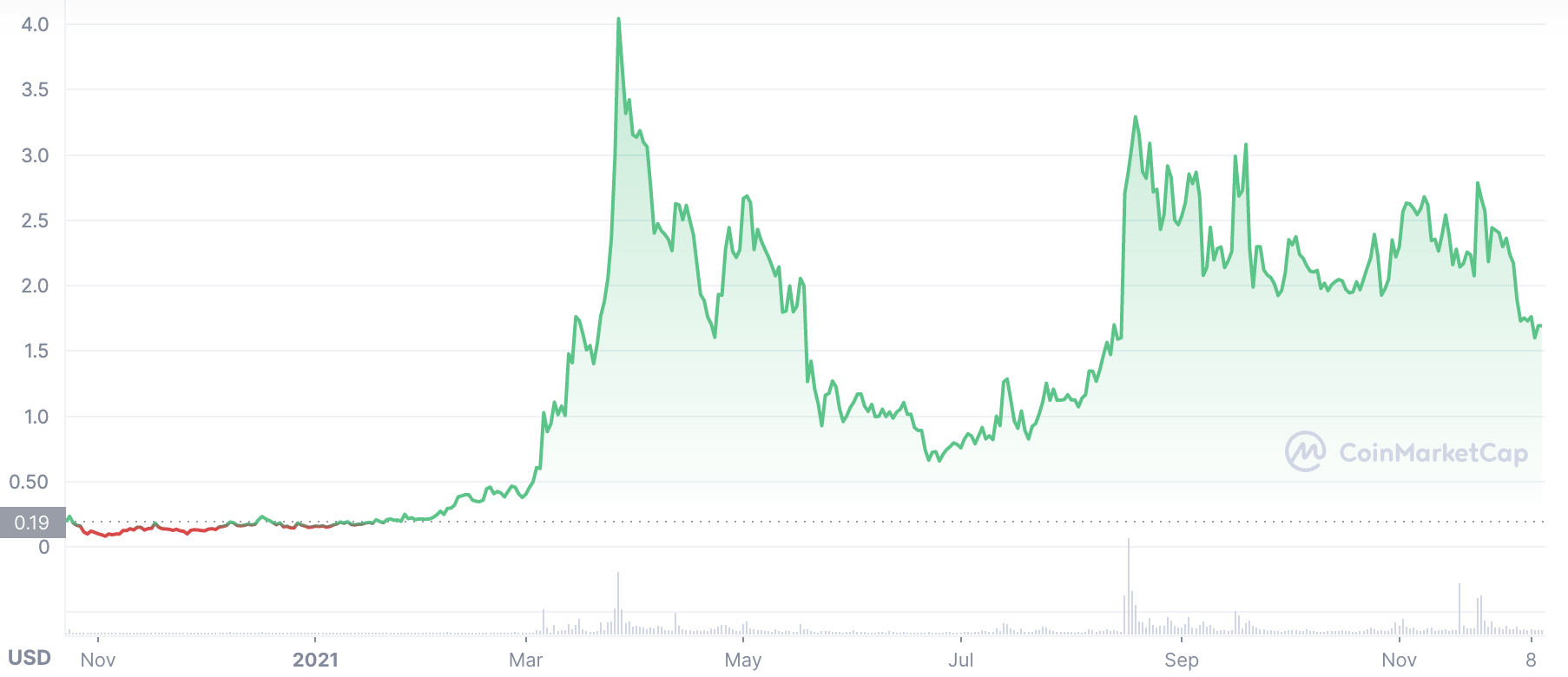 Conclusion
Decentralization is an essential and hot topic in the world right now and it's only getting bigger every day. Audius seems to be the best currently among the decentralized music companies and if they succeed at shifting the market (users) to their platform, they could become huge in the future. 
more to read
Americans Start to Give Cryptos as a Gift
Origin Protocol – Pro NFT & DeFi Crypto Project
Sentiment: positive
---
NFT World News Social Media: Twitter, Instagram, Telegram, Tiktok, Youtube
---
sources: audius, coinmarketcap, rollingstone
author: Rene Remsik
Disclaimer: This article is provided for informational purposes only. It is not offered or intended to be used as legal, tax, investment, financial, or other advice.