Quick Summary
Baby Doge Coin is a descendant of Doge Coin with efforts connected to a pet charity, NFT creation, GameFi, and much more. Baby Doge has a great tokenomics and huge social following that could help it grow in the long term.
The crypto space is filled with tons of meme coins, however, there are only a few that are really worth it! The biggest and most famous ones are obviously DogeCoin and Shiba Inu. These cryptocurrencies already have multi-billion dollar valuations, so they don't possess such a huge potential for growth in the future. Baby Doge Coin, on the other hand, has more potential. Let's have a look at why!
related blog: SAMO: More Than Just A Memecoin
What Is Baby Doge Coin?
BabyDoge was launched in June 2021 and has an ambitious roadmap that includes further efforts for pet charity, NFT creation, GameFi, and much more. Baby Doge has learned a few tricks and lessons from his meme father (Dogecoin). Baby Doge has been birthed by fans of the Doge community and seeks to impress his father by showing his new improved transaction speeds & adorableness.
This token is hyper-deflationary with a static reflection that rewards holders, so more Baby Doge Coins are being automatically added to the holder's wallet with each transaction. A cool 5% from each transaction is automatically redistributed back to Baby Doge holders. This feature undoubtedly helps the price of the token to rise in the long term. Simply said, It's been designed to become more scarce over time.
Baby Doge Coin is not just another meme coin. People love this project! It has one of the biggest social followings. If you check out their Twitter, they have 1.2+ mil. followers, almost 300k followers on Instagram, and they also have a very high engagement rate of thousands and thousands of views and likes.
The Utilities Of The Project
Auto Burns: The dead wallet holds 41%+ of the supply. That means out of the 5% of the redistribution 41%+ of it will be distributed to the dead wallet each transaction. Thus, coins are burned with each on-chain transaction.
Auto Reflections: 5% fee of each transaction is redistributed to token holders. That means investors can earn more Baby Doge Coins by holding them in their wallets (centralized exchanges/wallets may not apply).
Locked Liquidity: The majority of initial LP tokens are locked and some are burned.
Charity Wallet: Baby Doge Coin has a designated charity wallet that receives redistributions and they are later used to support its charity partners.
Baby Doge Crypto Card: Baby Doge application will be available on iOS and Android and it will have the following features: the ability to buy and send cryptocurrencies, exchange cryptos for fiat, and implemented new TextBit technology that will allow its users to text BabyDoge to anyone anywhere in the world using a telephone number
Token Information (BabyDoge)
contract address: 0xc748673057861a797275CD8A068AbB95A902e8de
There is a total supply of 420 quadrillion Baby Doge Coins with 295 quadrillion currently circulating, as 125 quadrillion (about 30%) have already been removed with coin burning. While most meme coins go through a quick pump and dump and hardly ever recover, Baby Doge is rising on a regular basis and has a multi-million dollar trading volume.
Moreover, almost 350,000 people have Baby Doge on their watchlist according to coinmarketcap and it's also listed on some of the most prominent crypto exchanges in the world, such as Huobi, Gate, Poloniex and many more!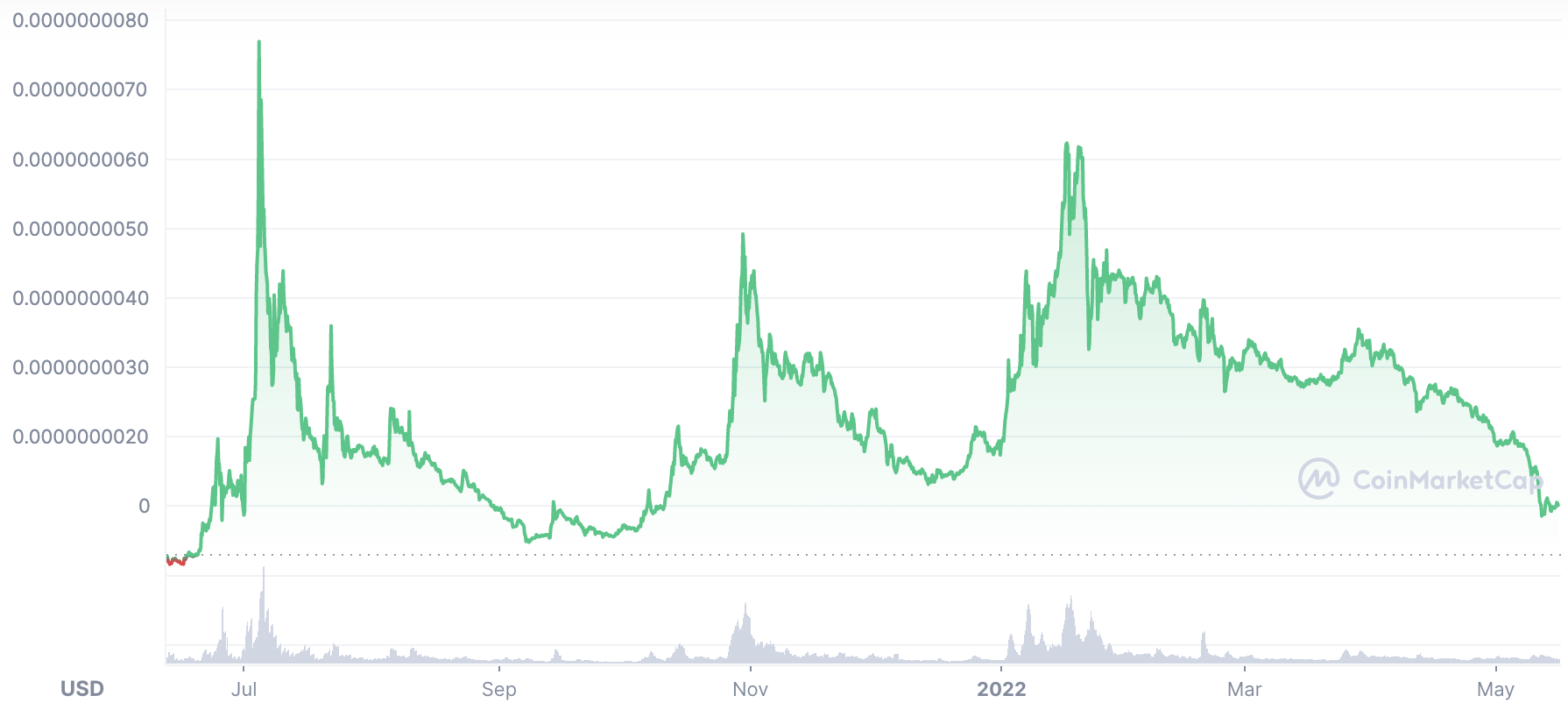 Conclusion
Baby Doge Coin is a cool meme project that has brought something fresh to the crypto space and is still very active. When there will be another bull run, it's very probable that Baby Doge will be at the forefront of all meme coins. Are you a Baby Doge holder or are you planning on buying? Let us know in the comments!
Follow Baby Doge Coin: Website | Twitter | Discord | Instagram | Telegram | Youtube | Tiktok
more to read
Tripsters: Playful NFTs That Made a Lot of Noise
Nyoki Club: More Than Just An NFT Project
---
NFT World News Social Media: Twitter, Instagram, Telegram, Tiktok, Youtube, Twitch
---
sources: babydoge, coinmarketcap, twitter, medium
author: Rene Remsik
Disclaimer: This article is provided for informational purposes only. It is not offered or intended to be used as legal, tax, investment, financial, or other advice.