A promising new hero shooter, Citizen Conflict, partners with Magic Eden to unleash the full Web3 potential on social media and gift users with utility-rich NFTs of 5 new in-game heroes. Hot-wired NFT collection Become the Citizen Magic Eden will be up for grabs on the 8th of August, starting at 1PM UTC.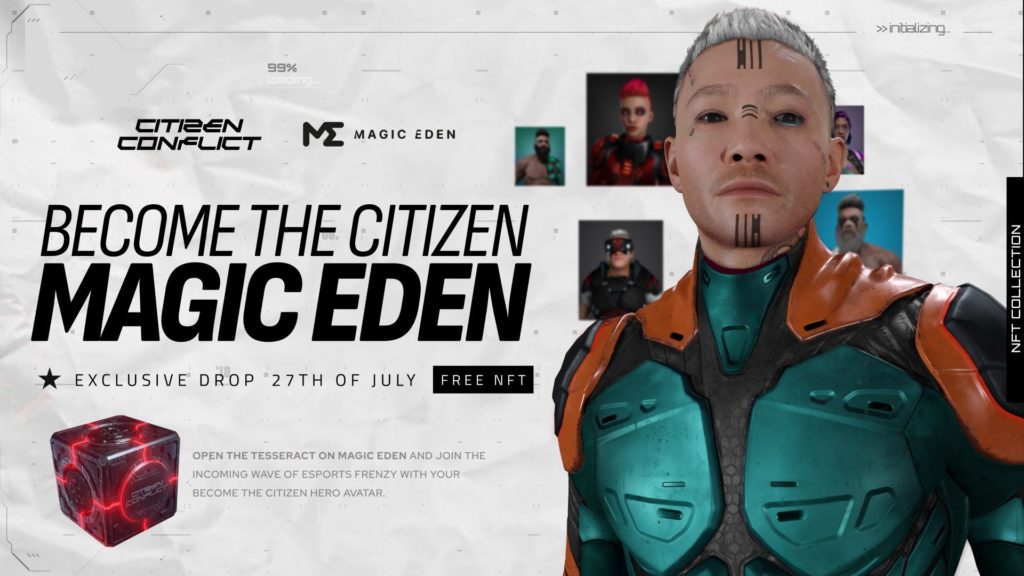 Become the Citizen NFT Collection Overview:
2,500 pieces of high-value NFTs for free
Full Web3 experience on social media
Citizen Conflict game access
Gateway to the upcoming prize pool tournament
Generous $QORPO token Airdrop chance
Free NFT Collection to Unite Web2 and Web3 Players
While NFT avatars enjoy increasing popularity among seasoned Web3 users, creators of the shooter game Citizen Conflict opened the potential of in-game asset ownership for traditional players across Web2 and Web3 alike. Citizen Conflict has been attracting a quickly growing player base with engaging gameplay and competitive tournaments powered by substantial prize pools.
Become the Citizen Magic Eden demonstrates the team's determination to uphold its esports vision. The Citizen Conflict Alpha 3.0 release will witness the dawn of the in August, and QORPO Game Studio promises an eventful tournament to support their game, accompanied by big prizes and a stellar team line-up.
Every holder is welcome to join Citizen Conflict from the day first and vie for the prizes, which shall be announced soon by the QORPO team.
5 New In-Game Heroes Up For Grabs
QORPO Game Studio, the Citizen Conflict developer, announced the characters of 5 new heroes featured in the Become the Citizen Magic Eden NFT collection. From previously playable to completely fresh-out-of-bus heroes, players can own their favorite villains and enjoy their incredible digital presence on social media.
Some stories are more lurid than others. Vigo's tale is a disaster. Born to a hooker and sold over, he's now on his way to inflict his pain on others. He has lost his eyes, but his new sight gives him special powers.
He might not have a hammer, but his lightning strikes just as hard. Mannerly, well-spoken Chief Officer in the front — sadistic, maniacal psychopath in the back. Thunder is a proper Metropolitan psycho. Come night; he will storm the city.
She was born to be raised by nuns just to become a stripper. Soon enough, Lutra learned every foul trick of a lady in service. Now she's a reckless mercenary. Despite her enticing looks, Lutra will cut your balls off.
Karma is an ambitious, corrupt, and greedy b*tch. Besides her twin Fang, she barely shows respect to anyone. Karma is most famous for her remarkable career in the armed forces before she got kicked out on the dusty streets for her foul practices.
Fang is a highly regarded ruler of the lower districts. He paved his way up with cruelty, blood, and sh*t. Fang is supportive of his loved ones but brutal and uncompromising when it comes to his steady position at the forefront of his gang.
High-Impact NFT Utilities for Citizen Conflict Players
The ownership of Citizen Conflict heroes, great visual aspect, and valuable addition to your NFT collection appear to be the cherry on top. The entire Beocme the Citizen Magic Eden collection is powered by impactful utilities that enable Citizen Conflict fans to enjoy the game to the fullest.

Universal Citizen Conflict Alpha access  
Become the Citizen Magic Eden NFT holders and gain immediate and universal access to every Citizen Conflict Alpha release. Play, hone your skills, and vie for big prizes in the upcoming esports tournaments.
Gateway to the upcoming tournament
with the success of its first esports tournament, Citizen Conlift aims to bring a follow-up. Become the Citizen holders will be eligible to vie for valuable prizes. The last tournament's prize pool reached the $10,000 mark.
Become the Citizen Magic Eden is a limited collection of NFT avatars coming in 2,500 pieces, each equipped with different variables, making every single NFT of the collection unique and second to none.
Fancy Social Media Presence  
The NFT collection is designed to enhance players' presence on social media and bring their own piece of Citizen Conflict to their profiles.
 QORPO Game Studio is about to list its token QORPO. With their piece from the limited NFT collection, users can become early QORPO holders for free with a generous airdrop chance, only paying the Polygon minting fee.
How to get eligible for the $QORPO Airdrop?
On August 8th, make sure to visit Magic Eden and get your hands on a complimentary NFT avatar from the exclusive Become the Citizen collection. Only 2500 pieces will be up for grabs! After obtaining the NFT, transfer it to your QORPO ID account to unlock various special advantages associated with your Citizen Conflict hero.
There's, however, a twist to the airdrop conditions. It's important to note that failing to transfer your NFTs to QORPO ID or QORPO Market will make you ineligible for the airdrop. To help you get started with QORPO ID, here's a simple guide.