Multiple Bitcoin blocks mined at the same time have started discussion around a possible double-spend attack on Bitcoin.
A double spend refers to when more Bitcoin is spent than the amount held in an address. Avoiding double spending is the key feature of any money network. Thus, media publications jumped at the opportunity to call the time of death and have created FUD (Fear, uncertainty, and doubt) situations.
Besides the wider panic, however, there is nothing to worry about, according to Bitcoin experts. Some have even questioned if said transaction was indeed a true double spend.
What happened?
On Jan. 20, at Bitcoin block height 666833, mining pools F2Pool and SlushPool both mined a BTC block simultaneously. The Bitcoin blockchain adds blocks one-by-one. Thus, only of them was eventually added to the major chain. For ten minutes, nevertheless, transactions in both blocks showed confirmation. 
A transaction from one set of addresses showed in both blocks with outputs of 0.00062063 and 0.00014499 BTC (total 0.00076562 BTC). The sending addresses had a total of 0.00071095 BTC only.
Hence, the input address received more Bitcoin than the sender held in the wallets.
Expert opinion
This issue was firstly reported by The BitMEX team, probably earning the attention of many. A double spend on Bitcoin meant the end of the leading blockchain as the ledger is no longer secure but BitMEX gave an incorrect report at the beginning. 
To understand what happened, one has to know about replace-by-fee (RBF) transactions. As the name suggests, it appears when a sender tries to replace an earlier transaction with another one with a higher fee. This particular user had an unconfirmed transaction sent on Jan. 18 from four Bitcoin addresses.
Later, the user attempted to send another transaction to a different address on Jan. 19. Bitcoin full nodes rejected this. 
On Jan 20., an RBF attempt to make miners accept the transaction finally sent the amount.
However, when the RBF transaction was initiated, the first transaction from Jan. 18 also went through in the second block. Thus, the input addresses spent more than their total input. This is the summary of the whole story in the charts.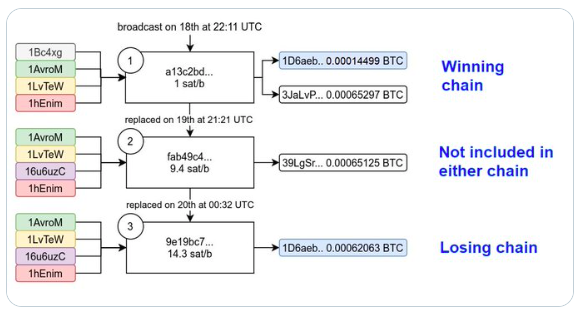 Note that the transaction to a different output was not included in either chain.
The intentions of this user are unclear at the moment. Nonetheless, until the next block confirmation, which is ten minutes for Bitcoin, both transactions were verified simultaneously. This could have created minor issues. 
Temporary block reorganizations are a common occurrence. Bitcoin educator Andreas Anotonopolous noted that one or two block reorganizations happen every few weeks. The chances of adding two different transactions from the same address are rarer. If you want to learn more watch his educational video.
Source: https://cryptobriefing.com/