Quick Overview:
The ultimate mobile Battle Royale game for the web3 generation is Blast Royale! In this fun, frenetic, adrenaline-fueled short session game, you'll be tasked with packing as much fun as possible into the blockchain. Players may earn cryptocurrency by contributing to the ecosystem of this new generation of video games.
Related: Unleashing the Thrills of Archloot – A Game Unlike Any Other, Latest Review 2023
Basic Overview:
The team behind Blast Royale is a group of talented and passionate individuals who have come together to create a unique and exciting mobile gaming experience. The team includes skilled developers, artists, designers, and marketers, all of whom work tirelessly to ensure the game is the best it can be.
Neil McFarland CEO – Creative Lead and Co-Founder
Anil Das-Gupta CPO – Product / Design Lead and Co-Founder
NFT Game Assets:
In Blast Royale, players can equip tons of pieces of unique equipment to their characters, which affect their performance and appearance in battle. If you want to deal major damage and be protected, then equip your body with heavy armour and weapons, or if you want to move quickly, wear a rapid-fire weapon and light armour.
In addition to affecting visual appearance, gameplay stats, and additional effects, equipment can have many attributes, some of which are more valuable, rare, and powerful than others.

Tokenomics
BLAST (Blast Token) is an ERC-20 token that will be used in the Blast Royale metaverse to purchase and sell equipment, replicate crafts, upgrade and repair equipment. There will also be a secondary token – Craft Spice ($CS). Additionally, $BLST holders may be able to utilize a staking feature to increase their utility. 512M $BLST will be minted for the purpose of financing the development & expansion of the game, as well as rewarding the first batch of users & the development team. A series of sales will be performed to obtain liquidity for listing $BLST on exchanges.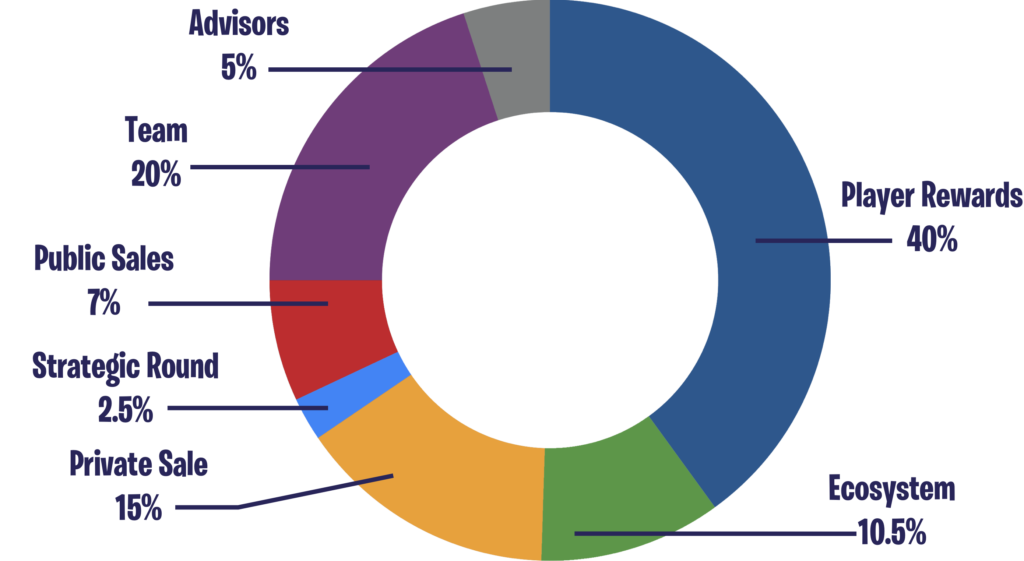 The Craft Spice ($CS) token is an ERC-20 token. The Blast Royale metaverse uses it as its secondary token. It won't be minted in advance, so you'll only be able to mint $CS when you play the game and interact with the in-game systems. There are several actions you can perform with this token: equipment repair, replication, crafting, upgrading, and so on.
In the Ranked match, you need only equip one NFT to earn some $CS.
A player's $CS pool is deducted at the end of every match. In the case of an empty pool, a player cannot earn more $CS, but they can still play the game. Every three hours, the pool is replenished at 25% of its maximum value.
Players have a bigger pool of equipment pieces when they have more pieces in their inventory. The dependency, however, is non-linear. In the chart below, more equipment pieces are owned, resulting in a higher base pool value.
Roadmap:
Few major topics right now are:
Solution against farming-bots – attaching CS earning to gameplay actions
Squads gameplay
Improvements in the FTUE (First Time User Experience)
New match-rank-based trophies system
Full roadmap: https://first-light-games.gitbook.io/blast-royale/miscellaneous/roadmap
Socials:
| | |
| --- | --- |
| Platform | Followers |
| Twitter | 36.3k |
| Facebook | 362 |
| Discord | 15.0k |
| Instagram | 383 |
| TikTok | 161 |
| Youtube | 1.1k |
| Telegram | 1.6k |
Website:
Gameplay:
Conclusion:
In conclusion, Blast Royale is a thrilling mobile Battle Royale game that caters to the web3 generation. With the ability to earn cryptocurrency through gameplay, it offers a unique and exciting experience to players.