Quick Summary
Boson Protocol bought a luxury fashion NFT from Dolce & Gabbana called The Glass Suit for $1 million. It is available inside Boson Metaverse where you can look at the exhibition and become a part of the $BOSON giveaway.
Digital Fashion is moving forward with metaverse projects and Boson Protocol is real proof of that. Boson Protocol bought Dolce & Gabbana Glass Suit to show the unique experience of luxury fashion NFT inside the metaverse and its possibilities. Try out this opportunity, become a part of the giveaway and win $BOSON tokens. Read more to find out!
we wrote about Boson Protocol here
Boson Protocol Explained
Boson Protocol (BOSON) is a decentralized commerce protocol that seeks to enable the sale of physical goods, services, and experiences in the metaverse as non-fungible tokens (NFTs), and hopes to provide an infrastructure layer for exchanging assets of non-monetary value. For example, an NFT of a pair of sneakers bought using the Boson Protocol in the Metaverse would then be redeemable for that physical pair of sneakers in the real world, and vice versa.
Boson Bought NFT Fashion Clothing For $1 Million
Digital Fashion became a part of the NFT world, where Dolce & Gabbana launched a collection of several luxury pieces. Boson Protocol decided to buy one of those, The One-Million Dollar Glass Suit to be more specific. Now it's available to admire in the Boson Protocol Gallery.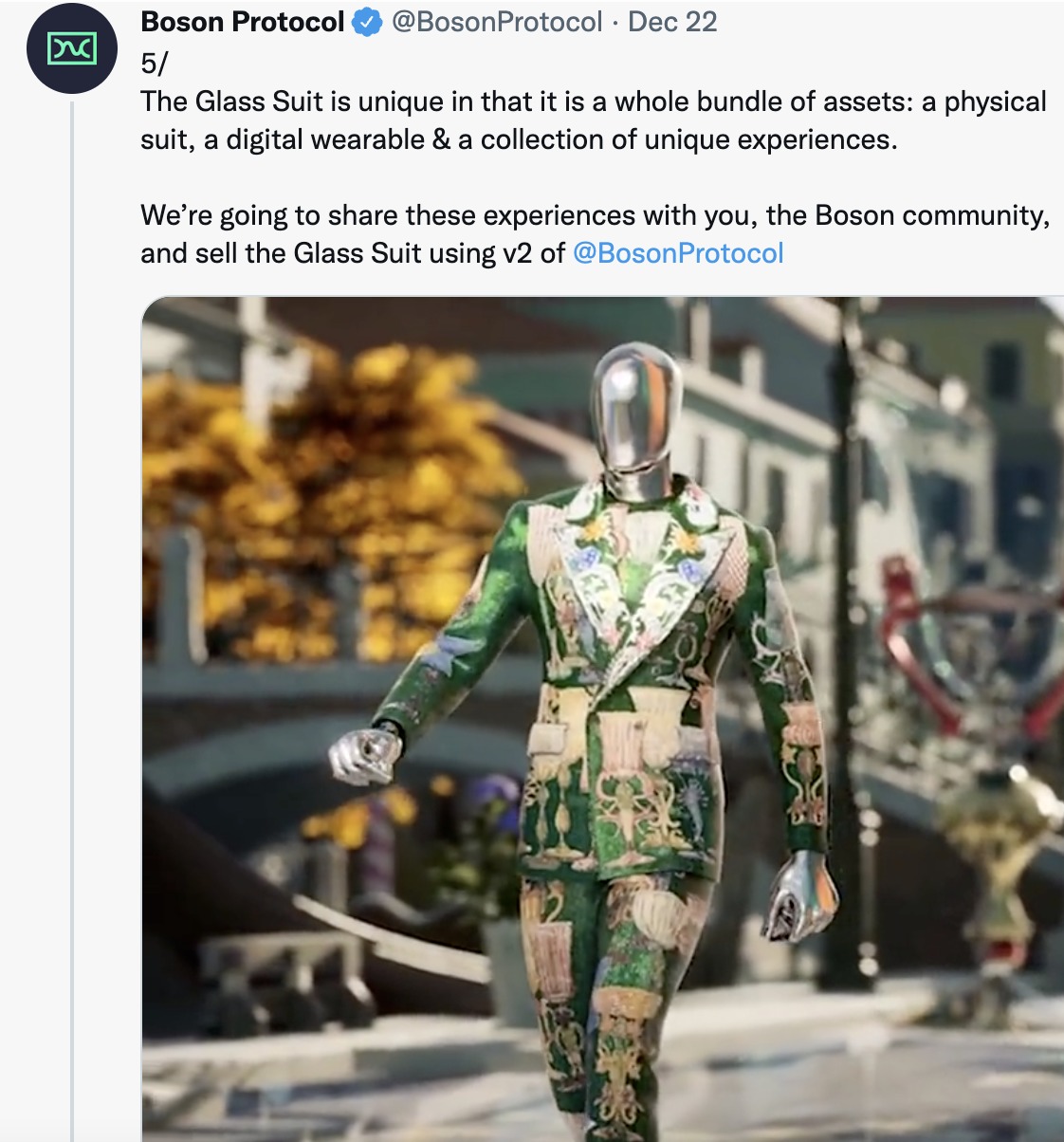 In September, Boson Protocol made NFT history by acquiring The Glass Suit for 351 ETH, or $1million. Since then, a tidal wave of interest came in the metaverse and in NFT wearables from the world's largest brands, supporting the idea that this is indeed the future of fashion.
Boson Protocol has a place within the Decentraland plot in Vegas City, where the exhibition about the suit is situated. In the Gallery, you'll find artwork and videos detailing the thousands of hours of work and extraordinary attention to detail that went into creating the Suit, including the exclusive sketch personally signed by Domenico Dolce and Stefano Gabbana.
The Glass Suit is not just another NFT. It's unique because it contains a whole bundle of assets: a physical suit, a digital wearable, and a collection of unique experiences. The Glass Suit will be later sold using v2 of Boson Protocol after people will experience inside of their metaverse.
There is a giveaway connected to this event, so check out the details and win $BOSON tokens. The giveaway runs until January 31, 2022.
Conclusion
Boson Protocol is one of the newest leading metaverse projects with its own token and great ideas. Boson seeks to start up metaverse commerce and show real use cases of NFTs, metaverse and cryptocurrencies. We can say without a doubt that this project has a great future ahead!
About Boson
Boson Protocol is the decentralized network on which future commerce will run and it starts with metaverse commerce. Boson Protocol enables anyone to sell physical products in the metaverse as NFTs within our Decentraland space — Boson Portal. With Boson Protocol you can build commerce applications that anyone can trust and everyone can use.
Telegram | Twitter | LinkedIn | Website | YouTube | Discord
---
more to read
Americans Start to Give Cryptos as a Gift
MOBOX – The Future of Metaverse Gaming
---
NFT World News Social Media: Twitter, Instagram, Telegram, Tiktok, Youtube
---
sources: twitter, medium
author: Rene Remsik
Disclaimer: This article is provided for informational purposes only. It is not offered or intended to be used as legal, tax, investment, financial, or other advice.