Quick Summary:
Starting early in the following year, Nike Web3, on the Polygon ecosystem, will start to provide NFT products.
The native token, Matic, of the layer2 chain might get good gains as the news is a positive development for the Polygon ecosystem.
Nike has already stepped into the blockchain world through its NFT collection and Metaverse products. The footwear company is all set to launch its Swoosh Web3 platform in 2023 on Polygon Chain. Polygon is a layer-2 scalability solution on the Ethereum chain. Polygon is the first choice of developers due to its EVM compatibility and high scalability. The firm has already released the NFT Nike Sneaker based on Ethereum in April, launched by the RTFKT studio that it acquired in 2021.
Make your #dApps unstoppable 🚀🚀🚀#Polygon & @unstoppableweb, the #1 provider of web3 domains, have teamed up to offer prizes to Polygon dApps 🔥

Get a #web3 domain & integrate Login with Unstoppable and be a part of the Polygon community.

Learn more: https://t.co/sNwBpyV1HL

— Polygon – MATIC 💜 (@0xPolygon) November 16, 2022
Nike, one of the top global makers of athletic equipment, will base their Web3 experience on Polygon, according to the Polygon team. The performance coincides with the bitcoin market's overall continuation of its uptrend from the previous week. 
Polygon Matic Price after the Nike Web3 Announcement:
Polygon announced the development with its community on April 14 and the impact was seen as Matic started to pump. At $0.89 today, Polygon has a $573 million 24-hour trading volume. In the past 24 hours, Polygon has decreased by 5.49%. With a $7.8 billion market cap, CoinMarketCap currently ranks #10 among cryptocurrencies.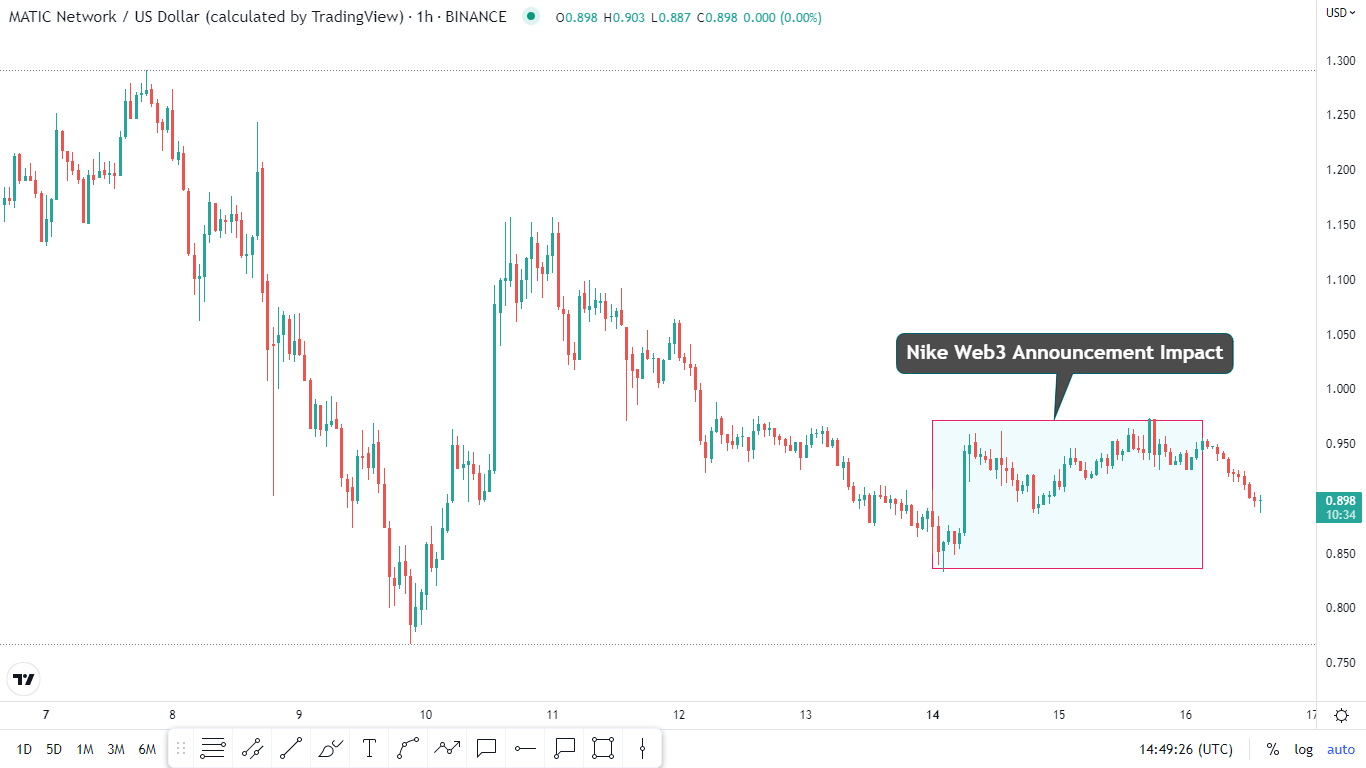 The FTX hack and the bankruptcy filing were the major FUD that impacted the entire market and even Bitcoin could not stand it. Matic gained over 14% in just an hour after the news and kept resisting the downflow of the entire market. As the selling pressure mounted, it started to lose volume, however, it maintained the price above the support zone.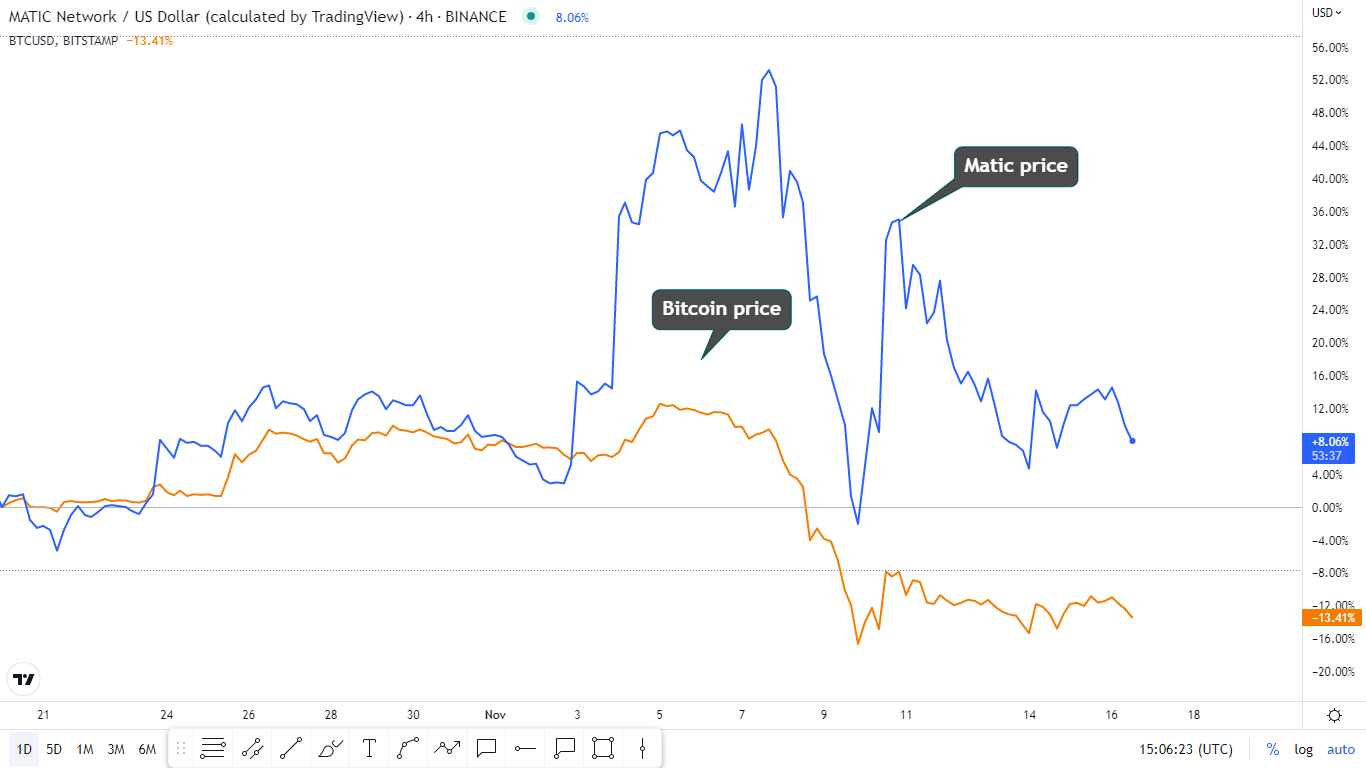 If we compare Matic with the Bitcoin price chart at the same timeframe, Matic, like any other coin mimics the Bitcoin movement. This means that the impact of the news didn't move the prices to make an actual difference. 
Conclusion:
Most likely, Matic won't be much different than the market. It will go down together with the cryptocurrency if Bitcoin slides down again. The sentiment is bearish as a result of the FTX crisis and most likely will stay that way for some time. Altcoins may perform poorly as a result of more cryptocurrency companies declaring bankruptcy in the next days or weeks. Matic might jump higher when the Nike Web3 launches in January.