Quick Summary:
Top celebrities were promoting and shilling NFTs on their social media platforms which created hype among people. The regulatory watchdogs called out these celebrities to disclose their relationship with these NFT companies.
Related: Revolut Lists Elrond's EGDL increasing its reach to 30+ Countries
Shilling NFTs by celebrities on their social media to find potential buyers is a new challenge that people have to face. The consumer watchdog Trust in Advertising has called out 19 celebrities including Justin Bieber for promoting several NFT projects without disclosing their deal with those companies.
The watchdog defines NFTs as an area 'rife with deception' and intriguing those people who do not know much about these projects might lead to a disaster. The consumer security firm has sent letters to these celebrities with social media accounts used in promotion and urged them to disclose their material connections with the NFT projects they were seen promoting.
The promoter often fails to disclose a material connection to the endorsed NFT company.
Snoop Dogg is the first celebrity that attracted a lot of attention for investing in NFTs and virtual land plots. Justin Bieber has recently joined the most influential NFT community the BAYC.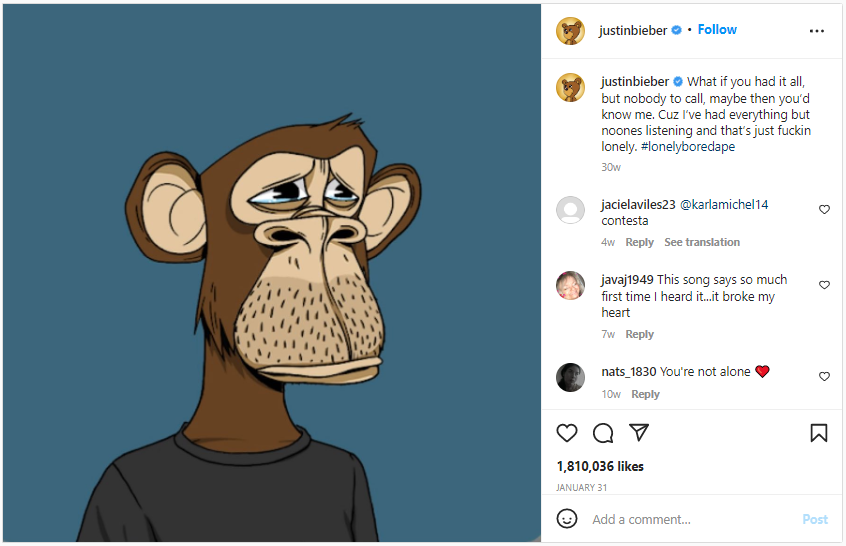 Why Shilling NFTs can be dangerous?
The watchdog Trust in Advertising (TINA.org) previously issued letters to the legal teams of Justin Bieber and Reese Witherspoon. The organisation has sent similar letters to sport stars Floyd Mayweather and Tom Brady, music icons Eminem and Snoop Dog, and several actresses including Gwyneth Paltrow.
TINA.org expressed its grievances regarding their actions and how they can affect their followers. Even though no charges or legal penalties have been included, TINA.org warned all these celebs to avoid shilling these assets as it can lead to new offenses.
There are clear FTC (Federal Trade Commission) guidelines about celebs and influencers promoting NFTs. These celebs have a huge number of followers and their entry and promotion through their social platforms can trigger artificial price hype which is not real.
Concluding thoughts:
NFTs are digital files that offer ownership through blockchain. Since very few NFTs have intrinsic value, the rest are run by hype and utilities that come along. The hype-run NFTs are speculative in nature and their price can be affected through this 'influencer marketing. While this is the moral duty of these celebrities to not guide people into what apparently they don't understand, people should also be mindful of what they are getting into.
More to read: