Quick Summary
Chromia is an open source blockchain using standalone layer-1 blockchain and it's compatible with BSC and ETH. It's designed to enhance existing dApps, providing scalability, improved data handling and customizable fee structures.
Chromia uses relational blockchain and each dApp is running on its own sidechain.
Everyone knows that Ethereum was the beginning of decentralized apps (dApps) when cryptocurrencies were just starting out. However, there are other projects that support dApps and have many better features. In this blog, we will take a look at a cryptocurrency Chromia that has a relational blockchain and may be huge in the future. 
this might interest you: Sidus – The Next Generation of NFT Heroes
Better Future for dApps
Chromia is an open-source public blockchain conceived of by Swedish company Chromaway AB. The Chroma token (CHR) was launched in May of 2019 and the technology behind Chromia blockchain is adapted from an earlier technology called 'Postchain', which is a solution provided by Chromaway AB for enterprise clients.
Chromia is a standalone Layer-1 blockchain and EVM compatible Layer-2 enhancement for Binance Smart Chain (BSC) and Ethereum (ETH). It is designed to enhance existing dApps and allow for the creation of next-generation dApps by providing scalability, improved data handling, and customizable fee structures.

The blockchain uses a unique architecture called relational blockchain, as well as a custom programming language called Rell. Rell is designed to code and function very similarly to SQL, allowing developers to leverage the security and immutability of blockchain while storing and handling data with the efficiency of a relational database.
Each dApp running on Chromia operates on its own sidechain which is rooted in the main blockchain. This allows each application to scale more efficiently and gives each app developer the freedom to choose from a variety of fee structures. For example, one app may require users to pay transaction fees in CHR (similar to how Ethereum or Bitcoin work), while another application could stake enough CHR to reserve computational power and allow their users to make unlimited transactions without paying any fees at all.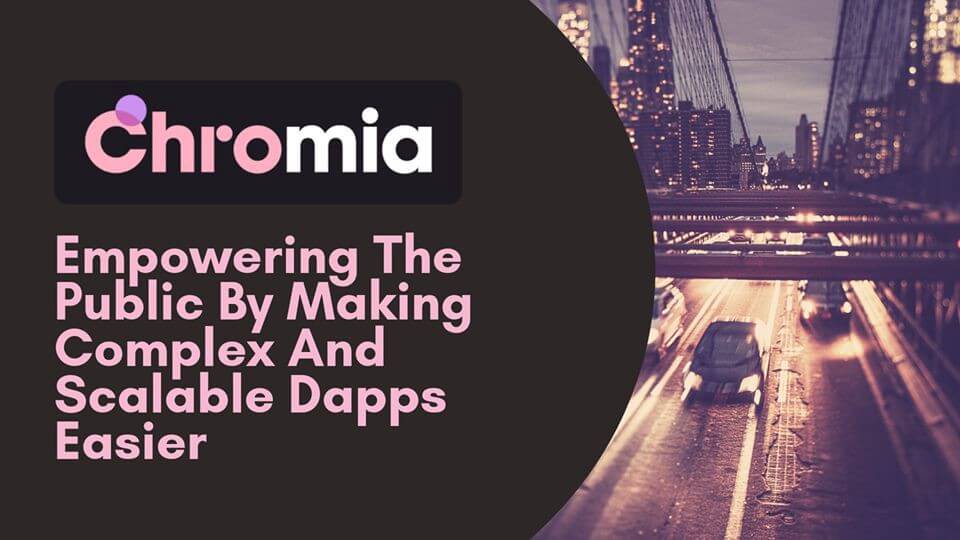 Chromia already has a wide variety of apps building upon their blockchain, using their chain as a decentralized storage layer, and using their Layer-2 enhancements. One of the latest features in development is a new NFT standard called Chromia Originals, which will operate both as a native standard on Chromia's chain as well as an enhancement layer for existing ERC-721 and BEP-721 tokens.
Moreover, The Chromia gaming system has announced an $80 million Metaverse Grant Program to further establish its stronghold as a metaverse and Play-to-Earn (P2E) platform. The announcement comes in partnership with notable gaming projects like My Neighbor Alice (MNA) and Mines of Dalarnia (MoD). These big players will be using Chromia's technology in their network topology. And this is only a start.
Token Information (CHR)
Chromia has its own token CHR that launched around a price of $0.07 but failed to grow in its first year. However, the token rose to $1.4 at the end of 2021 and the current market cap for CHR is now around $386 million. The max supply is set at 1 billion tokens and the trading volume is huge. You can trade CHR token on the biggest crypto exchanges, such as Binance, Huobi, KuCoin, Gate, Crypto, and many more. 
Conclusion
Chromia is bringing innovation in a place where Ethereum is a little behindhand. Chromia provided some very useful solutions to the problems that some cryptocurrencies are facing. The most recent grant program for taking part in the metaverse and P2E spheres may add more value to this project and that will cause the token to rise even more in the future. 
more to read
OVR – The Future of AR & VR in Metaverse
Virtual Lands In Metaverse Dominate The NFT Market
---
NFT World News Social Media: Twitter, Instagram, Telegram, Tiktok, Youtube
---
sources: chromia, coinmarketcap, coinspeaker
author: Rene Remsik
Disclaimer: This article is provided for informational purposes only. It is not offered or intended to be used as legal, tax, investment, financial, or other advice.