QORPO Game Studio introduces an upcoming free-to-play cyberpunk shooter game Citizen Conflict built in Unreal Engine 5 that bridges the MMO experience with adrenaline-driven esports modes.
Citizen Conflict Insights
Game Modes Introduction
Syndicates of Ether Islands
Ether Islands' Districts
Heroes & Classes
Citizen Conflict Vehicles
Citizen Conflict is an upcoming web3 hero-based shooter running on BNB Smart Chain. The experience built in Unreal Engine 5 offers both intense competitions of esports modes along with massively multiplayer online, based on an open map stretching across 10 playable districts of Ether Islands.
Surfing on a streak of positive reviews, Citizen Conflict got also acknowledged by the leading web3 game researcher & reviewer Balthazar DAO. Despite game development having a long way ahead, Citizen Conflict scored a solid 8 out of 10 points overall, already in its early stage of development.
Competitive Mode – A Game Design Set To Democratize Esports
Citizen Conflict sets a new benchmark in competitive gaming. OORPO Game Studio's mission is to bring back esports to the hands of retail players thanks to the true ownership of in-game assets and intense esports modes.
Players will be able to compete in Team Deathmatch, Deathmatch, and Conquest tournaments without the involvement of third parties. Everyone can become a pro thanks to regular tournaments supported by generous prize pools To involve the community, players are welcome to organize their own tournaments and win big.
Syndicate War Mode: An Open World Of Ether Islands Calls To Be Explored & Conquered
Citizen Conflict finds three syndicates struggling for power and dominance over Ether Islands. Players can choose their syndicate, each gifted with a special talent. On the other hand, every hero wields active and passive abilities, depending on their class. Thus Citizen Conflict offers room for tactics and gaming strategies. The goal is to claim as much influence over the Ether Islands districts as possible in the unrelenting war of Terra outcasts.
Every syndicate has different values, talents, and backgrounds. The emerging society of Ether Islands knows no limits in gaining power. Let's dive into the story of three revolting powers in an endless tug-of-war and power lust.
Korpo Syndicate
Korpos are headquartered in Metropolit City, an ostensible show-off drowning in wealth and corruption. The only value they respect is money, and the only vision of their rule lies within oppression. Korpo Syndicate controls every profitable asset of Ether Islands, from factories and mines to technological corporations. There's no room for mercy nor pity – Korpo Syndicate is a bunch of domineering sociopaths ready to eradicate anyone standing in their way.
Values of Korpo Syndicate: Political influence, power, and profit.
Hackhunters Syndicate
Hackhunters are sort of Ether Islands specters hiding in the shadows of night and underground of the South Moon district. They are a bunch of tech-savvy, geeky maniacs whose main interest is to connect AI with human brains. Hackhunters are not often seen, yet the marks of their trade can be spotted everywhere. From grotesque scientific experiments to technical body enhancements, Hackhunters' race for knowledge and high-tech advancements knows no limits.
Values of Hackhunters Syndicate: Technological advancement, science, and knowledge.
Midnight Syndicate
Self-entitled royalty of the night raves the streets of Whaleland, a chaotic concrete jungle of poverty and filth. Midnight houses no comely gentlemen indeed. Punks, rogues, and random street bastards swarmed together to gain influence over the Ether Islands' low life. Every bar, casino, whorehouse, or illegal racing fest has some Midnight nominee running it. Their fingers are always itchy for violence, erratic behavior, and decadence. Midnight Syndicate is a brotherhood of loyalty and respect.
Value of Midnight Syndicate: Survival, Loyalty, and Control
The Order – The Shadow Eminence
Beyond the syndicates, the shadow puppeteers are luxuriating in the Metahills, the wealthiest part of Ether Islands. They craft the propaganda, and they truly forge the emerging system. The Order are the ancestors of the old world elites, who took their chances to operate in the new world from behind the veil of lies, propaganda, and tyranny. How will the gameplay expand on the shadow eminence of Ether Islands? Maybe we will see in the coming months of Citizen Conflict development.
Ether Islands' Districts
The introduction of the open world map comes along with 10 districts stretching across the Ether Islands. Each district is distinctive, with a specific social background, environment, and opportunities. Citizen Conflict brings broad wastelands, concrete urban blocks, and metropolitan skyscrapers.
Outerlands – The Southern Hell Wasteland
The most desolate area of the Ether Islands is where District 10 is located. Outerlands life is miserable. Those few helpless individuals stuck here spend their entire lives working in mines. They just receive enough money to starve on some repulsive synthetic meal. The Korpo syndicate, which enjoys exploitation of everyone on the island, owns the mines and factories. Here, metals are extracted primarily, but in the industries of D7, they are further processed. You'll have to take whatever steps are necessary to escape this sweltering, desolate southern hell, where almost everyone despises it. And all it takes to accomplish that is to lie, deceive, abuse, and, if necessary, murder.
Vaporwaves – Ghetto of Ether Islands
Really not a promised land. It is still a shithole despite being far more populous and "developed" than Outerlands. Here in this shanty town, Ether Island's garbage is dumped, hence it stinks like hell. And it's not only rubbish; every moron human slime who is foolish enough to be apprehended by neighborhood police ends up in jail. Then, in military training camps, prisoners are exploited as human targets or as minefield laborers. Most don't endure for very long. It's a wise strategy to, so to speak, control population increase. There is a training facility here for fighting robots of the Korpo syndicate, a gun shooting range, and a training facility for anyone who can afford it, thus many cyborgs and would-be mercenaries come here as well.
South Moon – Toxic Air & Run-Down Theme Park
Welcome to Ether Islands' underground. South Moon used to be bursting to the seams with places to have fun. Theme parks, water parks, and amazing sights are everywhere you look. Visitors could enjoy swimming in a single sweetwater reservoir formed from a dam that provided clean energy to the entire island. South Moon, however, seemed to be far too uninteresting for the people in control. After all, the ice cream stands don't offer significant money. The slides and carousel production facilities directly above the dam, which quickly turned the water poisoned.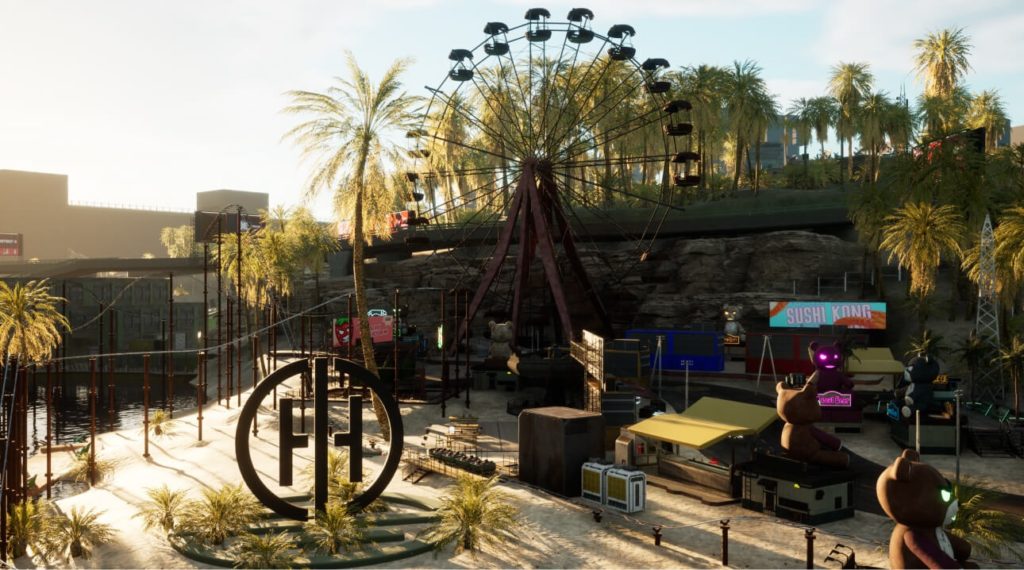 Whaleland – Filthy Urban Jungle
The first neighborhood was created on Ether Island during the Settlement. Only Whaleland, at least partially, managed to maintain its original form. The poorest people must face life on the lowest levels of this run-down town, with waste cascading down from higher levels. It is a multi-layered universe that is like a city atop a city. The people who have made some money have advanced swiftly in this wild town. The majority of the people in the area are from the blue-collar class, who put in a lot of grueling hours in the factories. Most of Whaleland's streets are infested by rats. Whaleland is an erratic urban jungle dominated by Midnight Syndicate.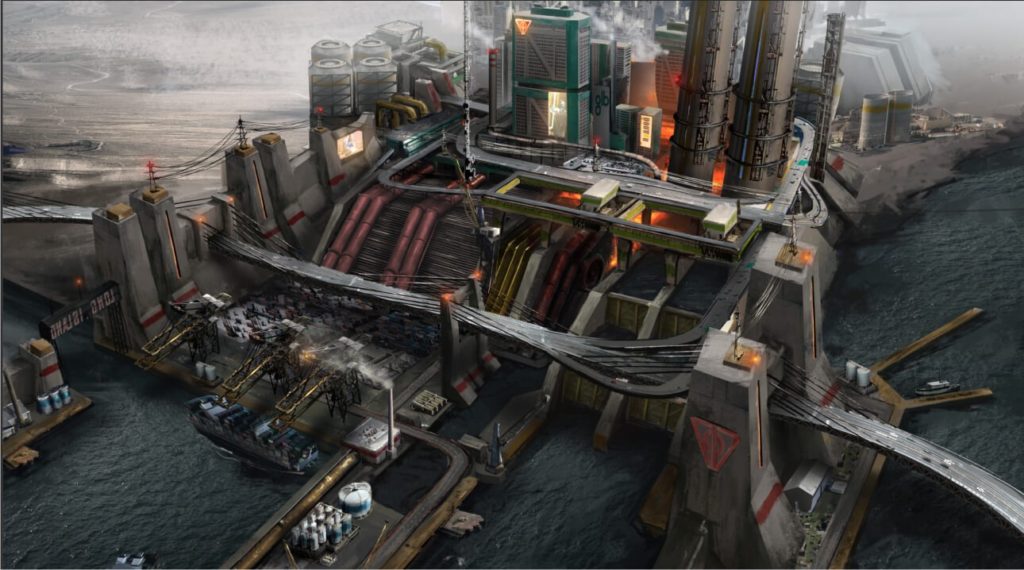 New Vegas – Gamble or Die
The dystopian future fun starts here, where VR bars and clubs are a must, and holographic advertisements for the pleasures of flesh can be seen everywhere. Casinos, brothels, and strip clubs have a hazy hue around them. The temptations are insane, just like everyone else here, and cyborgs walk the streets. It's the first neighborhood where you can actually earn some money. Gambling, pole dancing, and engaging in decadent behavior are common practices for many people. As the Midnight syndicate created a sizable underground scene in New Vegas, many people traveled there to observe illicit fights and place wagers on the contestants.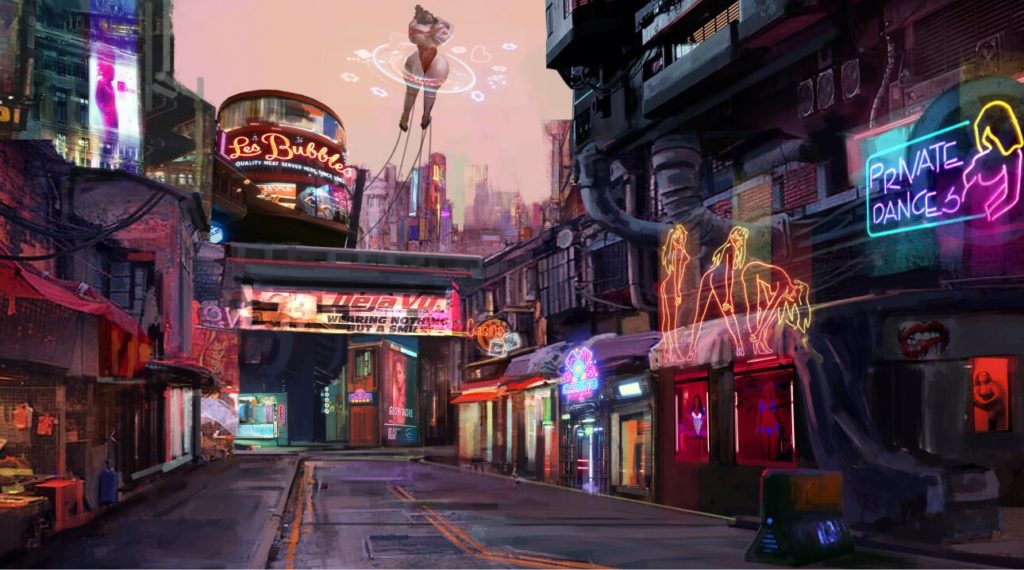 Nyan Garden – Asian Cyberhub
This is a good place to catch some breath when you make it out alive from New Vegas. It was settled by the Asian community at the beginning, and it kind of stayed that way. The offsprings of old Asian settlers had kept their love for uncanny style, weird shit, and technology. A lot of tech freaks came in the first wave, and they just couldn't wait to create some crazy cyber-hyped tech hub of glowing neons and hovercrafts. Nyan Garden is a Tokyo dream infested with weird psychedelic art, huge holographic commercials, and towering skyscrapers all around.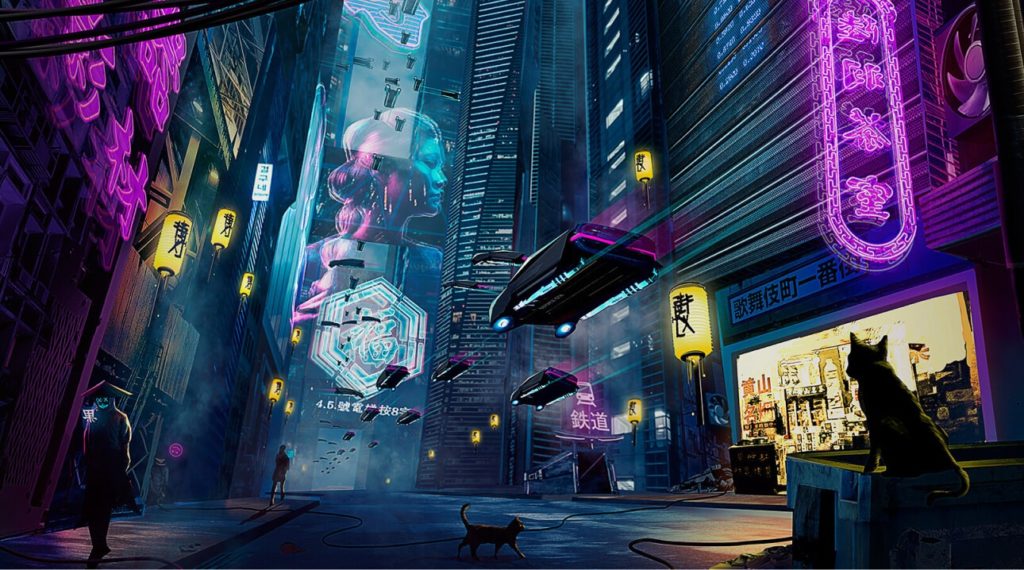 The Shills – The Wealth in the Making
This is the point where the promised dream begins to take shape. You can truly lead a life here. There are plenty of apartment buildings, shopping malls, universities, sports arenas, parks, and upscale restaurants but no dilapidated homes. High-end technology is present throughout, although there is still potential for development. Individuals in this area primarily work in administrative positions in offices or as engineers on numerous projects at research facilities to create new technology. It appears to be a typical world, similar to the one many people left behind when they departed from the old one. Yet you can simply sense that there's something strange going on here.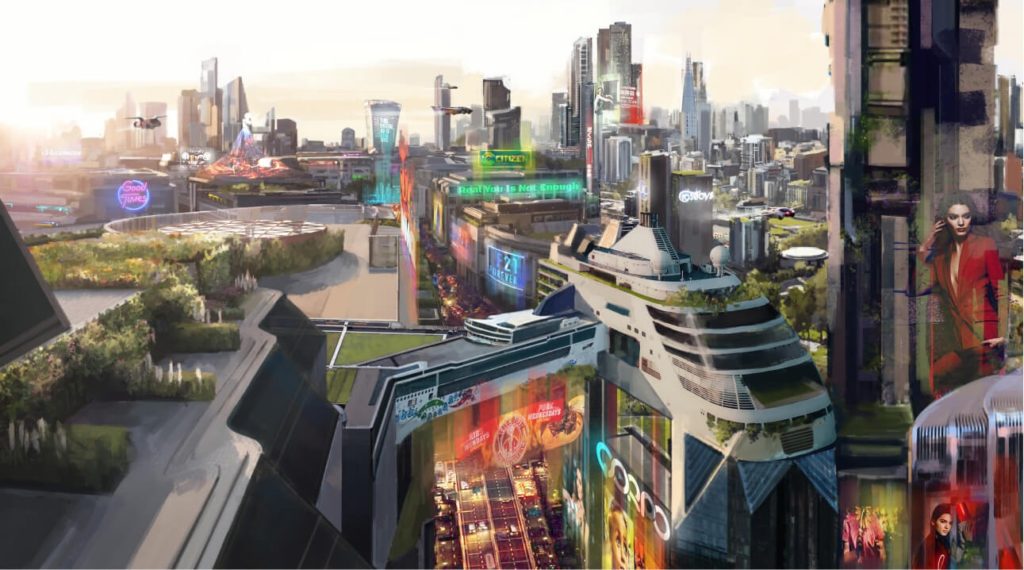 Metropolit City – The Business Capital
This is how does the Capital look like. The technological utopia of futuristic luxury many came here to experience. The center of it all. Place of the wealthy, privileged, and powerful. White-collar heaven, where all the maddest, greediest, narcissistic wizards of system abuse find a perfect playground to live their twisted dreams. With no oversight or law, this is a place where they can play gods. Every big company has moved its headquarters here. It is far enough from the craziness of New Vegas but not quite close to District 1. Here the Korpo syndicate rules most of the Ether Islands. Anyway, it's good to stay clear of the mountains bordering District 10, mostly after the infrastructure collapsed and Hackhunters started doing their mutilation experiments.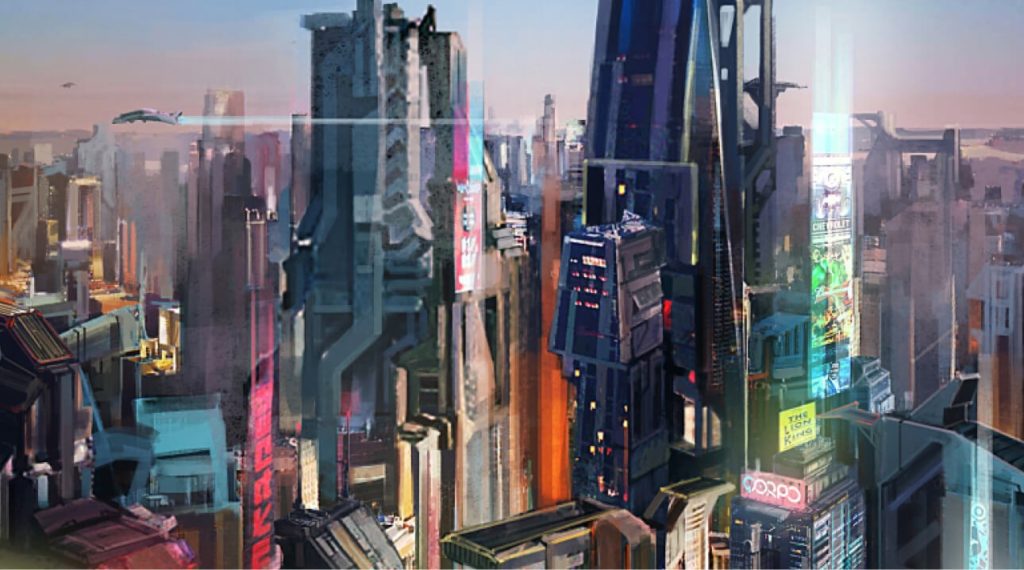 Metahills – Billionaires' Neighborhood
This is a neighborhood of the most prosperous residents, full of stunning villas owned by wealthy families and celebrities, chic boulevards with pricey stores and restaurants, beauty salons, and cutting-edge medical facilities. You no longer work here. Your main concern in this situation is what to wear and what beauty bio-enhancement procedures will come next. As you must have left some bodies behind if you made it here, everyone is shallow, and nobody really trusts anyone. On the streets of Metahills, you can run into everyone who has achieved fame and success, including gangsters, renowned people, musicians, and large business owners.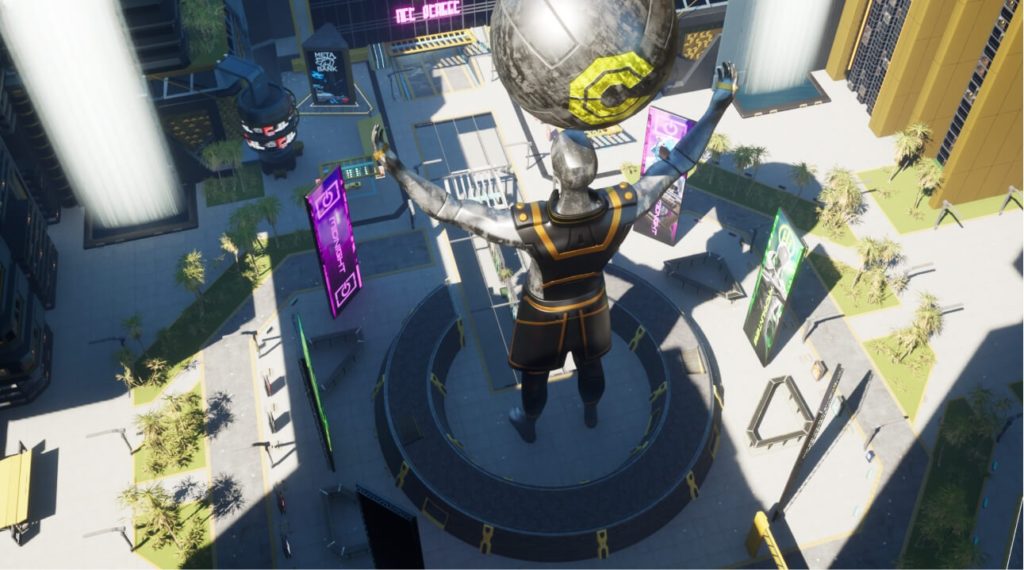 Arcadya – The Home of The Order
This is the Ether Islands' highest point. This is the dream that was promised to those who chose to believe in it, a location of immense wealth. The Order, the Éminence Grise that essentially rules the Ether Islands from behind closed doors, calls it home. the person in command of all the cyborg manufacturing facilities, the proprietor of AI technology, the brains behind bio-enhancements, the arch propagandists, and the one who sets the tone for the entire island.
New Pressbrug – A Cyberpunk-Styled Bratislava City
Pressburg is the historical name for Bratislava, the home city of QORPO Game Studio. New Pressburg is going to be a cyberpunk-fashioned Bratislava, connecting the city's history and future on the Ether Islands. New Pressburg is going to be part of The Shills district.
Bratislava's new look embodied everything the city had always stood for: a fusion of brutalist soviet shapes and the glistening lights of contemporary architecture encircling a pleasant historical center.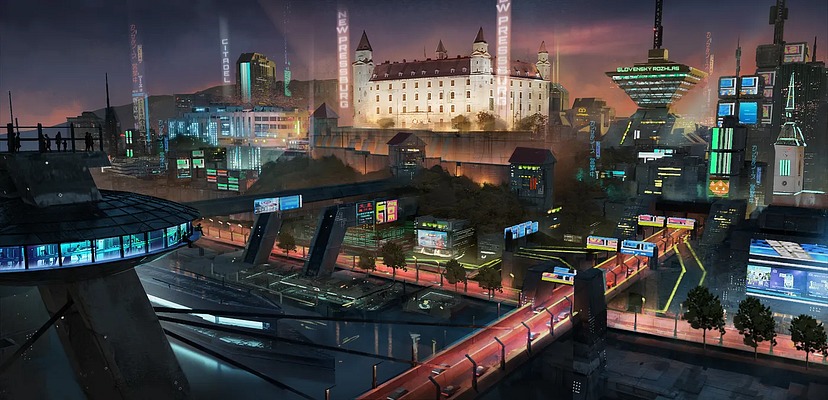 Ether Islands' Heroes
Citizen Conflict explores the harrowing fates of multiple characters set in the world of Ether Islands. Each hero has an active and passive ability based on their class. According to their background, certain heroes are more inclined to certain syndicates, however, gameplay-wise, it doesn't hinder you from choosing the syndicate of your preference.
Hero Classes
Citizen Conflict introduces 4 separate hero classes with specific abilities and importance in the tactics of the team constellation.
Assault – Assault represents a primarily offensive role in the game. Assault heroes are diehard maniacs set for the kill with their annihilating abilities.
Specialist – Specialist characters are experts in setting up their team for success with tricky abilities. They know how to devise traps and mechanisms to impair enemy troops.
Support – Support heroes are the defensive experts whose main goal is back up their teammates. They are the heavy-hitting brutes hard to be taken down.
Medics – Medics characters empower their allies by healing, shielding, boosting damage, and disabling foes.
Weapons & Masks
Do you have your hero and syndicate? Citizen Conflict expands on the customization liberty and introduces one-of-a-kind masks, some funny and some vile. Going across the titles, it's good to see that Citizen Conflict shows a sense of humor despite the serious and somewhat grim storyline.
Grindcore Pig? Nice one!
Kentucky Fight Chicken… be my guest.
On top of choosing your masks, Citizen Conflict introduces several types of weaponry, from melee weapons to pistols, shotguns, machine guns, and much more.
Travel Faster Through Ether Islands With Vehicles
With the advent of the broad open-world map, Citizen Conflict will also witness playable cars to make traveling more efficient and exploring more fun. Players will be able to spawn vehicles with the credits they earned in action. The more credits they get, the better vehicles they can put their hands on. Citizen Conflict will bring various engines, varying from fast sports cars to armored military transporter and tanks.
Get Involved Ahead Of The Release
Make sure to follow Citizen Conflict.QORPO Game Studio recently finished the first public alpha test, while alpha 2.0 is steadily approaching with several community competitions already behind the belt. To have a little taste of the last alpha test content competition, check out the winning entry.
To win your spot on the Citizen Conflict alpha 2.0 whitelist, sign up for the QORPO Market, an NFT marketplace & gaming hub, and earn regular rewards and giveaways.