Coca-Cola, a global beverage firm, has launched an NFT collection to support the LGBTIQ+ community. 136 NFTs are launched on the Polygon chain. The firm collaborated on the launch with Rich Mnisi, the LGBTIQ+ advocate.
Related: Kevin Hart Joined Web3 Space With New NFT Collection
Coca-Cola NFTs?
NFTs are getting love from everyone, and now it reaches to support LGBQIA+ (Lesbian, Gay, Bisexual, Transgender, Queer, (Questioning), Intersex, Asexual, and (Agender)) community with the help of the famous soft drink brand Coca-Cola. The beverage firm has launched 136 fragments, all unique NFTs on the Polygon network and now available on the Opensea NFT marketplace.
The Floor price at the time of launch was to be set at 1 ETH. However, the floor price of this Coca-Cola pride collection dropped to 0.198 ETH in the first week of the launch. The irony is that the collection has secured only 0.84 ETH volume since its launch.
Usually, major NFT projects choose the Ethereum blockchain to launch their NFTs as it gets them more exposure and buyers. Also, NFTs by brands and significant firms are followed by a huge hype, and they have maximum value in the first week or month of their launch.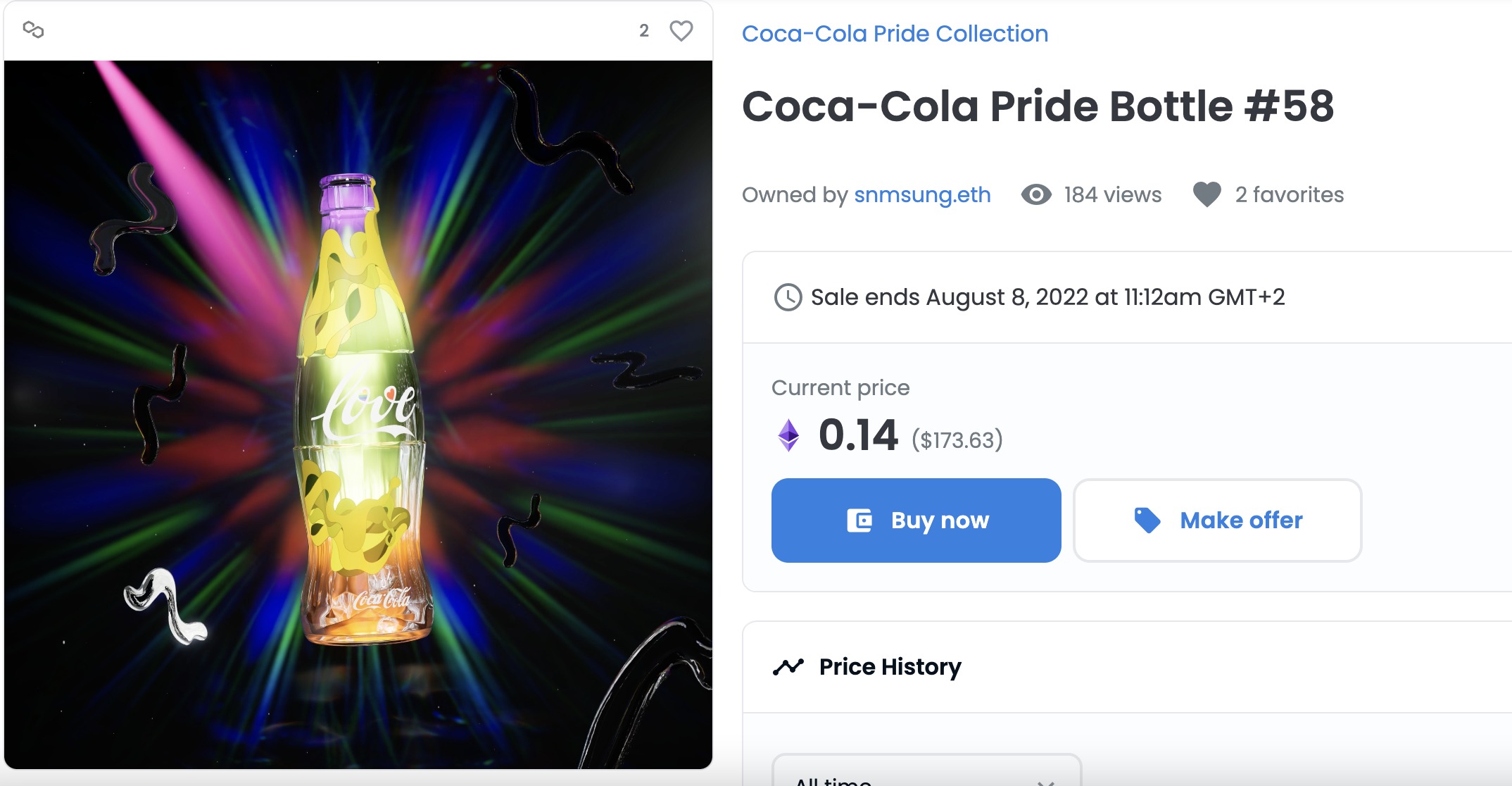 The LGBTQIA+ community is not celebrated everywhere. Some countries and religions consider it taboo to even discuss these topics. This could be the main reason why NFT enthusiasts did not hail this tiny collection of NFT GIFs. While compiling information for this blog we noticed that only a few news websites were covering this story, which indicates that Coca-Cola did not do the full-scale marketing of this NFT collection. Supporting a community is one thing, and being controversial is entirely a different scenario.
Middle Eastern countries and other Islamic countries have zero tolerance for this type of brand involvement. For example, a recent movie "Doctor Strange: Multiverse of Madness" had a 12-second scene where actors mentioned LGBTQIA+ remarks, and it was banned in Saudi Arabia and other countries. These countries also order to remove any rainbow color items from the store as it is a status symbol of the LGBTQIA+ community.
Conclusion
This is a blessing in disguise; though the NFT collection didn't get much attention as the brand had expected by setting the floor price at 1 ETH, thankfully, there's no controversy eruption – so far. It's good to support communities, but doing it at the cost of brand reputation could be frighteningly dangerous.
more to read
JP Morgan Might Take Away the Decentralization of Ethereum
AMAZY is the Most Anticipated Web3 Project Launch of 2022
---
Follow NFT World News: Twitter, Instagram, Telegram, Tiktok, Youtube, Twitch
---
author: mnmansha
Disclaimer: This article is provided for informational purposes only. It is not offered or intended to be used as legal, tax, investment, financial, or other advice.