Quick Summary
Coin98 is a crypto company offering many kinds of useful tools for traders, investors, and users. These tools include a wallet, app, crypto price tracker, exchange, and many more.
In the midst of all the crypto craze, people should have some tools to be able to filter good projects and see their stats, insights, and more. Coinmarketcap or Coingecko offer many helpful tools in the crypto space, however, Coin98 is the true crypto tool traders, investors and users need. What exactly is Coin98?
Coin98 Explained
Coin98's goal is to fulfill untapped demand in the industry and become a gateway bridging TradFi users to any DeFi services on several blockchains. Coin98 achieves this goal by offering a comprehensive range of products, including Coin98 Super App, Coin98 Extension, Coin98 SpaceGate (Cross-chain Bridge), Coin98 Staking, Coin98 Vault, Coin98 Terminal (powerful DeFi tools), Coin98 Markets, Coin98 Portfolio. Coin98 has more than 2 million users from 100+ countries all over the world.
Coin98 is the world's most popular crypto super app, created to safely and securely link a billion consumers to the crypto world. They aim to provide a comprehensive and trustworthy ecosystem of important services to customers all over the world, including a non-custodial, multi-chain NFT & cryptocurrency wallet, built-in DEXs, cross-chain bridge & dApp browser, robust terminal, appealing earn, gift & campaign, and more.
Coin98 Super App
Coin98 Super App is the leading first multi-chain interoperable wallet engine, which means users may interact with many wallets from different blockchains at the same time with a single passphrase, without having to move between them.
Coin98 allows its users to store, send, receive, manage crypto assets, NFT sand connects to numerous dApps (e.g. OolongSwap, dYdX, Maple Finance), while supporting over 50 blockchains, such as Ethereum, BNB Chain, Solana, Polygon, Avalanche, etc. on both mobile (iOS & Android) and Chrome extension versions.
Coin98 Exchange And SpaceGate
Coin98 Exchange is a multichain liquidity aggregator that enables customers to exchange or invest in cryptocurrency at the best possible rates. Coin98 Exchange has integrated natively 15 leading DEXes on 9 various robust blockchains. With our dynamic integrations, users now can enjoy swapping an array of popular tokens on only one interface and always keep up with the latest crypto trend.
The SpaceGate is a cross-chain bridge, as previously stated. SpaceGate allows users to send and receive cryptocurrency across multiple networks. It allows for the trading of a wide variety of tokens. This will be Coin98's V1 of SpaceGate, where users can easily convert C98 from TomoChain to BNB Smart Chain. V2 will upgrade this to include Ethereum and Solana. And V3, SpaceGatewill start to bring cross-chain transfer to stablecoin (USDC) and other assets.
Coin98 Staking is the latest release of the Coin98 Labs to fulfill Coin98'sproduct suite and reward for C98 holders. It will also be a simple and secure way for users to earn passive income while involved in the Coin98 Ecosystem.
Coin98 Staking offers fixed interest rates based on your staking plans. There are three different packages with suitable staking periods and amounts of tokens for users to engage.
Besides appealing interest rates, Coin98 also offers you exclusive NFT staking cards, and real assets for Coin98 stakers.
Coin98 Vault brings asset management to a new level and provides users with a unique "token claim" experience.
Simply put, you can think of the Vault as crypto storage used to manage assets (tokens/NFTs). With this feature, users can quickly and conveniently claim rewards, and receive scheduled payment, while the project owners can automate the token distribution and beyond.
More to explore:
Coin98 Markets: a powerful DeFi tool of the Coin98 ecosystem, that aggregates real-time, detailed, and useful market data and assists users in monitoring the market changes and fluctuations.
Coin98 Portfolio: a pure crypto portfolio tracking product, allowing users to monitor portfolios and price changes any time of the day, and track and manage the growth of their assets with multi-chain wallet addresses.
Coin98 Terminals: a powerful DeFi toolkit that includes a suite of Multi-Send, Token Issuer, Solona Migration, Wallet Approval, and upcoming features like Multi-Sig, … These DeFi tools provide users with an inclusive and frictionless experience which is without leaving the platform.
Coin98 Insights
Do you want to receive the latest insights from the crypto world? Coin98 Insights is another arm of Coin98 Finance. Follow Coin98 Insights to know about important information and updates from the crypto space. For example, you can find the TOP fundraising events, TOP-mentioned projects on Twitter, or TOP trending coins at the moment.
Coin98 (C98) is a native token for the Coin98 platform with several utility cases and multi-chain integration (Ethereum, Binance Smart Chain, and Solana). The coin was launched in July 2021, with a total and maximal supply of 1 billion tokens (19% of all tokens are circulating). Currently, Coin98 has a small market cap below $100 million and it's listed on the most prominent crypto exchanges in the world, such as Binance, KuCoin, Gate, Huobi, FTX, etc.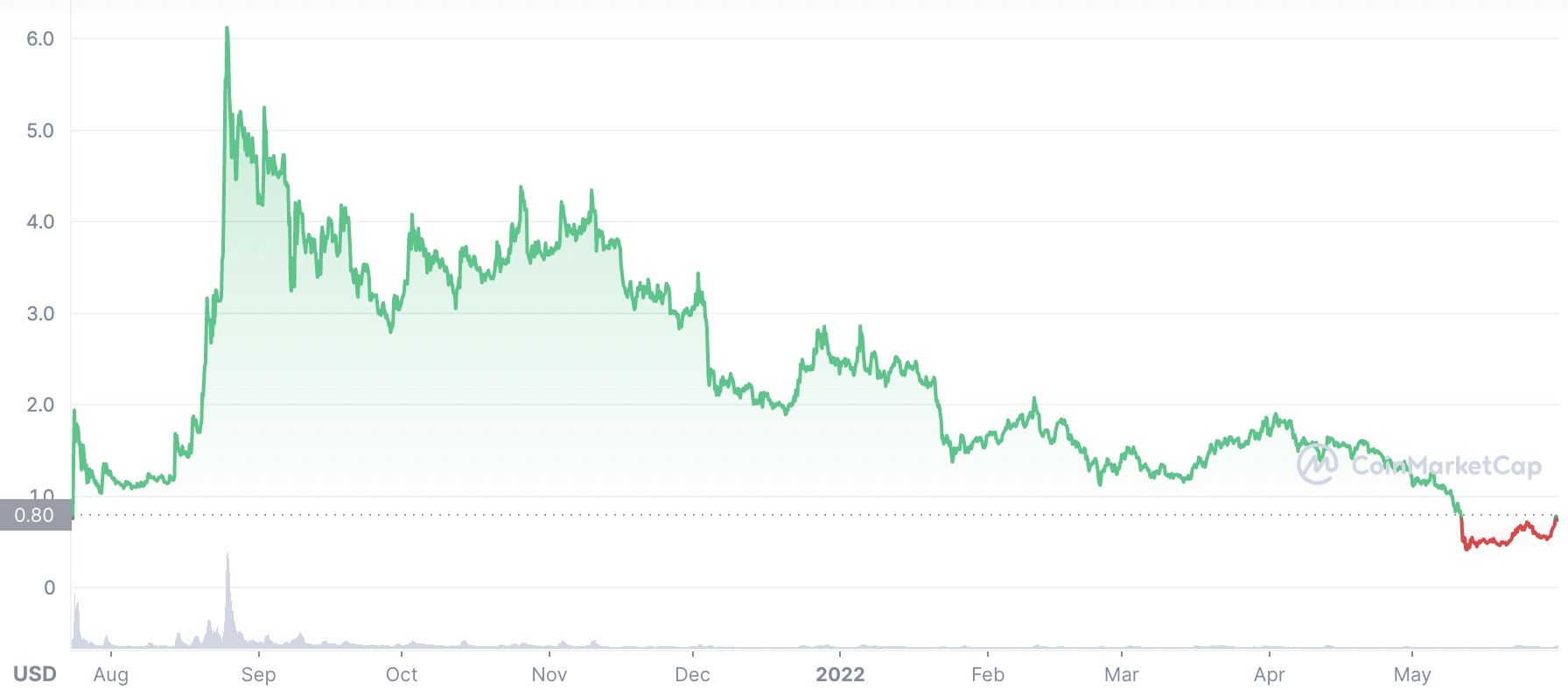 Conclusion
If you're ever looking for useful crypto tools, you should definitely visit Coin98 because it can provide much more than we actually covered in this blog. And the fact that they also have their own token makes the project even more attractive, so follow their social media to stay updated.
Follow Coin98: Website | Twitter | Telegram | Discord | CMC | App | YouTube |
more to read
The Rise and Fall of Terra Luna
CoinBlock Capital Is Taking Over The Crypto Space
Crypto Market Crash and Its Impact on Play-to-Earn Games
---
Follow NWN: Twitter, Instagram, Telegram, Tiktok, Youtube, Twitch
---
sources: coinmarketcap, twitter, coin98, teknonel
author: Rene Remsik
Disclaimer: This article is provided for informational purposes only. It is not offered or intended to be used as legal, tax, investment, financial, or other advice.