Are you curious about the fascinating world of decentralized finance (DeFi) and cryptocurrencies but feel overwhelmed by its complexity? Fear no more! MarsDAO's Cosmic FOMO is here to break down the barriers and provide you with an easy-to-play and educational experience that will introduce you to the wonders of the crypto space.
Cosmic FOMO: Where Gaming Meets DeFi
Cosmic FOMO is the result of years of development, combining technology and vision to create a game focused on making the right choices and predictions. The game's concept originated from the popular CIS platform called TTM Game, where users participated in virtual races to the Moon. They assembled portfolios with virtual assets and predicted cryptocurrency quotes or share growth to win real cash prizes.
With Cosmic FOMO, the main goal is to help users interact with the rapidly evolving cryptocurrency market and understand web3 technology and developments. It offers a great way to grasp digital assets, including NFTs and web3, in a fun and risk-free manner. No need to invest a fortune or risk your real assets; Cosmic FOMO lets you learn and earn in a gaming environment.
Benefits and Advantages of Cosmic FOMO
Simple User Interface: Cosmic FOMO eliminates the complexities associated with DeFi projects and introduces straightforward user interfaces that anyone can use.
Balanced Gameplay: The game's mechanics ensure balanced gameplay, making it enjoyable for players of all skill levels.
Learn Stock Trading in Game Form: Experience stock trading in a risk-free environment, where you can hone your skills without any real money on the line.
No Need to Purchase Actual Assets: Cosmic FOMO uses real-time data from Binance, allowing you to simulate asset purchases without actually spending any money.
Weekly Events and Prizes: Participate in weekly events and compete for leaderboard rankings, with prizes of up to 10,000 USDT.
Solo and Hardcore Modes: Choose between playing alone or competing with other players in the Hardcore mode for an added challenge.
Understand DeFi and NFTs through Gamification: Cosmic FOMO demystifies DeFi and NFTs by combining gaming and educational elements.
Game Mechanics: How to Play Cosmic FOMO
Cosmic FOMO is a game where playable characters, known as pilots, are NFTs on the BNB Smart Chain. By owning a pilot, you can race and earn in-game tokens. Here's how it works:
Choose a Pilot: Start by selecting a pilot, which will be your playable character in the game.
Fill the Backpack: Pick assets that you believe will increase in value within the next 60 minutes and add them to your pilot's backpack.
Launch the Space Race: Send your pilot on a space mission, where asset quotes will fluctuate. Your income depends on the performance of your chosen assets.
Earn Tokens: Based on your asset choices and their performance, you'll receive in-game tokens as rewards.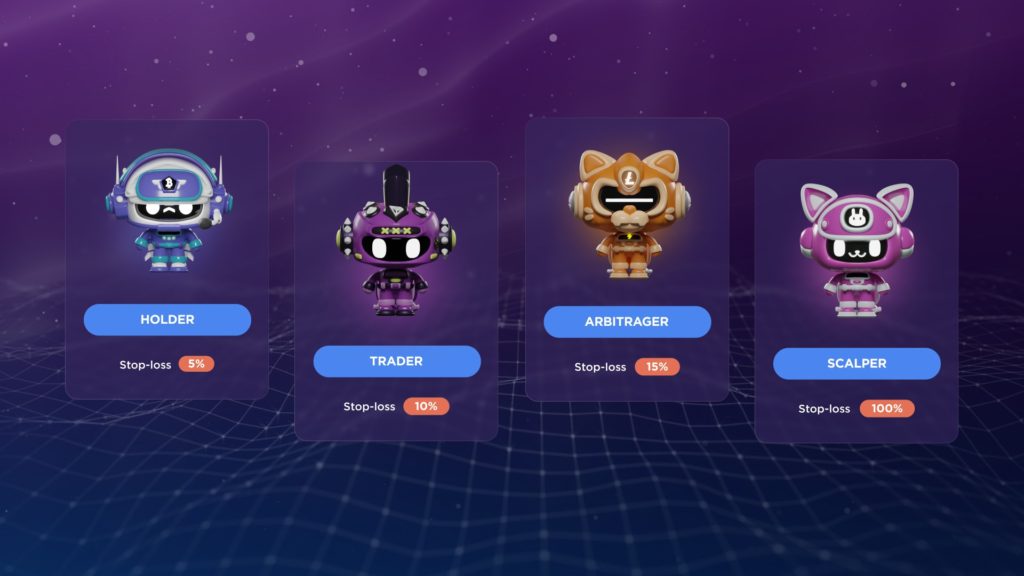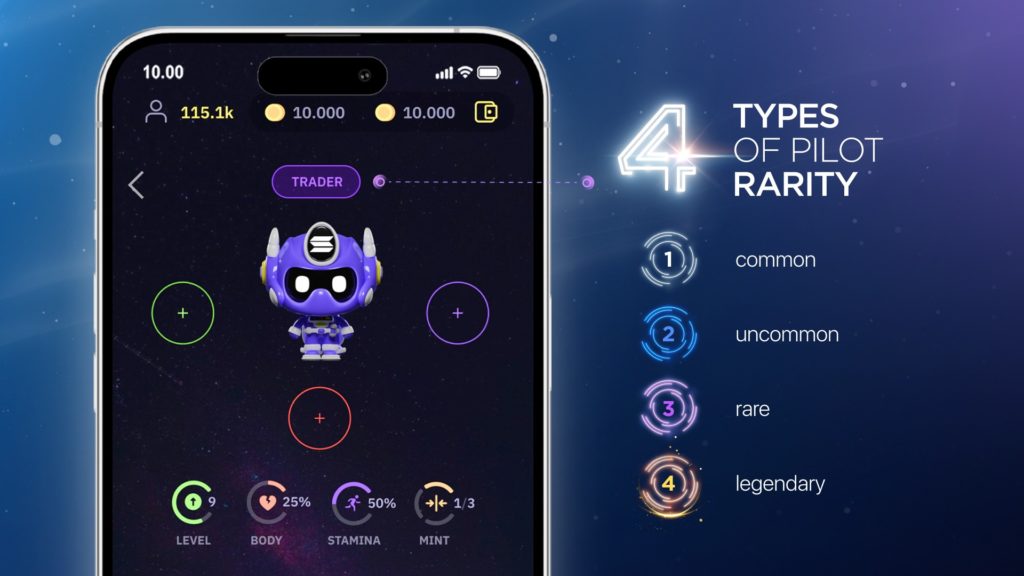 Cosmic FOMO offers indicators and hints to help you make strategic choices and maximize your profits. Even if you're new to the crypto world, the game ensures everyone gets rewarded, making it a fantastic entry point for beginners.
Game Modes
The game has two modes: SOLO and HARDCORE.
In the SOLO mode, you take charge as a lone pilot venturing into the vast universe of crypto racing. To start your journey, you'll need to open a special NFT box that reveals your pilot. The chance of obtaining a pilot from a Genesis NFT is as follows:
Common Pilot – 80%
Uncommon Pilot – 20%
If you're feeling confident about your portfolio's performance, you can end the race early by tapping the Take-profit button.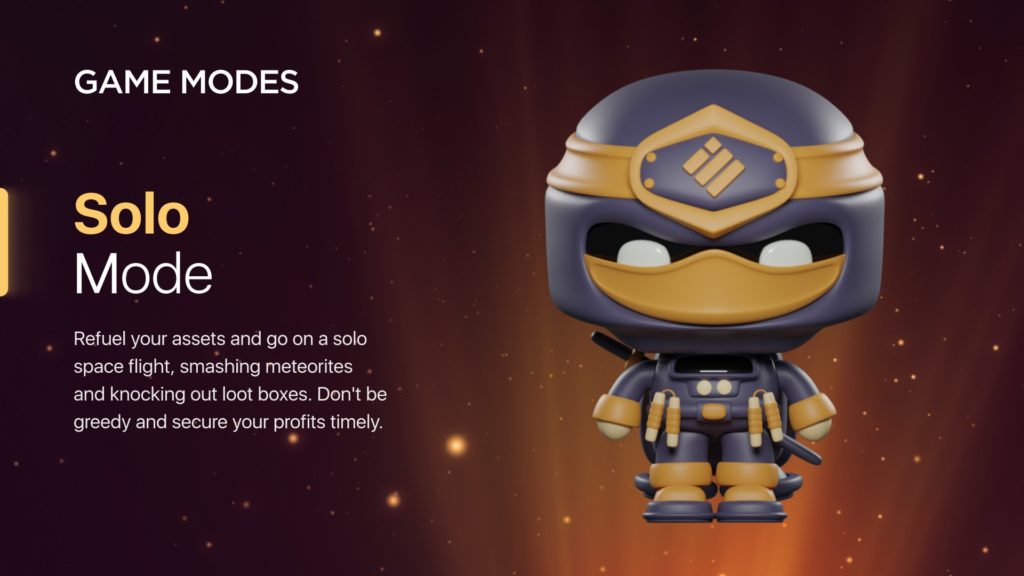 In the HARDCORE mode, the stakes get higher as you compete against other players in a thrilling race to achieve the best results. You and three other community members form a team, and each player contributes tokens to the in-game prize pool.
The player with the highest growth percentage in their portfolio wins the prize pool, minus the platform fee. If multiple players have the same profit percentage, the winnings are divided among them.
Tokenomics: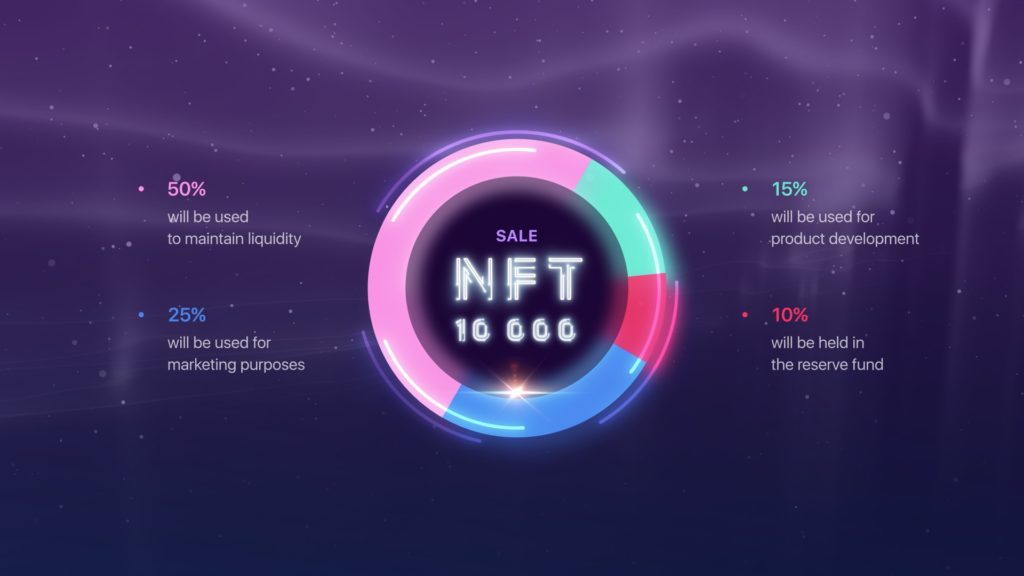 Prepare for Launch: Join Cosmic FOMO Today
Prepare for the exhilarating launch of the full version of Cosmic FOMO on July 31, 2023! Whether you're a newcomer or an existing user without an NFT, fret not – because every registered user will receive a free pilot for the pulse-pounding HARDCORE mode. With this special gift, you can dive right into the thrilling races and start earning in the game with minimal investment.
Explore all the fantastic features that Cosmic FOMO has to offer, from catching meteorites to experiencing the adrenaline rush of trading without any real financial risk. This game is not just about fun; it's a perfect fusion of gaming and educational experiences in the world of DeFi and NFTs. Immerse yourself in the future of finance while having a blast.
So, buckle up and get ready to blast off into the exciting cosmos of Cosmic FOMO. Your journey to crypto stardom begins soon! Don't miss out on this opportunity to learn, earn, and thrive in the thrilling world of crypto racing. See you in the stars!
Socials
Website: https://cosmicfomo.com/
GT4 Collection: https://gt4.cosmicfomo.com
White Paper: https://docs.cosmicfomo.com/
Twitter: https://twitter.com/CosmicFomo
Youtube: https://www.youtube.com/@CosmicFOMO
Link3: https://link3.to/cosmicfomo