We have published the last fundamental analyses about the fast-growing layer 2 solution Polygon Network more than three weeks ago. Please hurry up and read it here since this protocol with its native token Matic enlarges its community, which has a significant price impact. The price literally pumped more than 400 % in the last month.
Another Polygon milestone is that its transactions count flipped Ethereum during May, and it has been achieved only with 5 % of the daily active users that ETH has.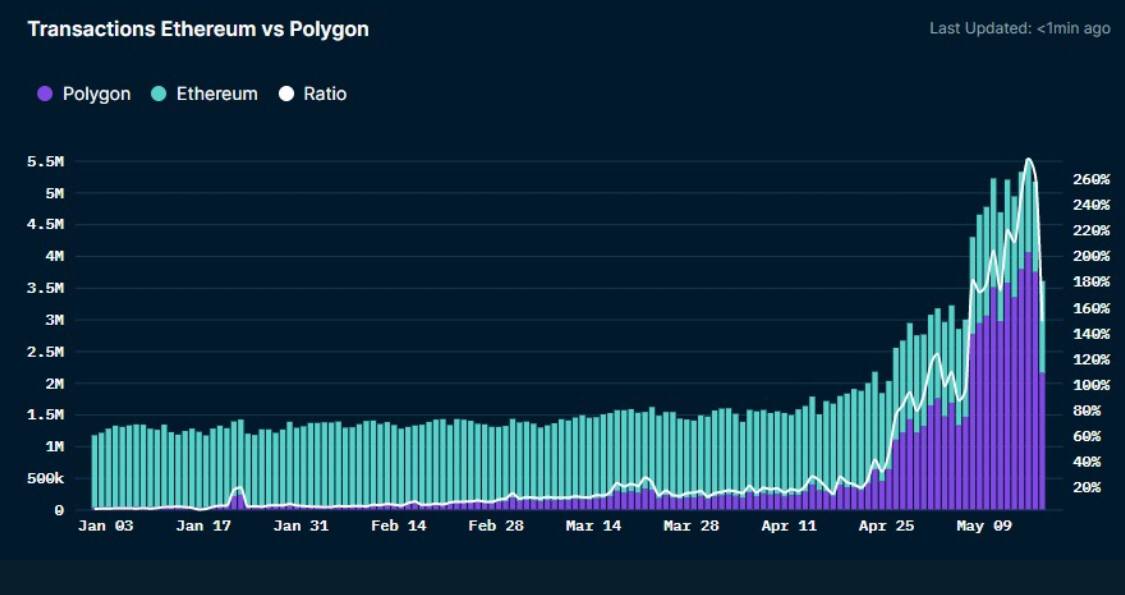 As you can see, the network is growing, and traders start to use also the decentralized exchanges running on Polygon. The first one is Quickswap, but today we will speak about the second one and the latest multichain project called Dfyn.
What is the Dfyn exchange project about?
Dfyn is building a multi-chain AMM which will allow the DeFi community to do inter-blockchain swaps seamlessly. Their goal is to solve liquidity fragmentation across wrapped assets on different blockchains by leveraging the XCLP (Cross-Chain Liquidity Protocol) developed by the Router Protocol. Dfyn's first instance on Polygon Network is live and has seen over 100,000 transactions with nearly $3 million in community liquidity. The exchange is also processing transaction volumes of over $500,000 every day in its alpha launch.

The launch of the Dex Uniswap was the defining moment in the evolution of Defi as the first AMM aggregator built on the concept of liquidity pools. Uniswap's AMM enabled permissionless exchange between any ERC- 20 tokens which opened up liquidity for long-tail assets. From that time, the market evolved, and the Dfyn project is the proof.
The team behind Dfyn is committed to establish a thriving multi-chain ecosystem that includes a trustless, decentralized exchange coupled with an ultra-fast gasless automated market maker optimized for the multi-blockchain universe. Their mission is to onboard the next wave of crypto users into the DeFi world.
What are the challenges on the DeFi market?
Over-reliance of the DeFi sector on Ethereum has led to it inheriting several flaws intrinsic to the Ethereum platform. DeFi protocols built on the ETH network suffer from scalability and congestion issues, putting billions of dollars in locked value at unease. Although ETH 2.0 is expected by the community to solve these issues with its Proof of stake system, it is still possibly months away.
During the same time, several Layer 2 blockchain as Matic or Xdai have also surfaced as a viable solution to Ethrereum's scalability problems and its cost issues. We think that the future is interoperability; that is the goal where the market is heading.
How Dfyn Works?
Dfyn offers a solution as a multi-chain ecosystem consisting of nodes deployed across multiple blockchains and bridges between these nodes to allow for the seamless flow of liquidity across isolated liquidity pools.
Dfyn platform can solve the issues mentioned above thanks to its features:
Blockchain agnostic – users can use Dfyn in coalition with any network and earn fees
Ultra-fast – using Layer 2 network like Polygon or xDai
Scalable – using Layer 2 network like Polygon or xDai
Transparent – fully transparent as most of the blockchains
High liquidity – by bridging various blockchain the liquidity is much higher
Better user experience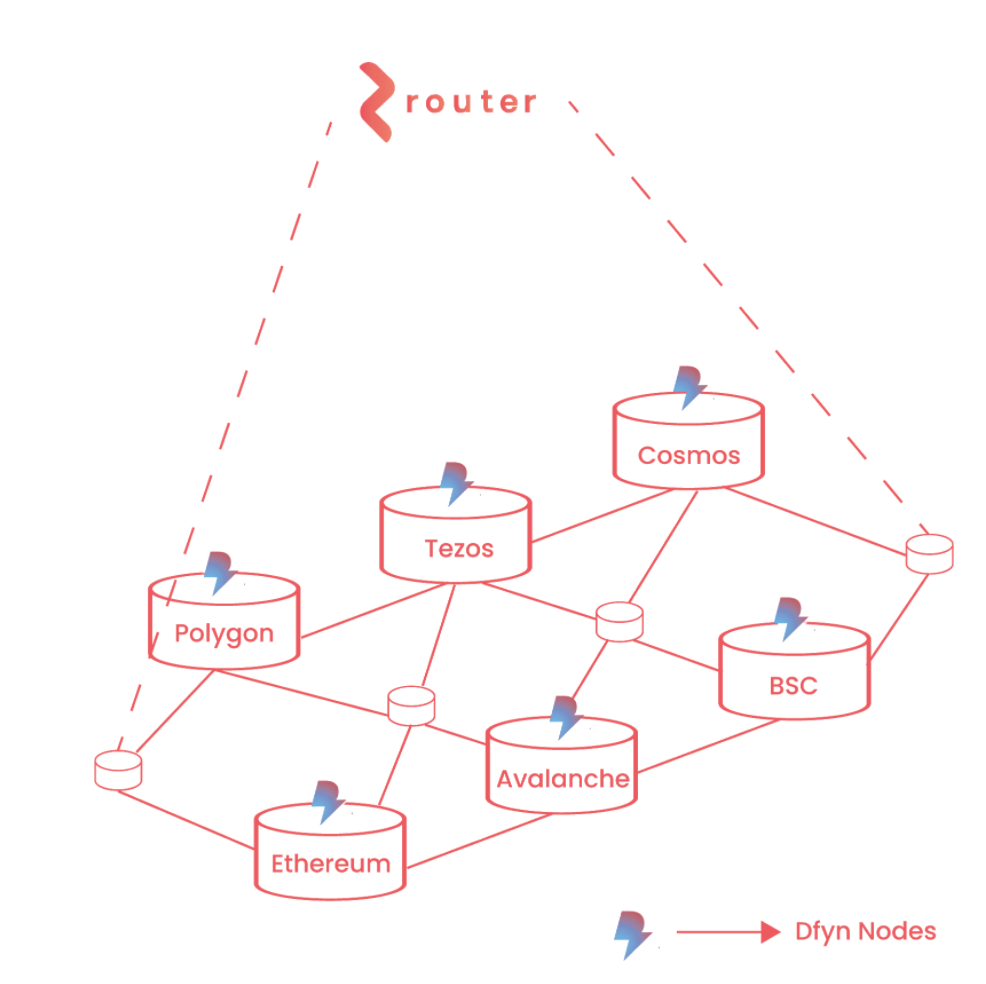 Router's cross-chain liquidity protocol forms a network of bridges between isolated Dfyn nodes present on different blockchains. Dfyn nodes can be thought of as far-flung cities and Router as the highway that connects this city.
Dfyn is building a network of DEXes across multiple Layer 1 and Layer 2 blockchains. This will allow Dfyn to plug into multiple liquidity sources across chains, including the cross-chain liquidity ecosystem being developed by Router Protocol.
Who is the team behind the project?
As per the lite paper information, the team consists of five core experience members with the lead by Ramani Ramachandran, who has studied at MIT. The team is fully transparent.

Moreover, the company is backed by credible and very well-known investors on the market. There are more than 27 investors with the names like Moonrock, AU21, Spark Digital, Lotus Capital, etc., as seen on their website.
Token utility
Dfyn's native utility token, the DFYN token, will perform a crucial role in the functioning of the Dfyn ecosystem. The DFYN token is expected to have multiple utilities:
Governance – the holders will be able to use their tokens to take part in Dfyn's governance by voting on proposals concerning protocol upgrades.
Revenue sharing – A competitive 0.3% fee is charged over each trade taking place over Dfyn. Of this fee, 0.25% is distributed to the liquidity providers in proportion to their contribution to the liquidity pool. The remaining 0.05% goes to Dfyn's treasury for buybacks and gas fee subsidies.
Company roadmap
As you can see from the roadmap, the project will launch a feature possible to hedge against impermanent loss if you provide liquidity. Furthermore, they plan to offer also cross-chain IDO platform.

Some fundamental data and competition
If we look at token metrics and market capitalization, the current circulating supply should be a maximum of up to 20 mil tokens from 250 mil total ones.
As per the Coingecko information, the current price is around 5 USD per token, making the project only $100 mil Market cap value. Although the diluted market cap is $1 Billion, it is still deficient compared to the competition, which provides only one network of blockchain swaps.
The main competitor is Uniswap with its $18 Billion market cap and $38 Billion diluted one or 1inch Dex with a $900 mil market cap and $8 Billion diluted one.

According to the DefiLlama website, which ranks the Dexes based on the value locked, the Dfyn platform is at 17th place, with the total value locked at $247 mil.

Special features- farming projects
Dfyn and Router protocol have launched an instant and gasless farming ecosystem named Galaxy Farm. Since its launch in February, the project has witnessed huge success.
Conclusion
Dfyn as Dex is quite similar to that of Uniswap. However, it will perform asset exchanges on top of multiple blockchains. The project has considerable potential for growth based on what is coming according to the roadmap and considering its current market capitalization.
Eastboy
There is much more coming this week, so stay tuned and follow us on our socials.