The billionaire has joked about being the CEO of meme coin Dogecoin in the past. Is he changing his focus or is this another funny joke again? It is obvious that these tweets are moving the markets and Bitcoin just pumped by 19 %. Whether Bitcoin's price rise will continue is not certain.
Elon Musk joined the voices of many crypto proponents today with a simple change to his Twitter bio. It now says one word: Bitcoin. It's been put ahead of words that could better describe his full-time duties as CEO of electric carmaker Tesla, CEO of space exploration firm SpaceX, and even CEO of underground drilling company The Boring Company.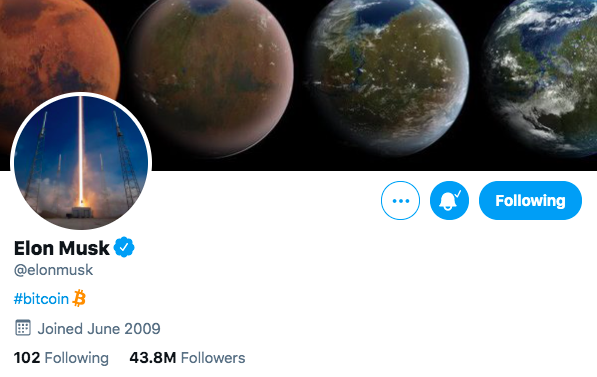 Since this move, Bitcoin's price has pumped $6,000, rising from $32,000 to $38,500 in one hour. After Elon put '#Bitcoin' in his bio, $258.17M worth of short positions got liquidated in an hour.
Musk has recently replaced his pinned tweet too. It now reads, "In retrospect, it was inevitable." He has been tweeting about the GameStop phenomenon recently, and it could be a reference to the growing discontent around the stock market.
Musk has previously spoken about Bitcoin on podcasts, interviews, and other tweets. He mentioned Bitcoin as a brilliant invention during the podcast with Joe Rogan a couple of years ago. He has previously questioned the legitimacy of Bitcoin as a viable alternative to fiat currency, but that stance seemed to change earlier this month in a reply to a thread on Twitter.
"It has latency and transaction costs. But if used as a store of value and transmission of large values, it is massively efficient. Currencies already work as currencies; Bitcoin need not replace them. Rather, $btc is a patch to fix reserve banks inflationary insanity," wrote a Twitter user is known as "Cerberus," a tweet to which Musk replied, "good point."
Source: https://decrypt.co/