Current NFT use cases are concentrated in the main categories of collectibles, art, gaming, and virtual worlds. But other categories like sports, fashion, and real-world assets are steadily developing. The gamers make the perfect target market for NFTs since they're already familiar with the concept of virtual worlds and currencies. NFTs are booming within the gaming industry as they allow in-game items to be tokenized and easily transferred or exchanged with peer-to-peer trading and marketplaces.
This is unlike traditional games that prohibit the sale or transfer of in-game items like rare weapons and skins. NFTs also make the gaming experience more tangible and rewarding as players have true ownership over their digital assets. They are also creating a new economy as players now can earn money by building and developing their in-game assets.
Most popular games on the market
Three popular blockchain games that have really taken off are Axie Infinity, Gods Unchained, and Ethermon. Axie Infinity is a digital pet community centered around collecting, training, raising, and battling fantasy creatures called Axie. We have already published a nice overview article which you can read here.
Today we will dive into the Ethermon game, which relaunched and listed new EMON token running on both Ethereum and Polygon Network.
How the Ethermon game works?
Ethermon is one of the first Ethereum-based blockchain games to create interactive non-fungible tokens (NFTs), allowing players to own, improve, use, and profit from their in-game virtual assets. Originally launched as Etheremon in 2017, the current upgraded version was relaunched in 2019 by its most dedicated players and an expanded team.
The Ethermon universe of gaming experiences is continuing to rapidly expand, driven by the belief that the future of gaming is decentralized, cross-platform, and player-owned.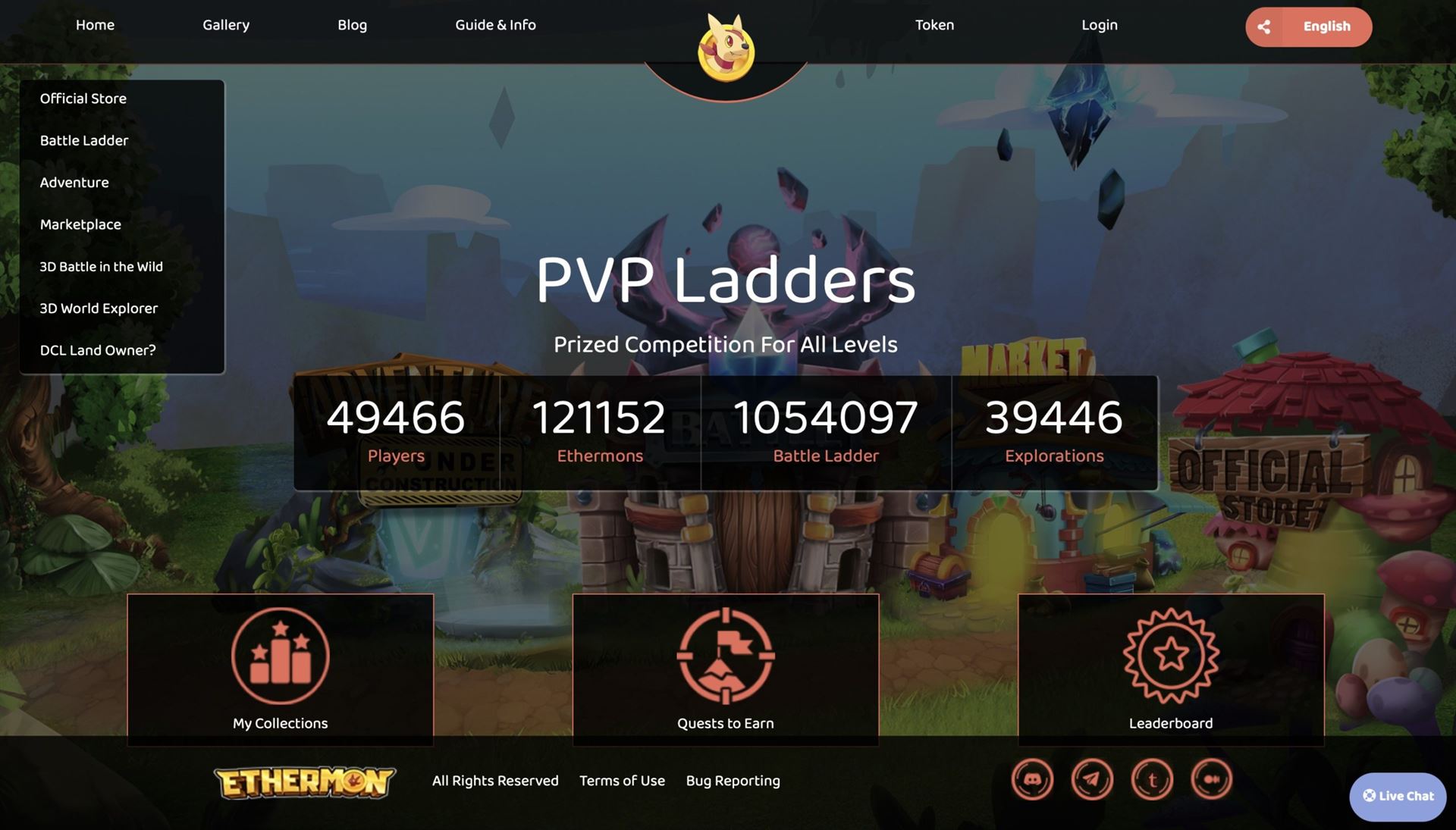 Ready to buy the Mons?
The game universe revolves around Ether monsters (Mons), which are stored on the blockchain and essential to gameplay. There are currently 103,472 mons in existence (as of May 16, 2021). You can purchase mons directly from our official store, buy them from other players on the decentralized market, or acquire them in-game — even while playing for free.
Each Mon species draws its power from up to 2 of the 17 elemental types, which have evolved in relationship to each other over time. In battle, each type has a key strength and a key weakness against exactly one other type within its ecosystem, as shown below. Otherwise, the effect of each type is neutral, and battles are won by your Mon's battle power alone. You can try the game here.
NFT game cross-chain utility
With over 200 Mons in existence and a multi-verse game presence, Ethermon has become one of the more robust gaming ecosystems in the market. Mons can now be found within the 2D turn-based web version AND the 3D open world of Decentraland where Ethermon trainers will be able to Play to Earn in multiple ways.
Ethermon NFT game Introduces $EMON Token
A new era is about to begin in the Ethermon Universe. An era with an abundance of opportunities for all players. Creating gameplay with solid play-to-earn economics has always been part of our mission
Ethermon has an existing token — EMONT — that was created before the project underwent a team reformation and rebrand. In anticipation of the project's expansion, the difficulty to obtain EMONT was increased. The only way to obtain EMONT was by grinding the game modes on the 2D platform. The EMONT token was first introduced in 2017 using early days ERC20 standards, although secure it creates challenges to be compatible with new multi-chain requirements.
With the need to upgrade and our game expanding into 3D, a new token has been carefully crafted with play-to-earn mechanics and improved economics at its core. The new EMON token smart contract adheres to the latest standards with improved token compatibility.
The new token is also multichain compatible across all Ethermon game platforms. EMON has launched on both Matic (Polygon) and Ethereum with a bridge ready. The same exact same Token Contract Address will be used on both networks!
EMON Token use cases
Potentially two Game Currencies will be added to the Ethermon Ecosystem:
MARKS, which is an off-chain/in-game-only currency, will allow players to purchase & upgrade the common items & utilities needed for everyday gameplay
EMON on the other hand will allow players to access premium content that is rare, limited & unique, and provide benefits to the holder.
Some example use cases are as follows:
Purchase Mons, Asset "Packs", Meta Franchises and Cosmetics
Purchase and Upgrade Battle Moves / Equipment / Rare Items
Upgrade Metas and Enhance Gameplay Utilities
Purchase and Upgrade Virtual Space
Unlock Special Areas with Exclusive Content and Game Modes
Entry for Gym Battles and PVP Tournament Entry
The team overview
The team has decided to relaunch in 2019 with a revitalized mission to provide the best player-centered gaming experience by fulfilling the incredible potential of NFTs and blockchain technologies.
The dedicated team continues to grow alongside Ethermon, with currently over 30 full-time and part-time employees with the main 8 experienced persons in leadership roles.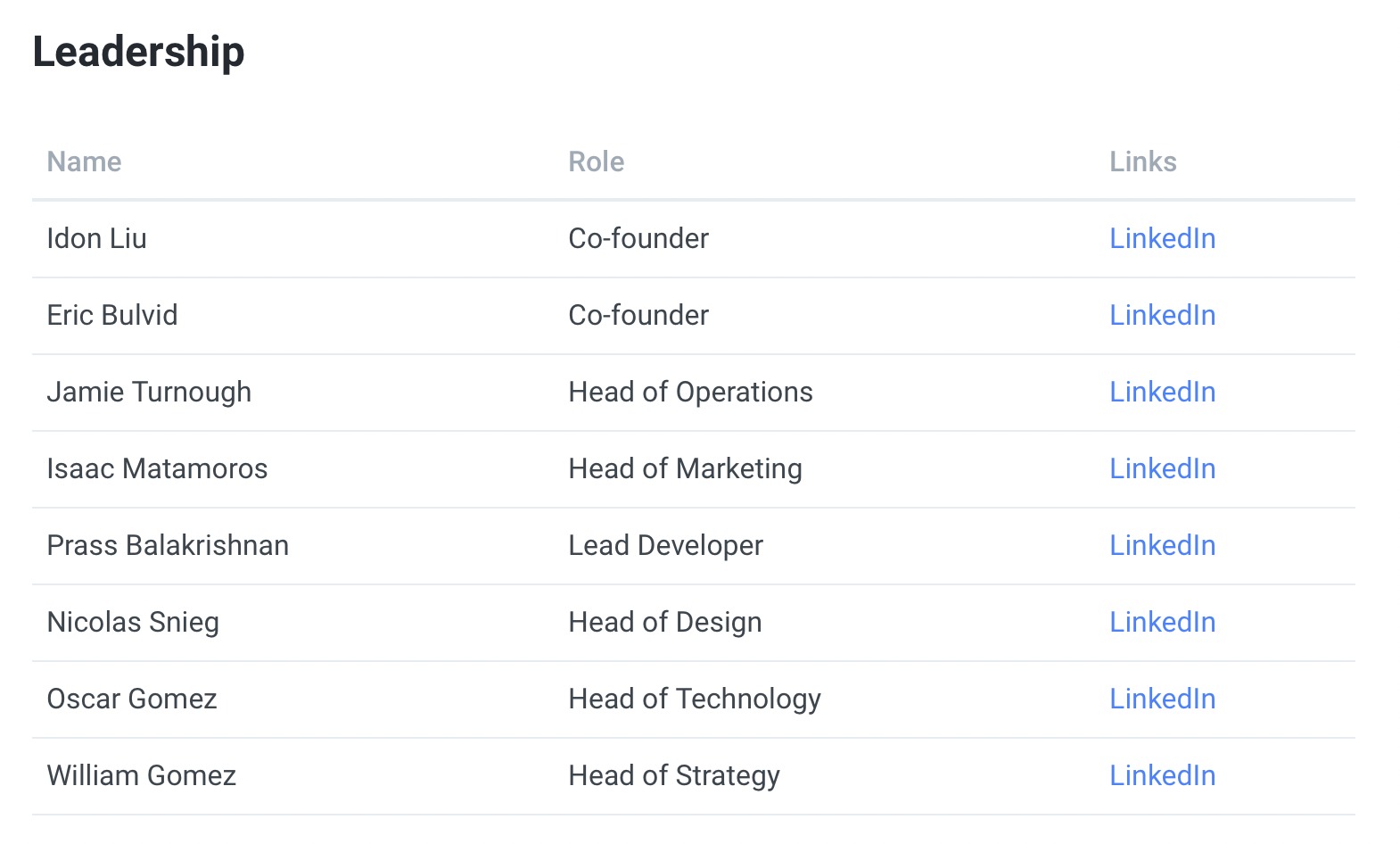 The token metrics review
As per the project website information the total token supply of 400 Mil tokens is divided as follows: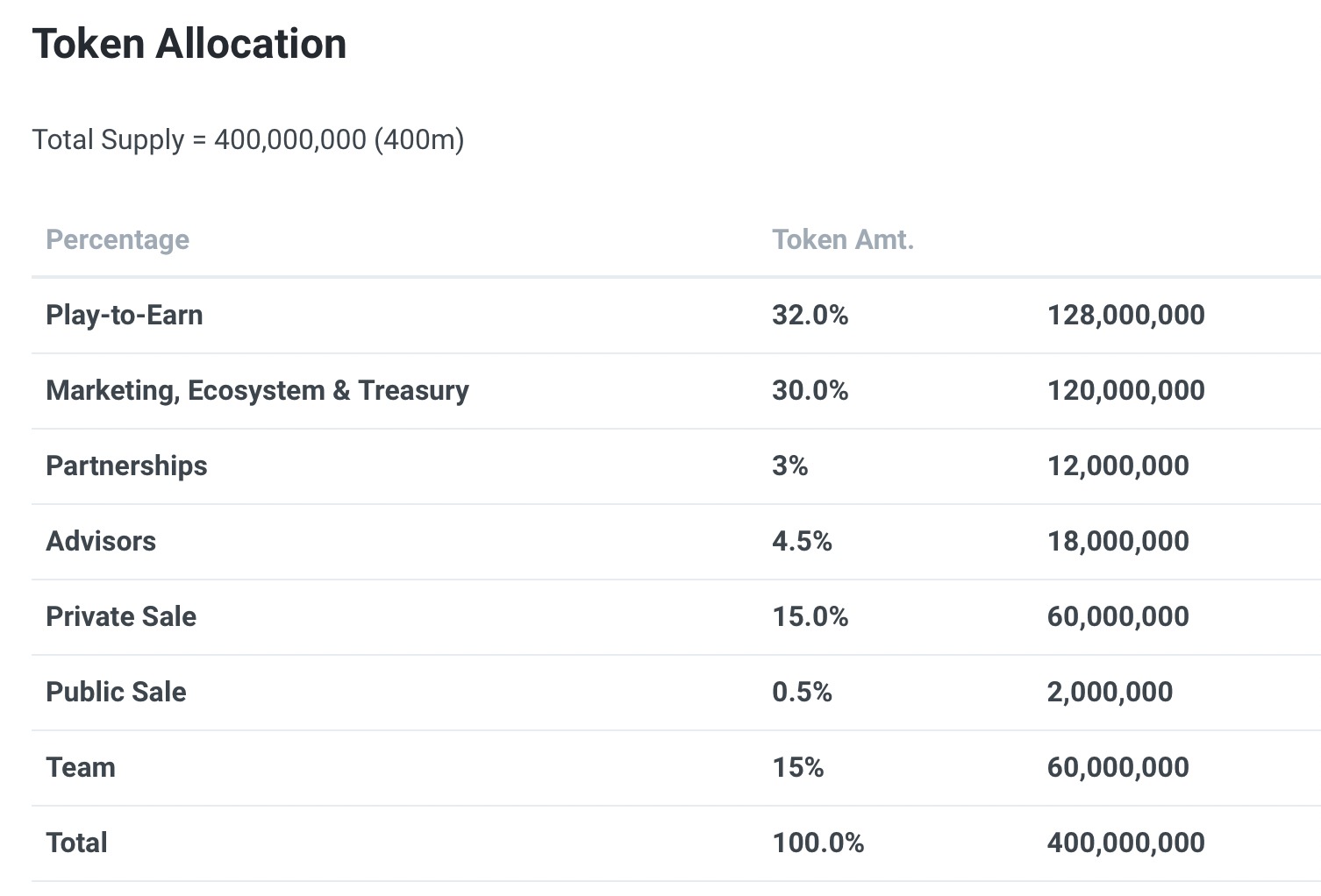 The private sale and team allocation have a big share of supply with the gradually unlocking during the following 24 months, mitigating the selling pressure. The token has started trading yesterday after the Polkastert IDO, and currently, the price is hovering around $0,27. The diluted market cap has a value of around $100 Mil, making it an interesting project compared to Axie or Decentraland. 
Roadmap of the project
The Ethermon game roadmap is divided into three generations.
The 1st Generation of game development has laid the groundwork for the exciting advances in Ethermon today, revolving around a full-chain 2D battle strategy game built on the Ethereum blockchain
2nd Generation: Ethermon MMPORG in Decentraland. Historically, Ethermon has been a 2D auto-battle game. The team is now making a massive leap into Decentraland, developing a 3D Ethermon MMPORG (Massively Multiplayer Online Role-Playing Game). Players can use their existing Mon assets to engage in real-time, skill-based PvE battles throughout Deceentraland and earn while they play. 
3rd Generation: Ethermon in XR Launching Q1 2022
Another huge game milestone is the development of the 3rd Generation of Ethermon for mixed reality (XR), which will allow Ethermon players to use their on- and off-chain Ethermon assets to battle, catch Mons, and explore in the real world while earning as they play. This development targets traditional mobile gamers and next gen XR users.
Conclusion
The project is not the new one, but the team is working hard to bring new updates for its users with the new token released on Polygon Network. Games NFT items have a cross-chain utility which is good for enlarging the community and making blockchain NFT gaming a huge niche. Furthermore, the roadmap indicates really challenging plans for the future. Positive is the transparent information we could find on the website plus reasonable price evaluation at the current levels.
Eastboy
There is much more coming this week, so stay tuned and follow us on our socials.