Quick Summary:
Exoniks was formed under a goal of bridging realities, where virtual objects would be felt in the physical world.
Imagine feeling a virtual hug or a handshake, pushing against virtual doors and walking in virtual ocean waves with the alternating waves felt by you.
Several highly focused individuals challenged each other on 15th January 2022 to present the NFT world with what a community-oriented collection would look like. At the same time, providing a bunch of awesome utilities without compromising on art quality.
However, in order to differentiate themselves from the rest, they needed the ultimate USP. A founder came up with the idea of combining his career with the collection, and thus EXONIKS was born. Providing access to IRL gadgets that connect virtual reality and the real world through a unique NFT collection.
Utilities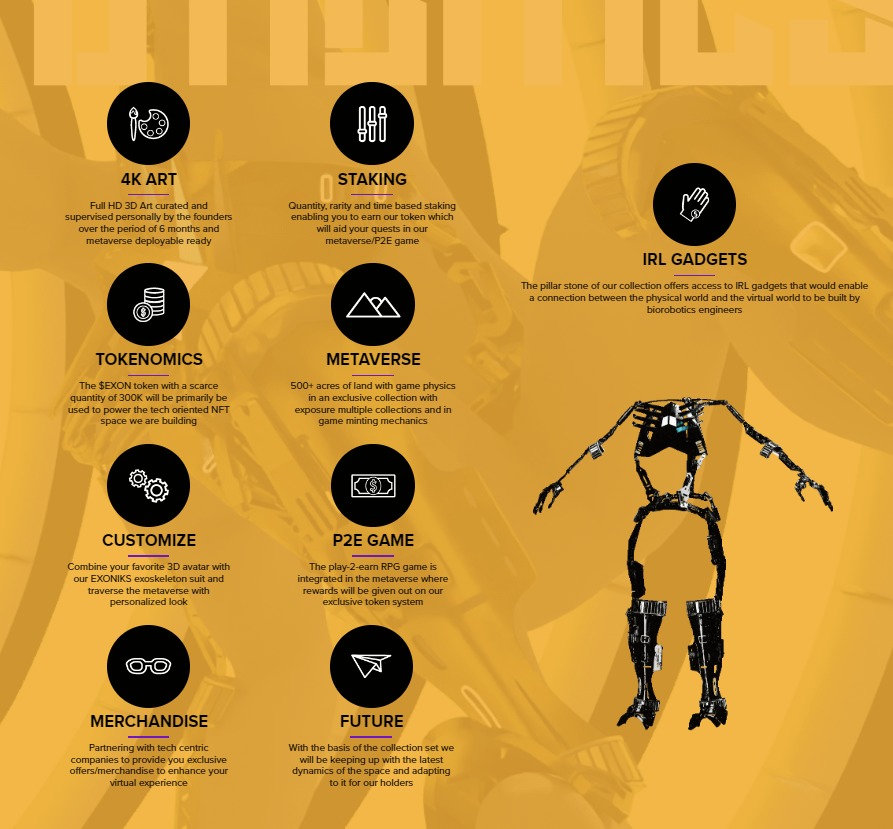 Founders
Each of them has been working in the NFT/crypto space for at least 2 years and has unique expertise. The team is built on pillars of trust, transparency and sheer love for the space. Together they bring an authentic collection to the surface from around the world. The entire team is doxxed, and links to their profiles can be found in Discord.
Conclusion
It's great to see interesting projects like this being created. Of course when considering buying NFTs do your research thoroughly.
Follow them – Twitter Website