The recent blockchain development brought many new projects that focus on the complex solutions for the customers built-in a trustless way without relying on the third party company or middle man. We trust the code, and today we will look at the second project from the DeFi family, Bondly Finance.
As we know up to now, each crypto is locked in its native blockchain network, making it hard to directly send digital assets from different blockchains.
Centralized cryptocurrency exchanges made crypto trading possible, but their centralized nature has been a major motivating factor to hackers and other malicious actors. Fortunately, blockchain developers have fronted other solutions such as decentralized exchanges and atomic swaps.
Built on Polkadot, the Bondly protocol consists of an ecosystem of decentralized products to enable anyone to transact digital payments. Furthermore, this protocol can be communicated through any messaging service or social media platform. Additionally, Bondly has been created to make anyone and everyone into their own marketplace.
Think of Blondly as a blockchain-based exchange that allows peer-to-peer interaction with any decentralized platform. The system uses a natively hosted feature called BondSwap to enable users to send crypto from one blockchain to another. BondSwap builds upon the atomic swap technique but removes the current breed of atomic swaps' scaling hindrance.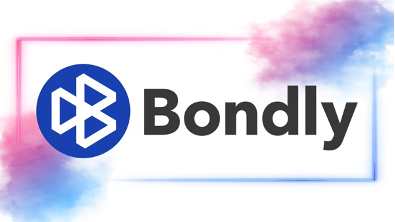 This could be applied in several contexts. Bondly has found an innovative way for users to easily send or purchase digital assets that are native to different blockchains and was designed to create safer transactions for both buyers and sellers, offering individual flexibility on both sides of the transaction.
OTC Transactions
OTC (over-the-counter) transactions require a minimum of two parties to be involved. Currently, the process of OTC transactions requires a lot of trust in centralized parties to make an exchange of digital payment and assets. Furthermore, third-party intermediaries often take a hefty fee for their escrow services, ensuring both parties of a transaction fulfill their side of the deal.
On the other hand, the traditional marketplaces that easily achieve delivery of sold physical goods or services, often struggle to implement the secure transaction of digital goods. There are some other popular protocols out there that are trying to resolve this issue. However, current cryptocurrency solutions tend to focus on point-of-sale protocols, with less emphasis on buyer and seller protections.
Online purchases for digital goods account for over $2 trillion in 2020 alone, which is expected to grow by over 40% in 2024. Clearly, the world needs a safe, secure, and simple-to-use protocol that can remove trust and cryptographically complete transactions. This is where Bondly comes in.
The team behind Bondly
The platform is headed by top minds in the traditional and digital finance space. For example, its CEO, Brandon Smith, is a managing partner at Shuttle Capital and has been the vice president of Shieldpay. Also, Smith held a key position at PriceWaterhouseCoopers for over five years. Companies CTO, Parker McCurley, is an experienced software engineer.
BondDex and BondProtect
To bring a comprehensive offering to its users, the protocol has other parts such as BondDex and BondProtect.
BondDEX: is a decentralized exchange that utilizes the protocol's inter-chain capabilities. The DEX allows users to privately exchange their virtual wealth despite the assets running on different blockchain systems. More than enabling anonymous cryptocurrency swaps, BondDEX provides liquidity mining opportunities through liquidity pools. The pools engage with trusted oracles such as DOS Network to interface with real-time market prices.
BondProtect: it is another feature primed to enable the trading of goods and services. BondProtect is driven by a smart contract that ensures trading ease and security.
Examples of services coded into the module include, but are not limited to, recurring payments and escrow services. This and many more features can be enjoyed at an individual or merchant level. Also, the smart contract-driven marketplace is open to the trading of digital and physical goods.
BondProtect can be integrated with leading traditional payment services such as PayPal. Note that third-party integrations are enabled through a software development kit (SDK).
Bondly Features
Interoperable: The protocol can operate with multiple decentralized networks.
Versatile: Apart from a mobile app and web interface, the platform is accessible through chat and email services. It allows trades between family and friends.
No hidden activities: Since it runs on a blockchain system, everything can be verified at any time.
Innovative: The network brings more capabilities to the atomic swap world. It enhances the technology allowing users to input a few trade-related values, and they are done.
Expansive: More than enabling atomic swaps, the network's BProtect offering stretches to digital payments. It has services such as escrow and recurring payments. The regular payments functionality comes in handy in a subscription setting.
Exposure to a simple interface: Bondly removes the intimidating view of blockchain parameters and only presents a simple, clean, and easy-to-use graphical user interface.
Non Fungible Tokens
Bondly is a pioneer in the non-fungible token (NFT) space, offering users an atomic swap multi-chain digital asset exchange for NFTs. The project is reinventing community incentivization with NFTs by going beyond digital collectible cards. Also, Bondly NFTs can serve as an entry to a Fan Club Community, specific VIP perks, and a Collectors Group.
They have partnered with Binance Smart Chain to build a new NFT card game, the Bondly Collectible Card Game (BCCG). Binance Smart Chain already hosts an ecosystem of NFTs. However, this partnership aims to expand in front of a wider audience.
Both Bondly and Binance agree that NFTs have massive untapped potential, with the need for the relevant structures in place to handle mass volume with increased adoption. Through this partnership, Bondly believes that together, they can host a decentralized NFT marketplace, capable of reaching mass adoption swiftly and without friction.
Conclusion
From BondSwap to BondProtect, Bondly powers the critical services in the cryptocurrency industry. For example, BondDEX make sure that liquidity pools can open the door for liquidity providers to earn rewards. Also, BProtect allows merchants and individuals to passively interact with digital currencies without bearing the risks of price volatility.
Services such as recurring payments allow crypto users to pay for subscriptions. Bondly's use of the Polkadot network as the base adds to the platform's security and ease of interaction with multiple blockchains.
Source :https://cryptotips.eu/