Quick Introduction
Are you ready for a gaming experience like no other? Look no further than Exverse, the free-to-play metaverse that will take your gaming adventures to new heights. Kucoin Incubated Exverse is the ultimate companion for gamers seeking excitement and community, with its immersive quests, thrilling battle tournaments, and vibrant social activities.
Related: Abyss World's Journey to Becoming a Gaming Powerhouse!, Latest Review 2023
What sets Exverse apart is its commitment to creating an interoperable metaverse. Here, users have the power to build their own worlds, games, characters, and more. With three distinct planets, each offering a unique experience, Exverse ensures that every player's journey is optimized for maximum enjoyment.
Basic Overview
But what truly sets Exverse apart is its team of talented developers. With access to over 300+ Unreal Developers, Exverse boasts a core team of highly experienced individuals who have worked on AAA games such as Call Of Duty, Halo, Apex Legends, and more. Their expertise and passion for gaming are evident, making Exverse a metaverse like no other.
LinkedIn Link: https://www.linkedin.com/company/exverse/

Let's meet the key individuals behind Exverse's success. Alexander Chernov, Co-Founder and CPO, is a serial blockchain/crypto entrepreneur with a keen eye for promising projects. Nikita Uriupin, Co-Founder and CEO, brings years of experience in strategy, branding, and marketing to the table. Ooi Fei Hoong, CO-CEO, is hailed as one of the web3 community's upcoming project leaders, known for his forward-thinking approach. Evgeniy Popov, Head of Game Development, and Nikita Kuznetsov, a software development expert, complete the stellar team behind Exverse.
Gameplay
Now, let's delve into the gameplay that awaits you in Exverse. The metaverse comprises three planets, each offering unique experiences.
The Battle Planet is an intense battleground arena where players face off against each other. Skydive from the Exverse Battle Titan aircraft and scavenge for weapons and abilities while avoiding elimination.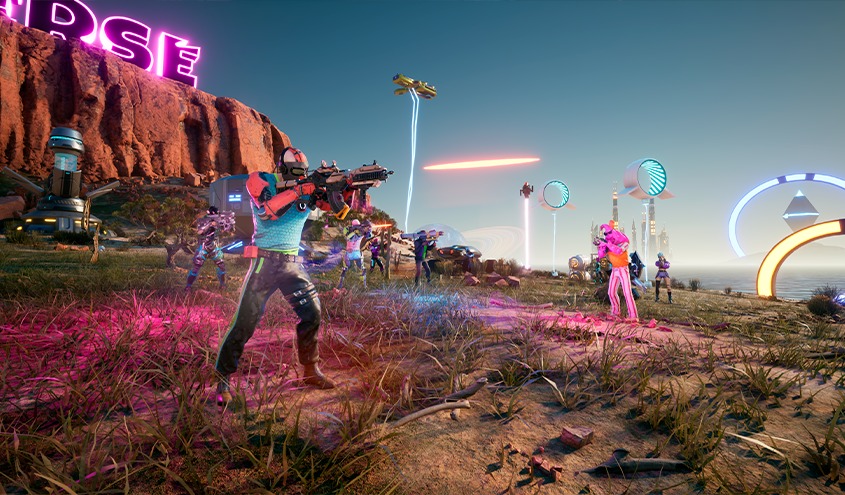 The Quest Planet is where players unite to overcome challenges, embark on clan raids, and participate in seasonal and partnership events.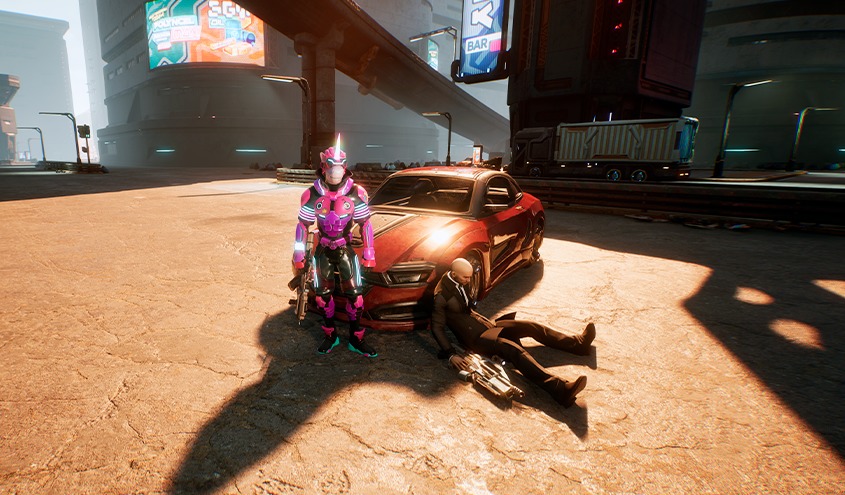 And finally, the Social Planet serves as a hub for all players, offering community events, the creation of clans, and long-lasting relationships.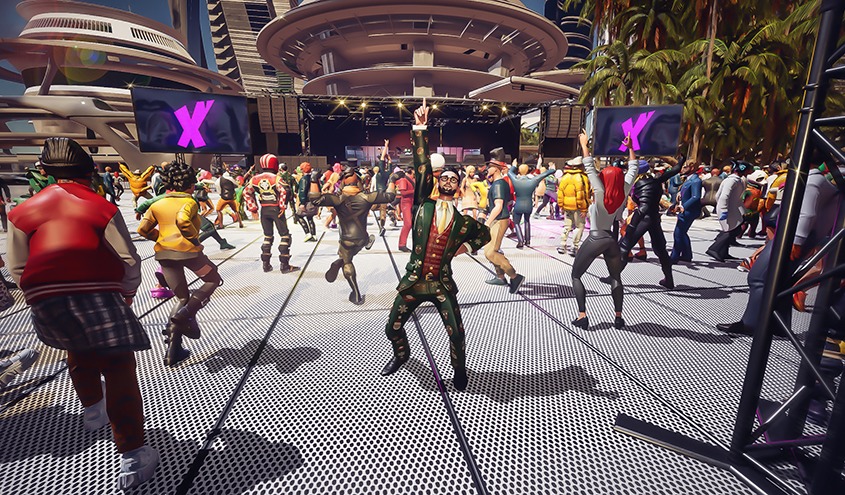 With an array of game modes, Exverse keeps its community engaged and entertained. The initial launch includes PvP modes like Free for All, Capture the Flag, and Team Deathmatch. For those who prefer cooperative play, PvE modes like Horde Rush and Raids offer exciting challenges to conquer together.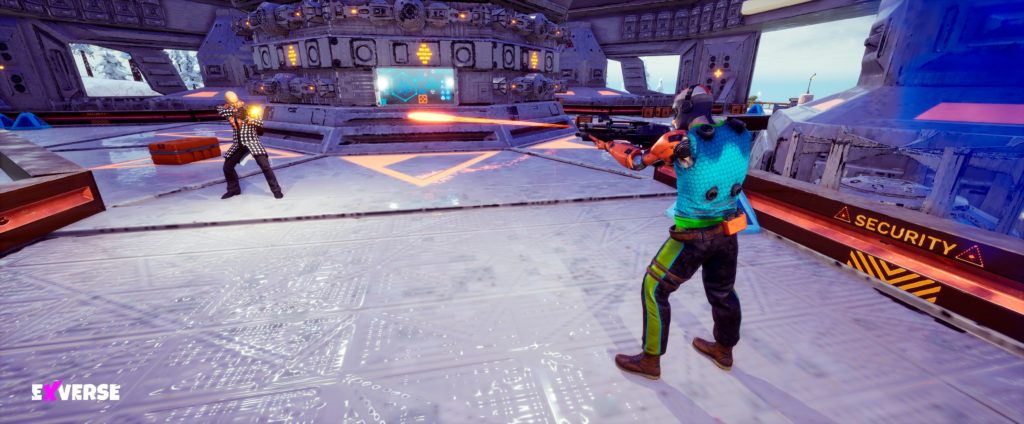 EXVERSE and Artifical Inteligence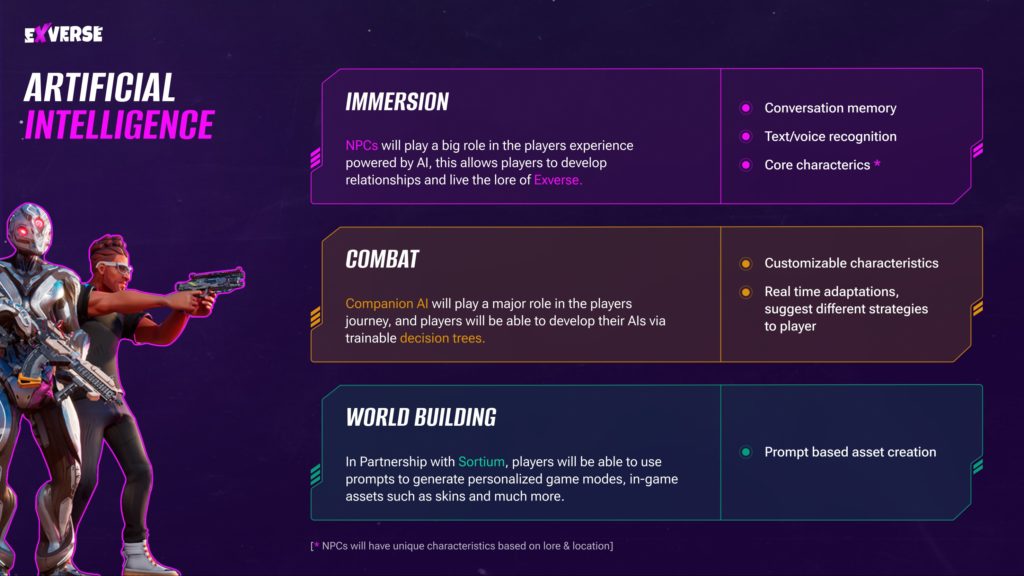 Immersion: Experience dynamic NPCs with characteristics, speech variance, and memory, allowing players to develop relationships and live the lore of Exverse through interactive chat.
Combat: Develop AI companions with trainable decision trees, enabling strategic suggestions and real-time adaptation in combat.
World Building: Create personalized game modes and in-game assets using the drag & drop sandbox builder, including skins and more.
Tokenomics
But Exverse is more than just a game; it's a thriving economy powered by its own tokens, EXVG and EXVS. Holders of EXVG have the unique opportunity to influence the development and policies of Exverse. EXVS, on the other hand, is the in-game currency that players can earn and use to acquire exclusive content, skins, and season passes.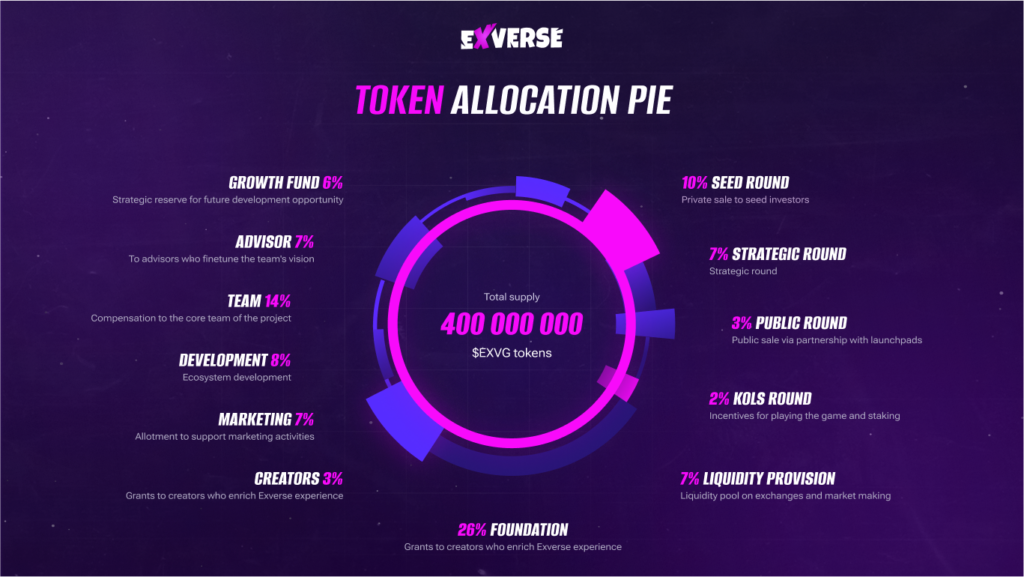 NFT Game Assets
To bridge the gap between Web2 and Web3 gamers, Exverse introduces NFT game assets. Players can purchase NFTs, season passes, and exclusive content using either EXVG or EXVS through the marketplace. The process is streamlined, allowing players to make transactions with ease, including credit card payments. Moreover, players can convert their EXVG earnings into coupons for popular vendors like Amazon, Uber, Nike, Grab and 3000 other major brands.

As Exverse continues to grow, players can expect special NFT collections and limited-edition drops, adding even more excitement to the universe. The Exverse pass, their first NFT launch, offers exclusive benefits such as lifetime season access, legendary skin NFT collections, early game access, and increased token earnings in-game.
Roadmap

Website
Socials
| | |
| --- | --- |
| Platform | Followers |
| Twitter | 20.6k |
| Youtube | 228 |
| Instagram | 505 |
Conclusion
Join Exverse, a Kucoin incubated project, and immerse yourself in a metaverse specifically designed for gamers by gamers. With its diverse gameplay, talented team, and innovative tokenomics, Exverse offers the ultimate destination for gaming enthusiasts worldwide. Embrace the revolution of Gamefi/Metaverse and experience the future of gaming with Exverse. Get ready to step into a world where imagination becomes reality and gaming reaches new heights.