Quick Summary
Telos is a smart contract blockchain protocol that runs on EOS software and it wants to be the best EVM out there! Its scalability and fast speed are ideal for mainstream adoption.
Telos is a project that launched without ICO or VC funding. Now it's a huge crypto blockchain project with a lot of potential. What is it and how it's different from other cryptocurrencies? Let's have a look. 
related: dYdX As The Smartest DEX Solution
Telos Explained
Telos blockchain is a smart contract blockchain protocol that runs on EOS software. It is a mass adoption open finance network supported by a community of trailblazers. As a protocol built to enhance transaction speed and scalability, Telos seems suited for mainstream adoption.
Telos is the ideal network for mainstream adoption. Why? Telos based Tokens NFT's and Smart Contracts are already used for DeFi, Gaming, Social Media apps and so much more. Telos is home to over 100 distinct applications (dApps) including Taikai, Qudo, Qubicles, Appics, Wordproof, Seeds, Zeptagram, and NewLife.
These applications enjoy fast network speed (0.5s block time) and scale (10,000+ TPS) but also the robust on-chain services that Telos provides for voting, sentiment, decentralized file storage, location and much more.
The upcoming Telos EVM (currently on testnet) will be the most performant and most affordable Ethereum Virtual Machine available. When it arrives Telos will be the only blockchain to support the two leading standards EVM and EOSIO for smart contract development. These two technologies together make up the majority of the top dApps on popular tracking websites such as dapp radar.
Telos EVM is a scalable solution for Solidity based applications, built with the intent of revolutionizing the DeFi landscape. Unlike other scalable EVMs, Telos EVM is not just a fork of the original Go Ethereum code. It's an entirely new EVM redesigned from the ground up to take full advantage of the performances that the Telos Native blockchain delivers.
Token Details (TLOS)
Telos native token is TLOS and it went live in September 2019. It was quiet for a while but the token has seen a significant rise in 2021, rising approximately 50x in value! The project has a market cap of around $147 million at the moment but it has a great potential in the future if Telos applies its great features and market approaches.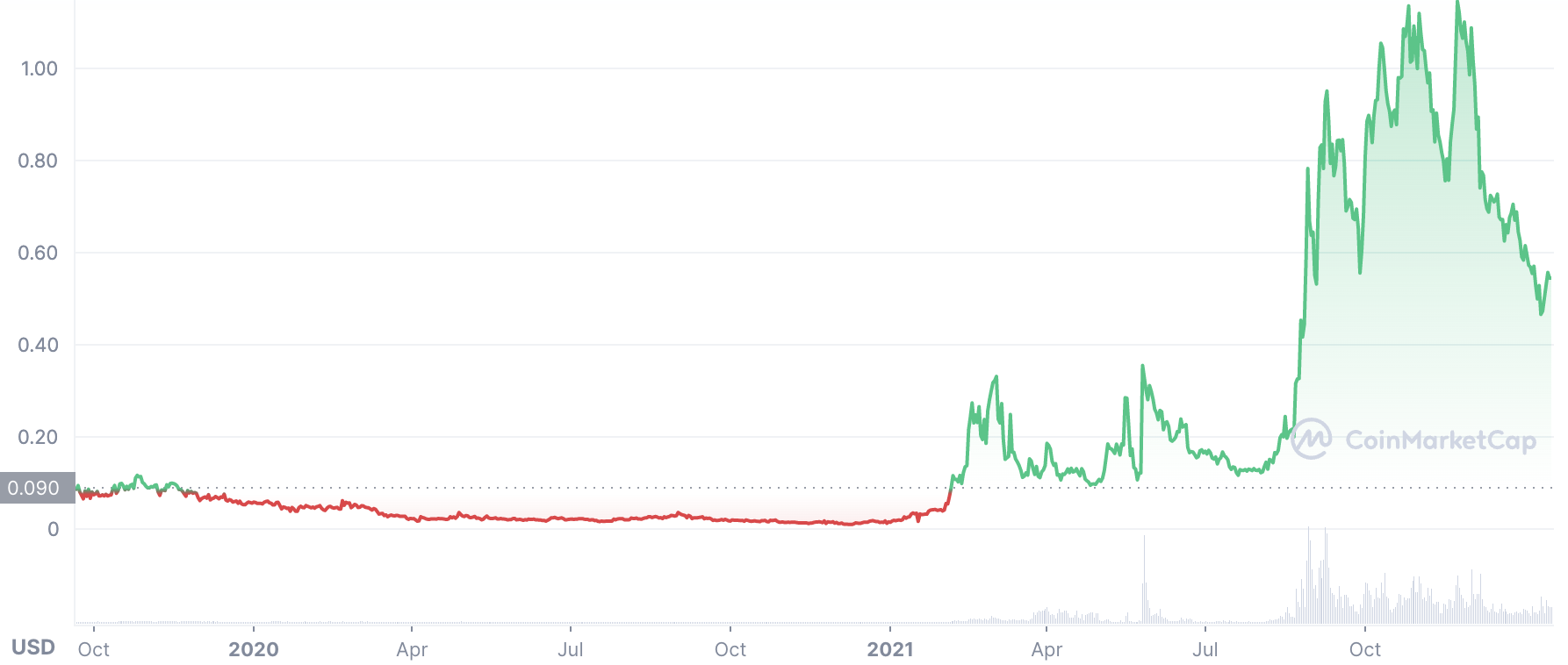 Conclusion
Telos is the ideal network for real-world use across multiple industries that are booming and there's no sign of stopping. It's solving important issues connected to the cryptocurrency sphere and it could really go mainstream. However, you should do due diligence before investing your money.
more to read
These NFT Aliens Are Worth Millions!
What It's Like To Be Crypto Promoter – @wizardara
3 Most Anticipated NFT-Crypto Projects In 2022 (part 2)
---
NFT World News Social Media: Twitter, Instagram, Telegram, Tiktok, Youtube
---
sources: coinmarketcap, telos, coincheckup
author: Rene Remsik
Disclaimer: This article is provided for informational purposes only. It is not offered or intended to be used as legal, tax, investment, financial, or other advice.