Quick Summary
Gamerse is a social platform for the whole NFT gaming industry that connects players from all around the world. Gamerse is unifying the gaming sector with its cross-chain, cross-platform and cross-verse solutions.
Non-fungible tokens (NFTs) came out of nowhere and now everyone knows about them. There are many different kinds of NFTs like art, music or fashion NFTs. In this blog, we'll show you a project that is strongly focusing on gaming NFTs and gamers. Moreover, it is creating an ultimate Metaverse social media marketplace. This project is Gamerse, let's dive in.
related: Dwarrior As The Biggest Three Kingdoms Project In Metaverse
What Exactly Is Gamerse?
Gamerse is the LFG (Looking For Groups) platform for the entire NFT gaming industry, connecting players of all shades and hues. As a social platform, Gamerse unites gamers in a single, fun community, constantly adapting to the newest and most viral trends. Gamerse is basically a community-driven social center that connects NFT Games and Gamers.
Gamerse is gearing up for the beta launch of their Social Aggregator Marketplace (SAM), a one-stop shop for NFT gamers and traders to explore the fragmented play-to-earn space, socialize and trade. SAM will integrate a diverse range of gaming titles, each of which will enjoy its own verified game page that will act as a social profile on the platform. All NFTs listed on the game's marketplace will be displayed on these profile pages which users can visit to engage in social interactions, purchase and add NFTs to their watchlists. Users will also be able to mint directly on the platform and display their creations on their own profile along with their NFT collections and those for sale.
Users can follow each other, comment on the displayed NFTs, share content and directly message to trade. The heart of SAM is the marketplace itself which aggregates all listed gaming NFTs for users to easily filter by the chain, games, categories, and more, making it easy for users to explore the space. SAM will also feature exclusive NFT drops and INOs in collaboration with a plethora of Gamerse's partners and influencers that LFG holders can participate in. SAM is scheduled for launch on XXX, until then users can register and reserve their usernames here: www.Beta.Gamerse.com.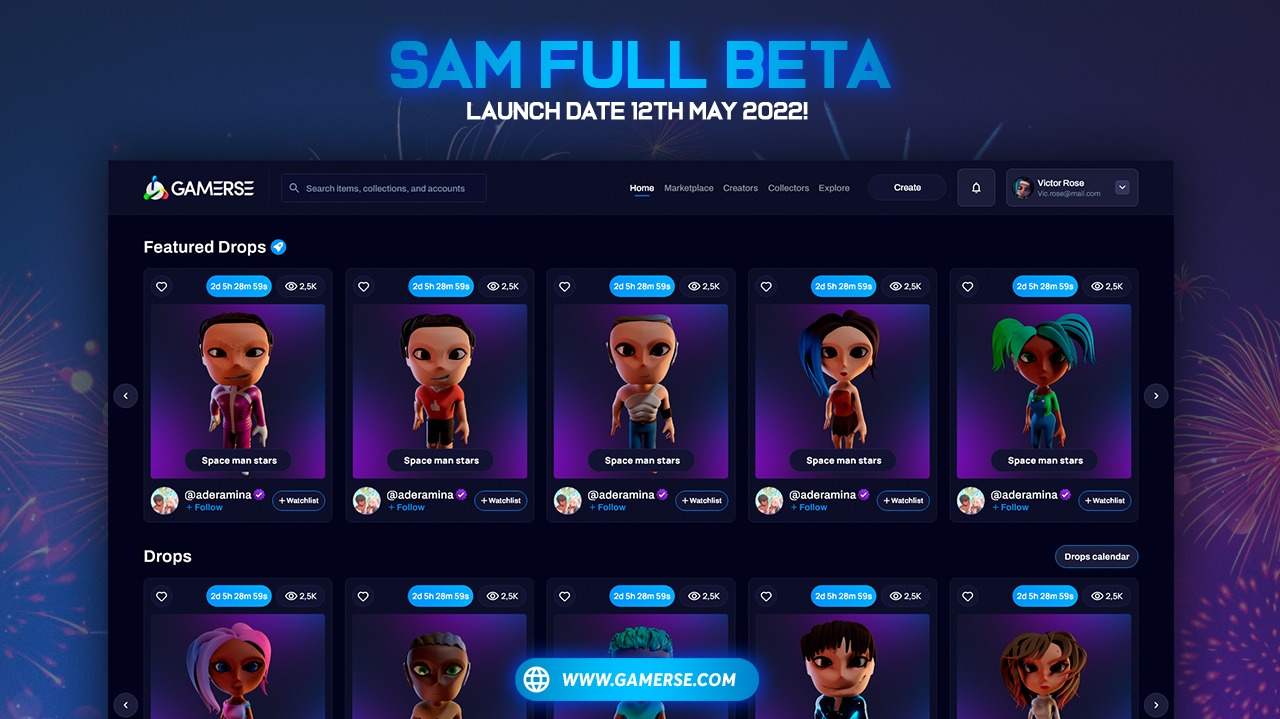 The fragmented NFT gaming sector is being unified with its cross-chain, cross-platform, and cross-verse solutions. Gamerse is creating the first-ever NFT gaming social ecosystem allowing gamers to explore popular NFT games aggregated and brought together in a single social marketplace. You can easily join groups, trade, and connect with other NFT gamers to play games together.
Nobody knows which game will be their favorite a year from now, but Gamerse ensures their community will always have a home. This project essentially allows you to meet new friends or create parties. Their amazing marketplace is already in Beta testing and will soon be available for Android and iOS users.
Gamerse Token (LFG)
Gamerse has launched its native token exactly at the top of the whole crypto peak, which led to a sell-off, however, the token still has a ways to go because of its many utilities. LFG is a BEP-20 token on the Binance smart chain (BSC). LFG native token will be multi-chain on the following blockchains; BSC, Polygon, Solana, Fantom, and beyond to support cross-chain platform capabilities.
In terms of utility, the LFG token will allow for 50% discounts on SAM when used as the base currency for transactions. This will be accompanied by a 50% burn ensuring the long-term price development of the token. Users can also stake LFG tokens and earn competitive APY and get discounts on the platform. The total and maximal supply of LFG tokens is 1 billion and it's currently listed only on 2 well-known crypto exchanges: MEXC and PancakeSwap.
Conclusion
With the strong rise of NFTs, it's very important to have quality marketplaces and aggregators to navigate all the users and gamers. Gamerse is doing important work that the NFT space needs and gamers can discover all kinds of categories on their platform, such as AR, VR, Memes, Avatars, Virtual Lands and much more!
Follow Gamerse: Website | Twitter | YouTube | Discord | Coinmarketcap | Medium
more to read
Boba Network: The Smartest Layer-2 Ethereum Solution
Reef: The Next-Gen Blockchain For DeFi Apps
How IPFS Hosting Can Save Your NFTs From RugPull
---
Follow us: Twitter, Instagram, Telegram, Tiktok, Youtube, Twitch
---
sources: gamerse, twitter, youtube, coinmarketcap
author: Rene Remsik
Disclaimer: This article is provided for informational purposes only. It is not offered or intended to be used as legal, tax, investment, financial, or other advice.