Quick Summary
Godspeed Metaverse is an NFT collection and community-driven project living on the Ethereum blockchain. There are 8,888 PFP programmatically generated NFTs with over 350 different traits.
There was no better year for non-fungible tokens (NFTs) than right now. Their skyrocketing popularity is very present, and that's why we decided to write about another interesting NFT project. This blog will cover a collection called Godspeed Metaverse, as metaverse is also getting hot in the crypto and NFT community. 
Godspeed Metaverse

This NFT collection is a story and community-driven project living on the Ethereum blockchain. The art itself is heavily influenced by pop cultures, streetwear fashion, classic comics and mangas. There are 8.888 PFP Programmatically generated from over 350 traits with each trait having its own rarity. Only the bravest, fiercest, and most magical race will thrive in the Godspeed metaverse.
There are many races in the Godspeed metaverse, but currently, only 3 races have been revealed: Methamines, Merian, and Westlander.
Every race comes with its own traits that distinguish one from another. They may look the same at a glance, but upon closer inspection, they're not the same at all.
NFTs As Characters
There are several characters of this comic-like NFTs. The main one is Turbo, an 18-year old boy who delivers pizza as his day job, but he is known for his super-speed power. There is also Nume, a gifted girl with magic powers that allow her to travel among universes. All of these characters have special characteristics and descriptions which makes them more than PFP programmatically generated NFTs. 
Roadmap & Plans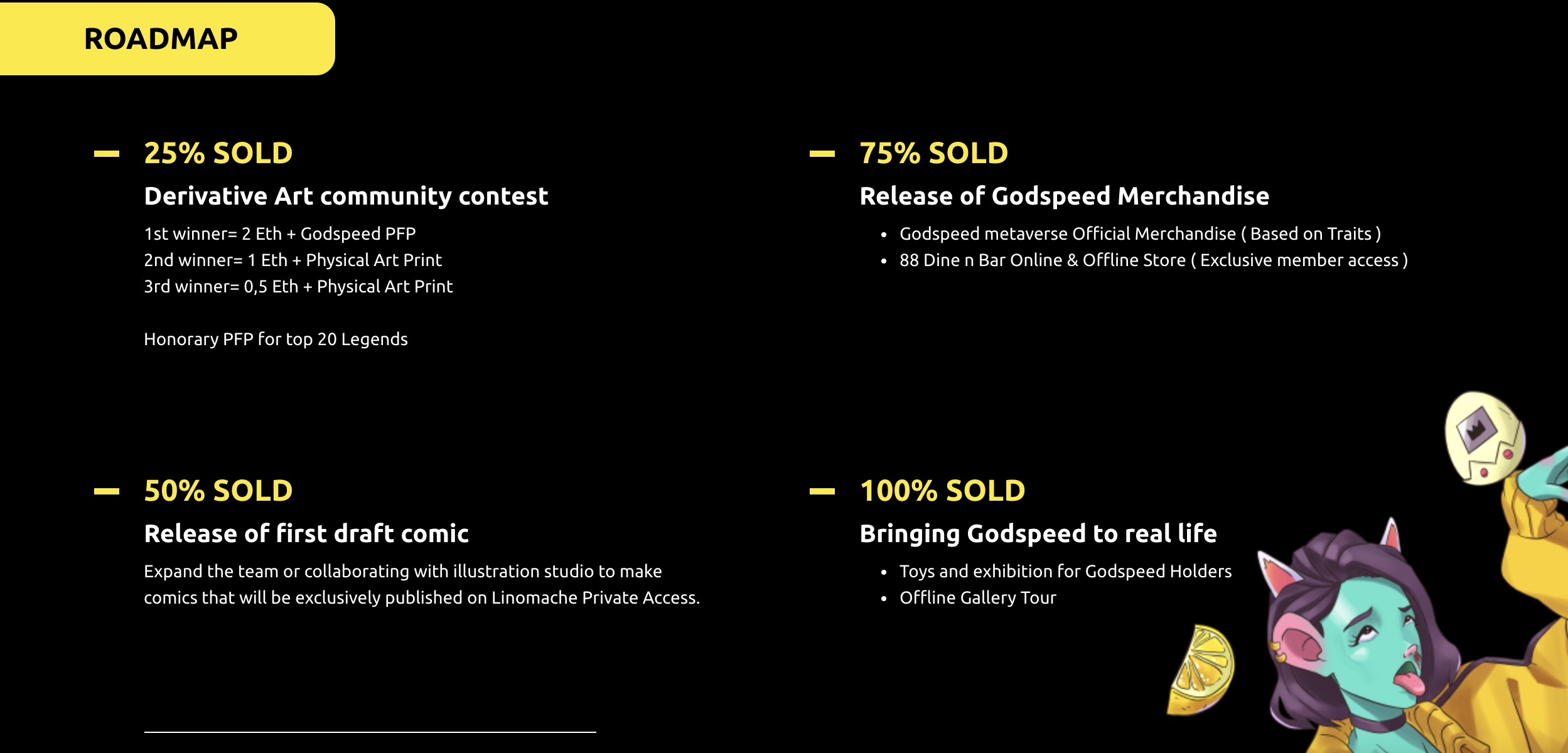 This project has a clear plan for the future shown in the roadmap above. Presale happened in October and now the Godspeed Metaverse is moving further. There are also some artist collaborations on the way.
Conclusion
There are several of their NFTs being sold on opensea with a volume of a few ETHs. We like to write about projects that catch our attention, and Godspeed is one of them. It was possible to get their NFTs from Pre-Sale Release & Public Release with a price at 0,088 Ethereum. Now, they're priced at around half of the minting price, so there's a big discount going on.
more to read
Ethernity Chain – Unique NFT Marketplace
The Photon Project – First Metaverse Particles
Sentiment: positive
---
sources: godspeedmetaverse
author: Rene Remsik
Disclaimer: This article is provided for informational purposes only. It is not offered or intended to be used as legal, tax, investment, financial, or other advice.