Quick Summary
The Gutter is an underground NFT project that started with 3,000 NFT cats. Now there are 4 collections of 12,000 NFTs with million-dollar trading volumes on OpenSea. Do you know Gutter Cat Gang?
NFT projects continue to make headlines everywhere and we like to take a look at those that make the biggest noise. Lately, Gutter Gang made several NFT collections that sold out and their trading volume is worth millions of dollars. Let's have a look at this project.
you might wanna read this: 3 Most Anticipated NFT-Crypto Projects In 2022
The Gutter Project
The Gutter is an underground web 3 social club for NFT art enthusiasts. It all started with creating 3,000 Gutter Cats that represent the Gang's premier level of membership, and each Gutter NFT unlocks varying and unique levels of community-led access and perks. This project received so much interest they also created 3,000 pieces of Gutter Rats, Pigeons and Dogs. 
So, there are 12,000 NFTs in total that open doors to the exclusive Gutter Cat Gang community with in-real-life (IRL) events and the metaverse (the Gutter City) that it is building on the Sandbox. Everybody heard of the Sandbox, it's a big deal. Gutter Cat Gang is one of the few NFT projects to have a place there.
Just Gutter Cat Gang NFTs made more than $55 million in trading volume on OpenSea, and now there's a floor price for 1 NFT of 6.3 ETH (around $20k). Then there are other 3 Gutter Gang projects that made million-dollar sales too. This project is for sure one of the biggest in terms of size, trading volume and fame. 
Gutter Gang had a Merch 1.0 offered for its community and there was also a Merch 2.0 created. There are special events organized, charity causes, DAO and much more. Check out all of their utilities here.
Gutter Cats
The year is 2050. Humans are an interplanetary species and have all but abandoned the post-apocalyptic shatters of society on earth. Cats have taken over. One crime-ridden, nondescript inner city is inhabited by a group of cats collectively known as the Gutter Cats.
Owning Gutter Cat NFT will give you an OG membership and premium utility. There's only a supply of 3,000 NFTs. 
Gutter Rats
Far underground, in the bowels of the Autonomous Zone, the Gutter Rats roam, sustaining themselves on the decaying crumbs of the extravagant lifestyles above. Discontent with their subservient position in the Gutter, the conniving rats lie in wait, scheming to one day claim the throne from the Gutter Cat Gang.
Owning Gutter Rat NFT will give you a Gang membership and unique utility. There's only a supply of 3,000 NFTs.
Gutter Pigeons
With a bird's-eye view of the Autonomous Zone, the Gutter Pigeons keep their claws on the pulse of the power dynamics below. Purveyors of misinformation and peddlers of mistrust, the Pigeons, known as the "Rats of the Sky" in the Gutter, have created an intricate smuggling network to transport contraband, news, and rumors into the streets.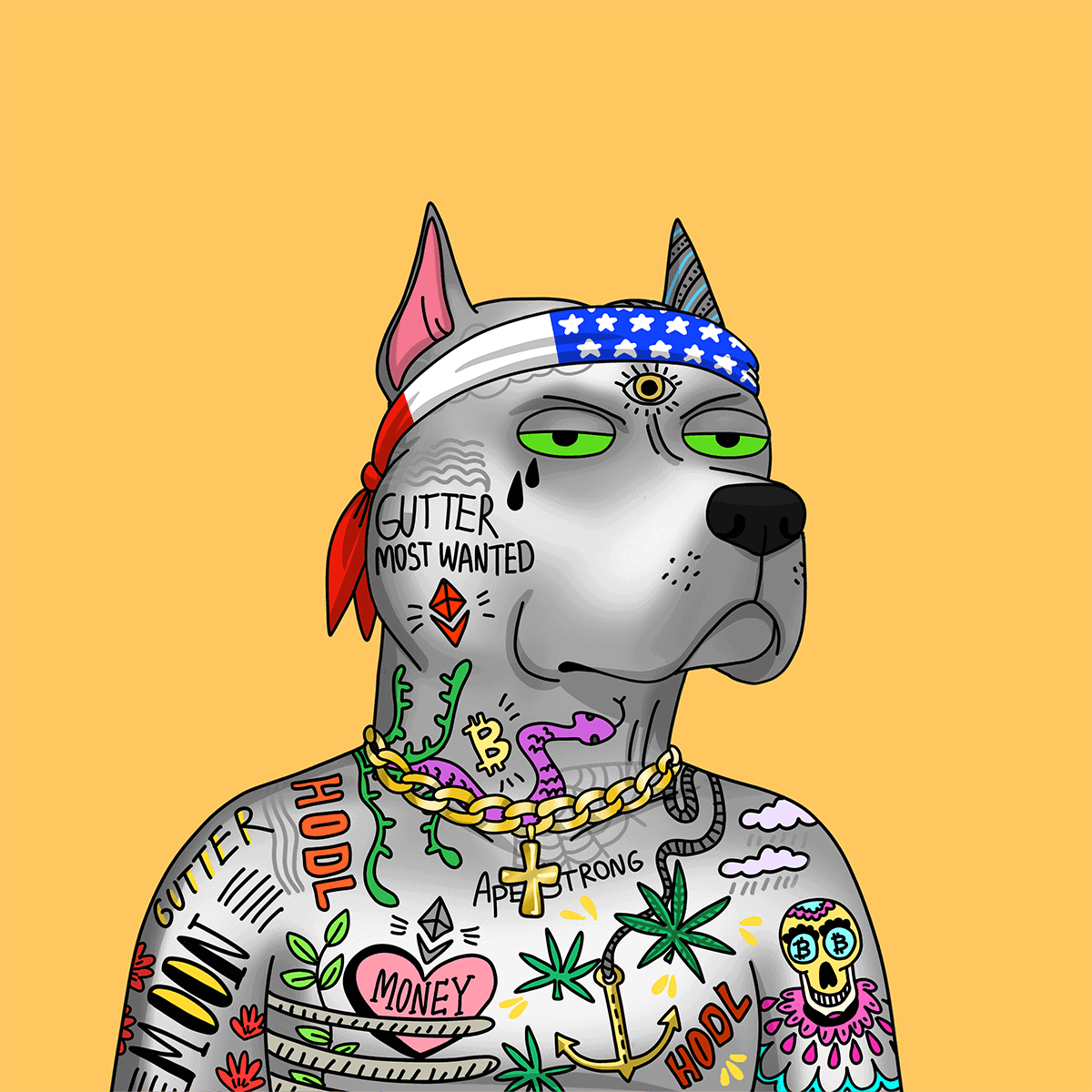 Owning Gutter Pigeon NFT will give you a Gang membership and unique utility. There's only a supply of 3,000 NFTs.
Gutter Dogs
No longer able to rely on the crutch of "man's best friend" or live in their nice suburban homes, the Gutter Dogs had to move to the inner city and reinvent themselves as "tough guys". Now, the Dogs spend their days flexing, fighting, and hustling in the streets to make ends meet, trying to figure out a way to make it to the top.
Owning Gutter Dog NFT will give you a Gang membership and unique utility. There's only a supply of 3,000 NFTs.
Conclusion
Gutter Cat Gang launched at the beginning of summer 2021 and already made bigger sales than some companies in many years! That's proof that NFT projects will continue to make noise in the world and there will be more and more people who want to be a part of this great journey. This is just the NFT art boom. NFTs will disrupt other industries like music, fashion, etc. The future looks interesting. 
more to read
These NFTs Are The Most Successful Lions
Soliens – Aliens Living On Solana Blockchain
Boson Protocol Bought Dolce & Gabbana NFT Worth $1 Million
---
NFT World News Social Media: Twitter, Instagram, Telegram, Tiktok, Youtube
---
sources: guttercatgang, cybernews
author: Rene Remsik
Disclaimer: This article is provided for informational purposes only. It is not offered or intended to be used as legal, tax, investment, financial, or other advice.