Quick Summary
The Habbo Avatars project is a collection of 11,600 NFTs that live on the Ethereum (ETH) blockchain. There are extra 1,000 reserved NFTs for the existing Habbo community. This project got huge trading volume on OpenSea of more than 6k ETH.
The world of non-fungible tokens (NFTs) is getting bigger every day and many projects launch every little while. However, there are some NFT collections that are very successful for some reason. In this blog, we will take a look at Habbo Avatars NFTs, which sold out very quickly just a few weeks back.
you might wanna read this: Whitelisting As The Best Way to Profit on NFTs?
Habbo Avatars
The Habbo Avatars project is a collection of 11,600 NFTs that live on the Ethereum (ETH) network and were made by Sulake. They are very similar to the avatars from the 2001 world of Habbo Hotel. Every avatar has been generated using 284 traits, making each of them unique. Of course, there will be rarity mechanics at play here. Each avatar will have at least one of the 74 traits that are completely new to the world of Habbo.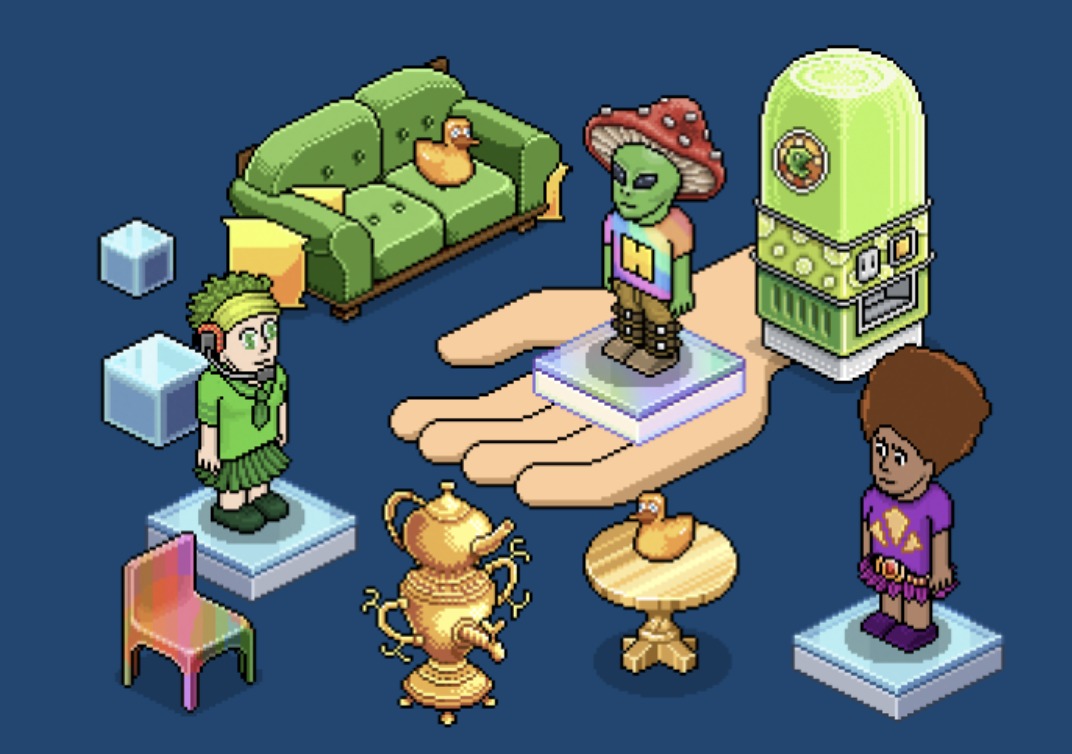 This NFT project has been lovingly put together by pixel artists, NFT enthusiasts and, community-minded gamers from all over the planet. Habbo Avatars is one of the most favorite NFT projects that got sold out after they launched at the beginning of October 2021.
However, this project reserved an extra 1,000 avatars for the existing Habbo community. They announce how the NFTs get distributed in their big Discord community of more than 35,000 members. This project achieved a trading volume of more than 6k ETH ($25 million) on OpenSea with a 0.159 ETH floor price.
Roadmap
Now there's something important to note here because these Habbo Avatars can't be used in the game world yet. However, this is one of the plans on the roadmap. When these avatars become usable, NFT owners will be able to receive exclusive items and gain access to Habbo Club and Builders Club memberships.
Habbo has more plans for blockchain technology, as they want to tap into the play-to-earn (P2E) gaming model, for example. The developers want to integrate P2E mechanics into Habbo and Hotel Hideaway. However, the developers do note that it's very time-consuming to create such an economy on top of their existing worlds.
Conclusion
Habbo Avatars is one of the newest original NFT collections that also wants to tap into the gaming world and has many different benefits ready for its community. All you need to do is become a part of this community by owning their NFT. The time will show whether they will follow their roadmap successfully.
more to read
4 Determinants For NFT Valuation
Americans Start to Give Cryptos as a Gift
---
NFT World News Social Media: Twitter, Instagram, Telegram, Tiktok, Youtube
---
sources: nfthabbo, opensea, playtoearn
author: Rene Remsik
Disclaimer: This article is provided for informational purposes only. It is not offered or intended to be used as legal, tax, investment, financial, or other advice.