Quick Summary
Honeypot tokens are cryptocurrencies built by scammers who aim to develop attractive crypto projects and take users' money. For example, Squid Game and JUMPN lost investors millions of dollars.
The crypto space allowed the creation of many scams you need to watch out for. Although there are several types of rug pulls in this sphere, let's focus on the one called "Honeypot tokens" in this blog. So what exactly are these honeypot coins, and how to avoid them?
Related: What's Rug Pull Or A Crypto Scam
Honeypot tokens explained
There is a new trend among hackers and scammers using a very proactive strategy. They send out contracts that seem susceptible but have traps hidden in them to deceive their victims into falling into them. This particular kind of contract is referred to as a "honeypot." The user's money will be imprisoned in crypto cyber attacks like honeypots, and only the attacker who built the honeypot will be able to recover it.
You may also read: Top 10 Algorand NFT Projects In Summer 2022
Honeypot tokens are cryptocurrencies that have a contract that allows you to buy the token but does not allow you to sell them. The graph of these tokens usually look very unusual, with huge green candles all over the place but no red ones; that is because nobody sells. Imagine buying some token, expecting significant returns, and when it actually rises in value, you cannot sell. That is a honeypot token.
Typically, a honeypot operates in 3 stages:
1. The scammer creates honeypot to attract users.
2. The users get trapped in a token they cannot sell.
3. The scammer takes all the money from the honeypot, leaves and honeypot is finished.
Honeypot examples
Squid Game Honeypot
Probably the most popular Honeypot token is Squid Game. It made headlines all over the internet. The Squid Game show became very popular at the end of 2021, and scammers used it in a very smart way. They created a mysterious Squid Game token, which people started buying as fast as they could, which resulted in millions of dollars lost to scammers.
If you look at the chart, you can see the massive pump and dump that followed. Creators of Squid Game token even created Marble tokens that people could use to sell Squid Game tokens, but only a few smart people knew that. As a result, most people lost everything they had.
JUMPN Honeypot
JUMPN is a web 3.0 lifestyle app that implements the jump-to-earn concept. JUMPN is designed to bring happiness back to people through blah, blah…The reality is people were buying this token, but no one could sell it for a profit. The price of this token rose rapidly from just $0.001 to around $100, delivering a crazy return of several millions of percent. However, there was a catch…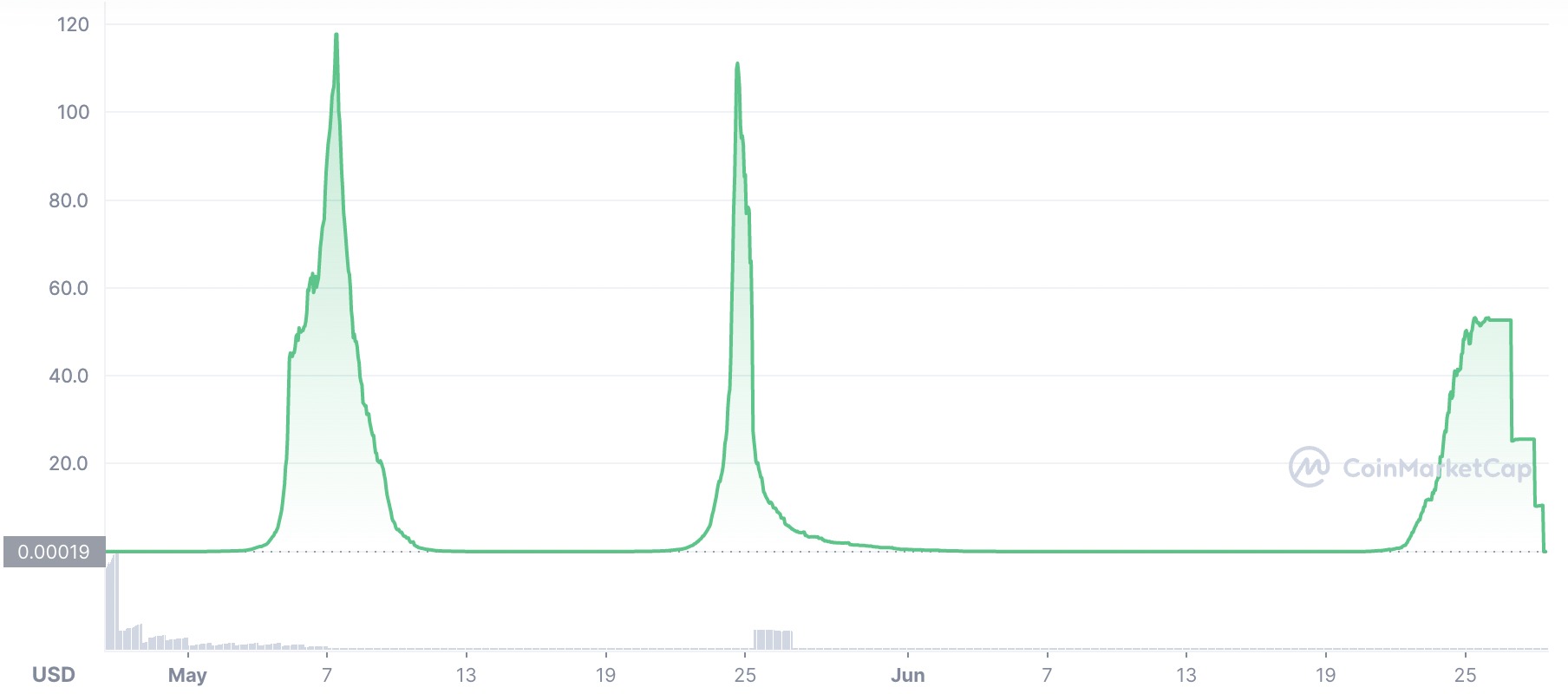 You can avoid losing your money in Honeypots simply by looking at the chart. If some token grows by hundreds of percent daily, it's really suspicious. Moreover, if you see comments of people on coinmarketcap that they are unable to sell and write the word "scam," you know something is going on.
Conclusion
If you want to explore the possibilities of identifying honeypot scams, you can check out honeypot.is (honeypot detector) or rugdoc. All you need to do is insert the token address and see the results. Make sure you thoroughly research before investing in a possible scam.
more to read
How To Do Research (DYOR) Before Investing And Avoid Rug Pull
Jim Carrey's First-Ever NFT Sale For 62 Ethereum
---
Follow NFT World News: Twitter, Instagram, Telegram, Tiktok, Youtube, Twitch
---
author: Rene Remsik
Disclaimer: This article is provided for informational purposes only. It is not offered or intended to be used as legal, tax, investment, financial, or other advice.