Hero shooter Citizen Conflict is gaining momentum with its most recent Alpha 3.0 version out now. To support the release, QORPO Game Studio announced a $3,000 prize pool backed up by Alpha 3.0 Box – loot boxes with multiple highly rare NFTs and an Airdrop guarantee. How to get them for free?
Alpha 3.0 Box Overview
Time-limited NFT Giveaway
Free Airdrop Guarantee Opportunity
Limited Special Edition of In-Game Character
Prize Pool Booster Ticket
Full Collection of NFT Avatars "Become the Citizen"
Alpha 3.0 Box Maximizes Citizen Conflict Gains
It's been a week since the latest release of Citizen Conflict hit the blockchain gaming space hard with plenty of new content and revamped gameplay. And as if 5 new heroes, 2 additional maps, a multitude of deadly guns, and enhanced animations and game dynamics weren't enough, QORPO Game Studio decided to support this milestone with $3,000 worth of prize pool and gear-packed loot boxes up for grabs.
Alpha 3.0 Box has been described as the ultimate tool kit for Citizen Conflict, and after taking its abundant contents under scrutiny, one has no other option but to give a nod. The team behind Citizen Conflict is overtly generous at giving away opportunities, and NFTs inside are nothing short of value. 
Rewards Inside the Loot Box
By hoarding these boxes, players can put their hands on the entire "Become the Citizen" NFT collection, which vanished from Crypto.com and Magic Eden seconds after the sale started. Another high point of the Alpha 3.0 Box are NFT tickets, which either double your prize in the ongoing leaderboard tournament or give you a $QORPO token airdrop guarantee. Lastly, you can also look forward to a chance of a limited edition of an in-game hero, which can't be purchased anywhere else and will never be minted again. 

Become the Citizen Full Collection – Alpha Box clutches its metal jaws on the complete collection of Become the Citizen NFT avatars. Pry its jaws open and get access to unlimited pieces of all 15 hero avatars from Become the Citizen collection.
Double Boost Ticket – Citizen Conflict Alpha 3.0 neons up the night sky with a tournament worth up to $3,000 in the overall prize pool. Grind away in the virtual battle arenas from the day first and double your prize with a Double Boost Ticket. There's no limit to Double Boosts in the Alpha Box.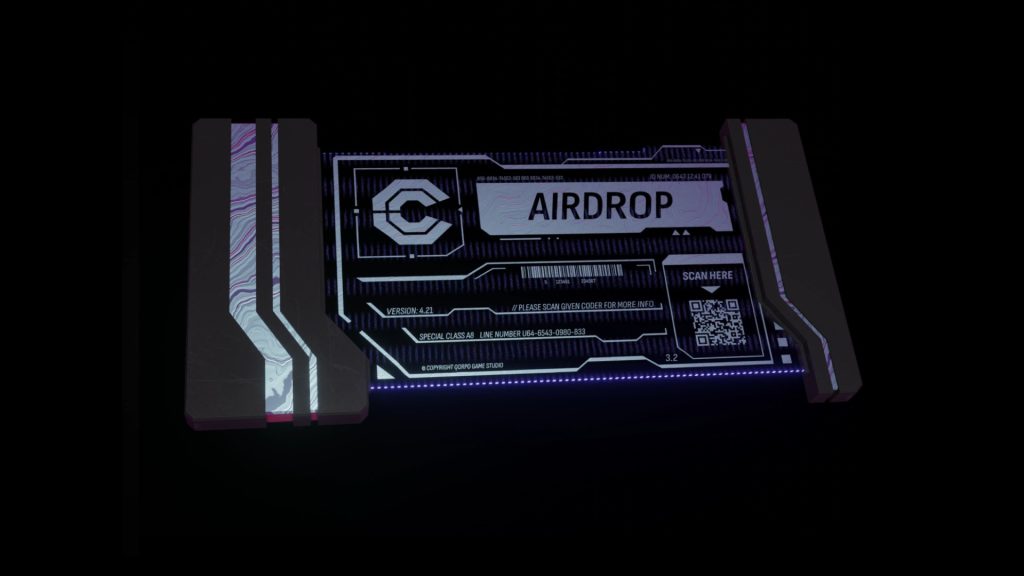 Airdrop Warranty Ticket – Break the mold of $QORPO Airdrop chances. Ditch the raffle game and lock your chunk of Airdrop for granted. Alpha Box holds 500 pieces of the Airdrop Warranty Ticket. Each ticket blesses holders with $10 dollars in $QORPO Airdrop!
Tunkas "RoboChad" – Despite his unforgiving swagger, Tunkas has never been this cool before. Fancied up with substantial NASA-punk tweaks and in-your-face Alpha vibes, his CHAD-self incarnation makes his old self pale in comparison. Tunkas "RoboChad" is a highly limited Citizen Conflict hero NFT, coming in 1000 pieces only. It's available ONLY in Alpha Box and will NEVER be minted again.
How to Get Your Alpha 3.0 Box for Free?
There are several instances in which you can claim the Alpha 3.0 Box. Cumulatively, players are able to get several Alpha 3.0 Box per they, which increases their chances for the maximum value claimed.
Registration – Are you new here? Prepare for a complimentary Alpha 3.0 Box upon successful sign-up. This is a one-time gesture to welcome and honor our emerging citizens.
First Game Experience – Embark on an exciting journey by joining our project. Your very first game in Citizen Conflict Alpha 3.0 guarantees you an Alpha 3.0 Box. Regardless of the outcome, this reward will find its place in your Wallet.
Daily Tasks – Stay at the edge of your seat as we introduce daily tasks upon the game's launch. Completing these tasks daily ensures your deserving Alpha 3.0 Box. We're all about blending rewards with enjoyment!
Random Surprise Rewards – Brace yourself for pleasant surprises! After each Citizen Conflict Alpha 3.0 match, a lucky random player will receive the coveted Alpha 3.0 Box, revealing its intriguing secrets.
Daily Draw Opportunity – Make sure not to miss our daily draw. Once every 24 hours, you have the chance to claim an Alpha 3.0 Box. A small minting fee is all it takes to enjoy free access to your daily rewards and savor Citizen Conflict Alpha 3.0 with a touch of style!
Still don't have yours? Sign up today and get your welcome gift. Alpha 3.0 Boxes are here for you to claim until the end of the Alpha 3.0 season. Time is running short, though. It will be put to rest on the 10th of September.