Instagram to test NFTs (Non-Fungible Tokens) by allowing a group of NFT creators and collectors to display their NFTs, as announced by Mark Zuckerberg in a video on Meta (Facebook). The same announcement was posted on Twitter by the CEO of Instagram, Adam Mosseri.
related: Linktree Joins The NFT Space
Will Instagram Integrate NFTs?
It was October 28, 2021, when Facebook rebranded itself to Meta to showcase their dedication to blockchain technology. Facebook is pouring over $10 billion and hiring over 10,000 employees to build the hardware and software to offer the first social experience in the Metaverse. This thought of including NFTs started probably in December last year when someone asked Adam Mosseri in an AMA (Ask Me Anything) on an Instagram, writing "thoughts on NFTs." This was on December 18, 2021.
"We're definitely exploring NFTs and how we can them more accessible to a broader audience", said Adam, CEO of Instagram. "I think that's an interesting place that we can play and also a way to hopefully help creators".
Recently Adam posted on Twitter that Instagram will allow a specific group of creators and collectors to display their NFTs for testing purposes. The test is small to start with the purpose of Instagram is to learn from the experience before going fully functional. In the start, only NFTs minted on Ethereum and Polygon smart contracts will be supported on the platform, according to Meta Spokesperson Christine Pai. Support for the other chains like BSC and Solana will be added eventually. The NFTs will be visible in feed, stories, and messages in the first version to be tested in the United States.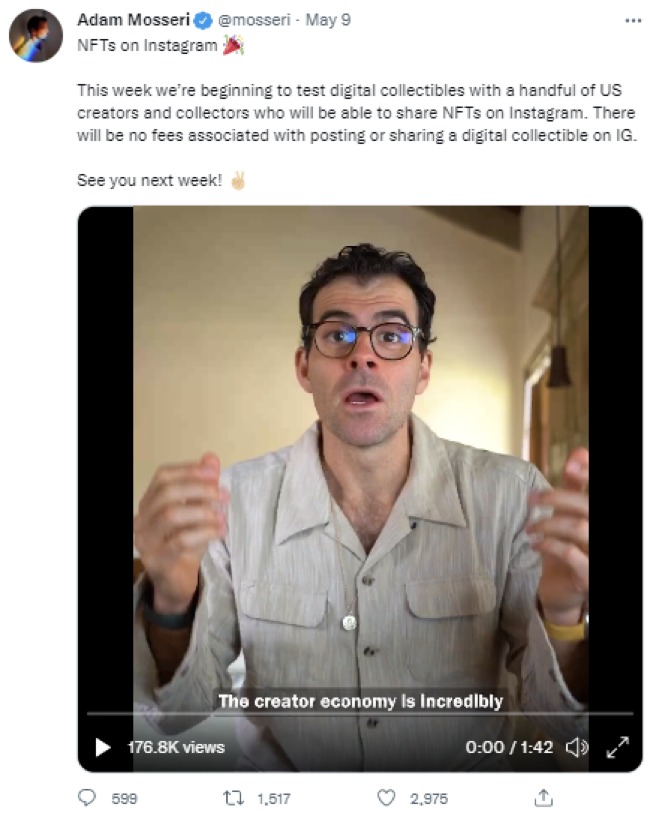 Twitter has already rolled out a similar feature where owners of NFTs can flex their NFTs as their profile pictures in a hexagonal shape. Instagram will also include a hexagonal verified tick on the NFT images. Spotify is also testing similar features to allow users to display their NFTs as album art on the platform. However, it is still not clear if Instagram will charge anything for the sales of these NFTs and for displaying them.
Conclusion
According to Mark Zuckerberg, Meta will also include a similar functionality of displaying NFTs soon. Meta and Instagram both have users in billions, and with this NFT integration, NFTs will get exposure to millions of new social media users. Still, the Meta venture is indecisive, but the NFT enthusiasts are curious to find out where this NFTs integration leads Instagram.
more to read
Oracle Red Bull Racing Taps Into NFTs With Tezos And Bybit
Artvatars: The Biggest NFT Collab of Crypto Artists
Droid Capital is a Definition of OG Crypto NFT Project
---
Follow NWN: Twitter, Instagram, Telegram, Tiktok, Youtube, Twitch
---
sources: Twitter, Meta, Instagram
author: mnmansha
Disclaimer: This article is provided for informational purposes only. It is not offered or intended to be used as legal, tax, investment, financial, or other advice.