While some call cryptocurrency a bubble, NFTs have been termed a fad. This is the scariest thing that can happen to any buyer, and Invisible Friends might become an example. 3D invisible friends NFT is a collection of 5000 3D animated art that can be used as a PFP. The NFT figure editorial staff gives the invisible friends' collection A category as the project is backed by a well-known artist Markus Magnusson, with immense hype and a very active community.
related: Archie Comics Will Launch The First-Ever NFTs
These NFTs come as a part of the Random Character Collective (RCC) initiative. The Invisible Friends NFTs were a profitable flip and maybe even more beneficial for the holders as the floor price has hit 3.85 ETH while this NFT was sold for 200 ETH right after the mint was over. So the price it was sold for is over 160% above the floor price. The buyers' wallet is extremely as it owns over 26 blue NFTs, including 2 Bored Ape Yacht Club and 2 Crypto Punks. But that's not the whole picture.
What's Concerning?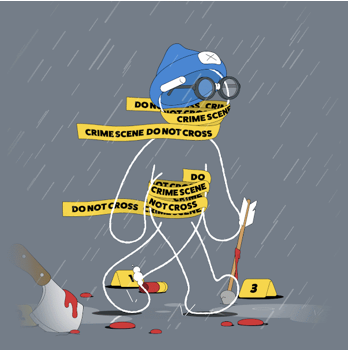 The all-time frame of sales of Invisible Friends shows that the people's interest in the collection is headed to a decline. This happens when the NFTs are only art-based or have a limited-time road map. The project core team is shifting its interest to promoting other projects to the community. It'll be interesting to see if the Invisible team can save the plunging sales – that's the challenge.
Because this project is not saved and the buyers are stuck with it or have to sell it for a lower price than they bought these for, it will be tough for the upcoming project to convince the secondary sales buyers. And if there are no secondary sales, the largest number of people minting NFTs for the core purpose of flipping will give up on these. 

NFT comes through creating hype about the project, and since that project makes headlines (at least on social media), most people get into it. NFT critics call NFTs a fad – a timely thing that turns out to be correct if the project has no long-term roadmap to follow. There are many kinds of NFTs, and almost each requires a long-term commitment. The PFP (Professional Profile Picture) NFTs are destined to expire. I mean, how long can you not change your Profile picture? So the NFTs just meant for a PFP will be the first ones to suffer from it.
A utility-based NFT also requires ongoing community and creator support to function. If the members-only perks are time-limited, there's no point for anyone to buy these NFTs after a few months. On top of that, a project without a long-term roadmap will cause NFTs to lose their value over time.
In this regard, Bored Ape Yacht Club played very smartly as it discloses one thing at a time, keeping the community engaged and feeding the social media with some news. Besides celebrities or influencers like Elon Musk Buying Bored Ape Yacht Club NFT, it has made headlines for dropping a child project, Bored Ape Kennel Club, and then a BAYC token in the crypto market.
Conclusion
NFT project should save their community by offering something to hold the NFTs for because if even one blue-chip category NFT is devalued, it will hurt the buyers' trust in the upcoming project. I have started to think maybe the NFTs are just a fad, are they?
more to read
PIVX: Current Underrated Crypto Gem
Bella Hadid is Dropping an NFT Collection Called Cybella
Are Stablecoins Really That Stable? 
---
Follow NFT World News: Twitter, Instagram, Telegram, Tiktok, Youtube, Twitch
---
sources: opensea, invisiblefriends
author: mnmansha
Disclaimer: This article is provided for informational purposes only. It is not offered or intended to be used as legal, tax, investment, financial, or other advice.