As a new incomer in crypto, you easily get lost with the huge numbers of cryptocurrencies on the market. More than 6800 of them are on the market as per the Coingecko information. Everybody is researching Bitcoin as the first and Ethreum afterward. The incentive is to make short-term or long-term profits based on the technical fundamentals. Besides technical innovation, many coins have been created just for fun. One of them is Dogecoin, which attracts investors' appetite for almost seven years despite any added value.

What is the Dogecoin?
Dogecoin was created by IBM software engineer Billy Markus from Portland, Oregon, and Adobe software engineer Jackson Palmer, who created a peer-to-peer digital currency. The goal was to reach a broader demographic than Bitcoin. Besides, they wanted to distance it from the controversial history of other coins. Dogecoin was launched on December 6, 2013, and within the first 30 days, there were over a million visitors to Dogecoin.com
On December 19, 2013, Dogecoin jumped nearly 300 percent in value in 72 hours, rising from US$0.00026 to $0.00095, with a volume of billions per day. The Dogecoin is Nr. 7 in the cryptocurrency ranking, touching 50 billion market capitalization while at the all-time high price at $ 0.40.
DOGE is a derivative of Luckycoin, which was forked from Litecoin and used a Scrypt algorithm. Dogecoin's implementation differs from Litecoin or Bitcoin by several parameters. Dogecoin's block time is 1 minute instead ofLitecoin's 2.5 minutes and Bitcoin's 10 minutes. Every 1 minute, there are 10 000 Doges in circulation means more than new 5 billion coins yearly with no cap.
There will never be a cap, according to the creators of dogecoin. It wouldn't matter if they ever did make one either, as the supply of doge is just too abundant. This is the reason doge is only volatile at a fraction of a penny. Many people believe that doge will take off to the moon, but they don't realize that doge will always struggle to climb with this inflationary pressure due to how much is out there.
There is still development ongoing as per the Cryptomiso information, and Doge is #96 among cryptocurrencies with 100 contributors.
The price skyrocketed despite Doge inflation
Recently the Doge price pumped like crazy and hit the maximum levels ever around 0,4 USD per coin. It is far more than during the famous altcoin season in 2017/2018, where it touched the 0,015 USD levels per coin.
Over the past weeks, it has sky rocketed as much as 550%, which pushed it beyond the value of several major banks on Friday 16th of April, including Barclays, which has a market cap of $44bn, and Lloyds Banking Group, which is worth $42bn and even was worth more than American dream car Ford. Let's have a look at the chart from the beginning of the coin launch.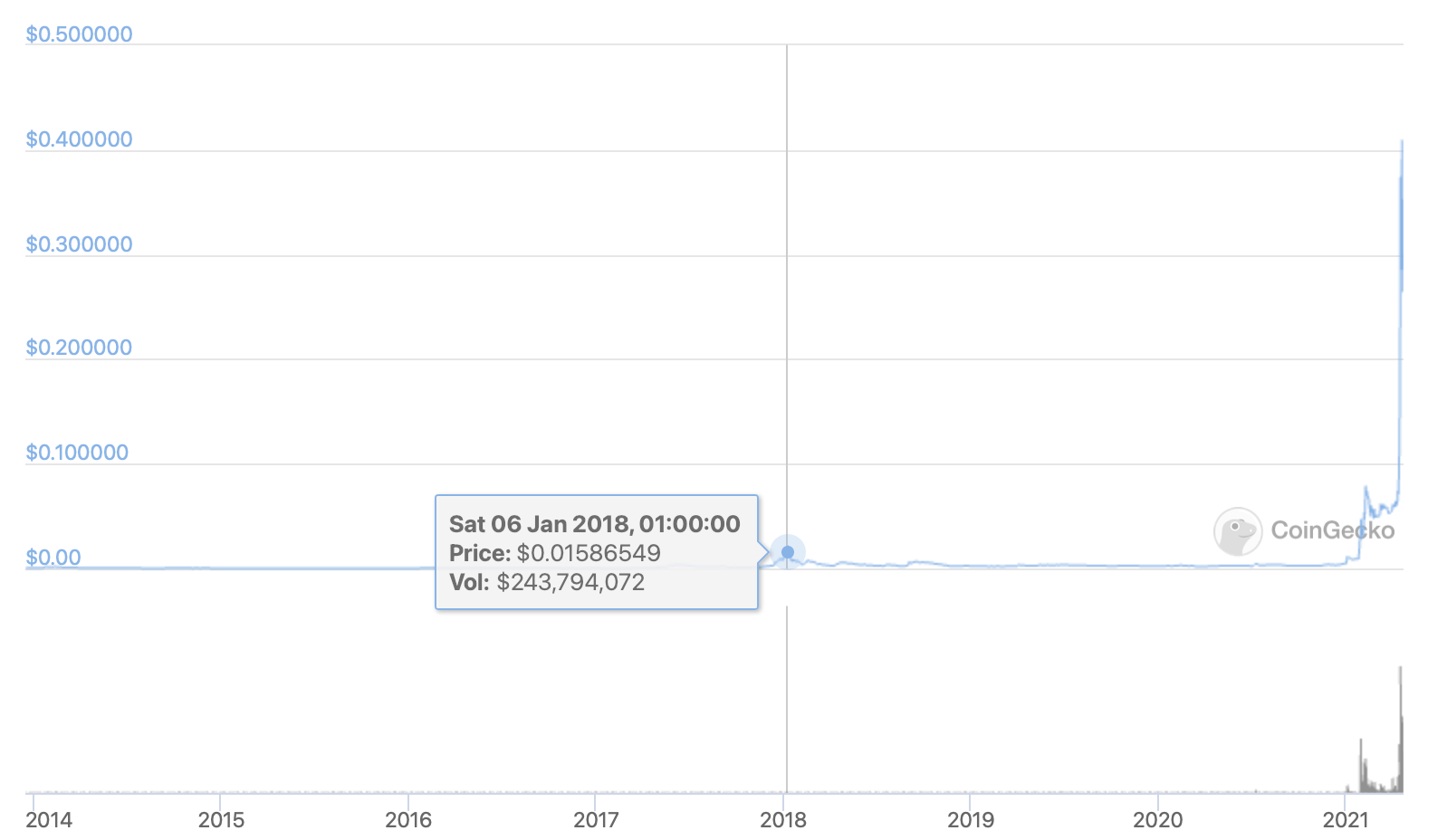 It's clear the chart does not have a consistent growth look and more like a pump and dump. Everybody is searching for a quick profit because Bitcoin is too expensive for retail. You won't make 2x in a short period of time.
Many people become millionaires for example, the 33-year-old Los Angeles resident, who wanted to remain anonymous, claimed he invested all of his $188,000 life savings into it in February this year. Now it is worth more than $ 1,8 Million.
Elon Musk Favourite Meme Coin
The reason behind the sudden surges in the Doge price is that Elon likes Dogecoin and tweets a lot about it. The rumors indicate that Doge is going to the moon with his Spaceship.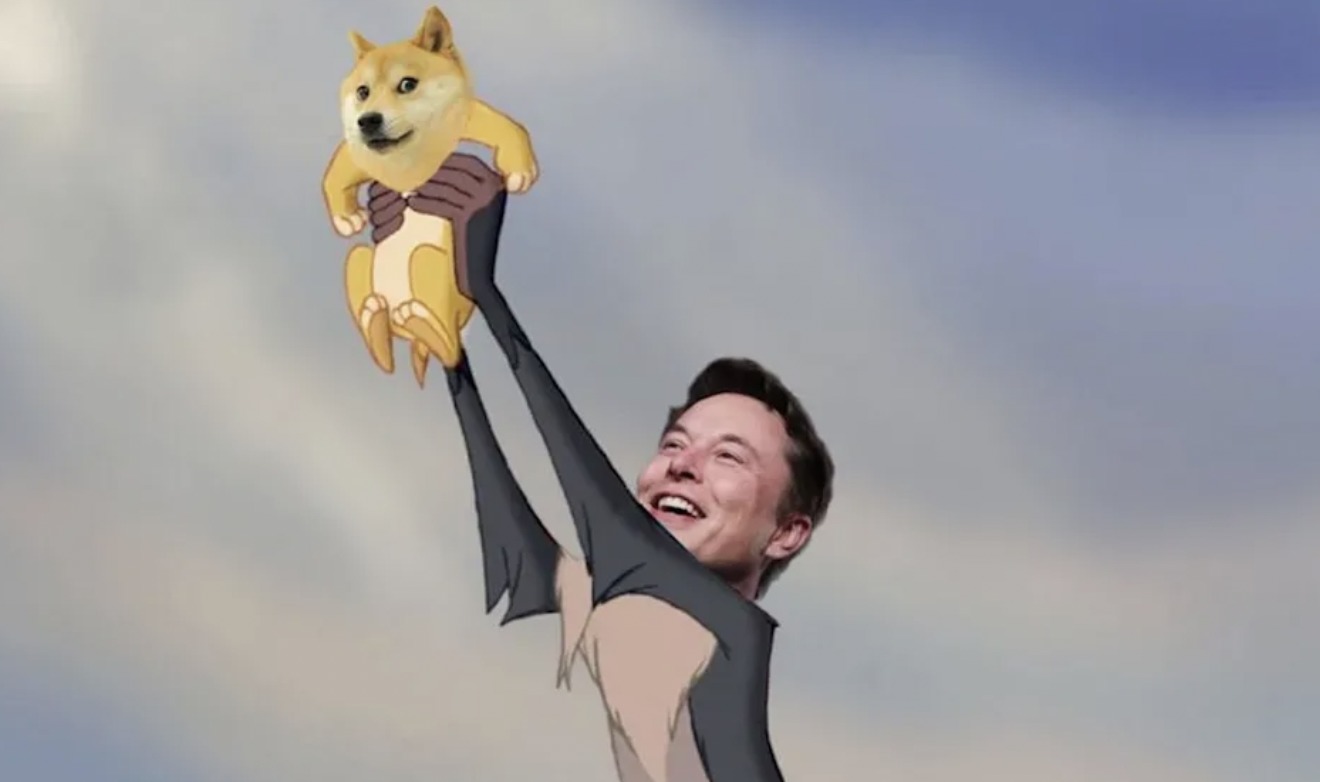 The conspiracy theory that millionaires, including Elon, are pumping their bags and making huge gains with a small risk-free part of their portfolio on the unregulated crypto market. This is unconfirmed information. After the recent Elon tweets, there was again an issue with the Robinhood app since it was impossible to execute the sell orders, and it's not the first time it happened.
Amazon Petition About Onboarding Dogecoin
Currently, Amazon does not accept cryptocurrencies as a payment method exluding many people who do not have a traditional bank account.
Amazon.com, being a leader in innovation, should accept Dogecoin as a form of payment. Below is the text in the ongoing petition for Amazon accepting Dogecoin as a means of payment. As written on the website Dogecoin is fast, cheap, and stable in value, has the lowest transaction fee of other major coins. Currently, 154 000 participants are voting for onboarding, and if this will succeed, we can get another Doge moon.
Important information you need to know
The on-chain metrics are one of the main indicators that you can follow to evaluate any blockchain project or cryptocurrency. You can see how many holders there are and if the distribution is centralized or decentralized.
If we look at Dogecoin rich list, records reveal that a single investor owns 28% of the cryptocurrency supply. The person or entity has not been identified.
The position was worth around $2.1 billion at maximum prices. This is a huge risk for any holder since the price can go sharply down anytime once this holder starts to sell.
Another ratio obvious from the Dogecoin rich list is that 67 % of the coin circulation holds 100 addresses.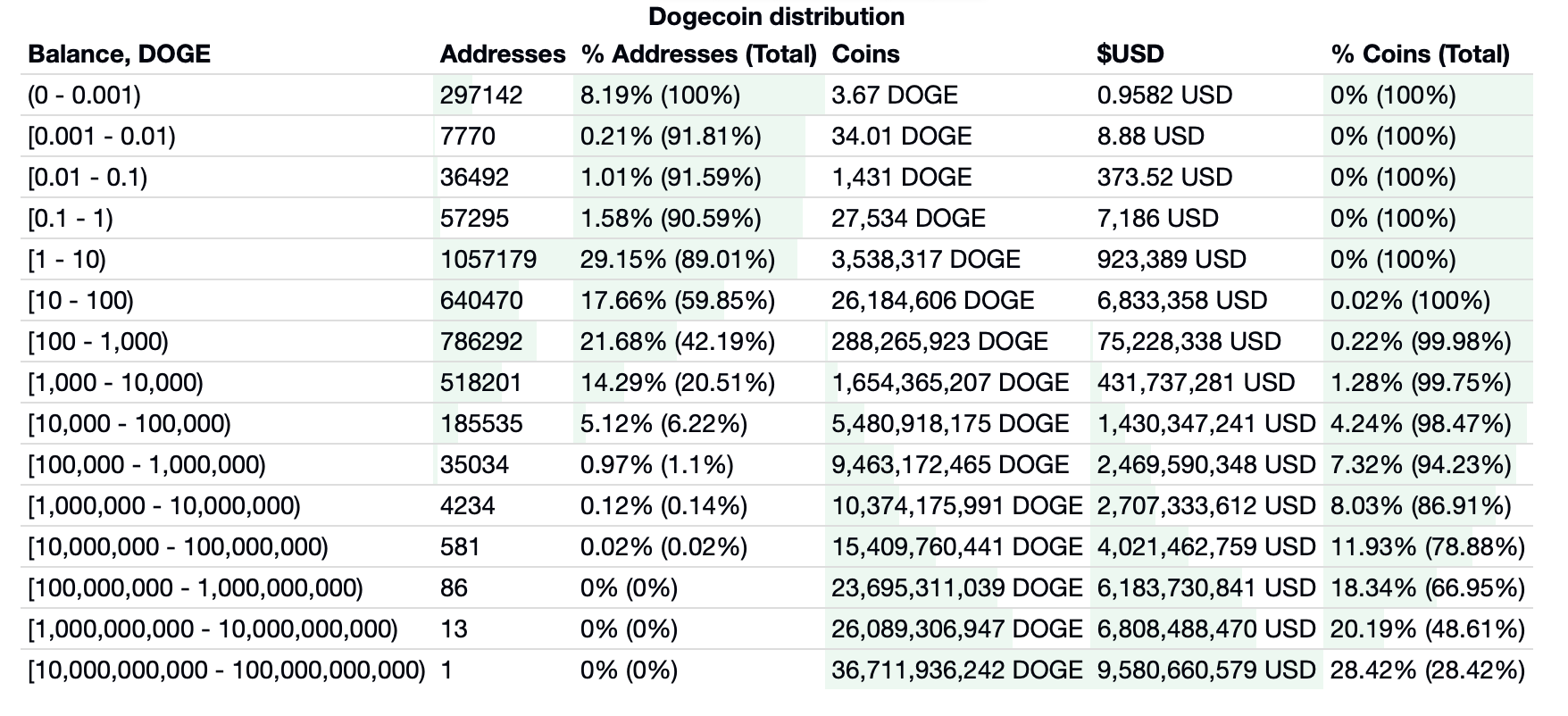 This is a considerable risk and essential information for any holder or trader. The latest uptick in Dogecoin's price isn't indicative of any meaningful value the cryptocurrency offers; it's just a surge in interest from people looking to get rich quickly. That can make for a fun bet, but it's not good investing but dangerous at the level of gambling. And if you're the one left holding when the market tanks, you may regret taking a punt in the first place. The price started to tank now as traders are taking profit or shorting with the leverage.
Stay safe and stay green.
Watch the video version of the blog.
Eastboy