Quick Summary
Metis is a scalable protocol supporting a wide range of use cases, including DeFi, NFT platforms, social platforms, communities, crowdfunding and much more. Metis incorporates DAC framework into its Layer 2 infrastructure, which brings many benefits to its users.
Ethereum (ETH) is a well-known cryptocurrency and a center of Decentralized Apps (Dapps). ETH provides many undeniable benefits. However, it has several issues and problems that other projects try to solve, and Metis is one of them. Let's have a look at their layer 2 solution and much more.
related: Kusama Project Review
MetisDAO Explained
Metis is one of the most innovative crypto projects to enter the crypto space in the last year. Many people see the problems connected to ETH, such as high transaction fees and slow speed. Metis entered the market to solve these kinds of issues with its layer 2 solution. Metis has built an easy-to-use, highly scalable, low-cost, and fully functional Layer 2 framework (Metis Rollup) to fully support the application and business migration from Web 2.0 to Web 3.0.
Its scalable protocol supports a wide range of use cases, including NFT platforms, decentralized Reddit-like social platforms, open-source developer communities, influencer communities, gaming communities, freelancer communities, crowdfunding, yield farming, DEX trading, and much more. Metis incorporates the Decentralized Autonomous Company (DAC) framework into its Layer 2 infrastructure, making it simple for developers, builders, and community leaders to create apps and communities.
Metis also makes it simple to use pre-built tools to speed up development, manage collaboration, and take advantage of the network effects of the world's largest decentralized finance ecosystem, all while avoiding the expenses and bottlenecks that come with Ethereum. The goal of Metis is to make creating dApps and DACs on its platform so simple that even complete blockchain newbies can do it in a few minutes.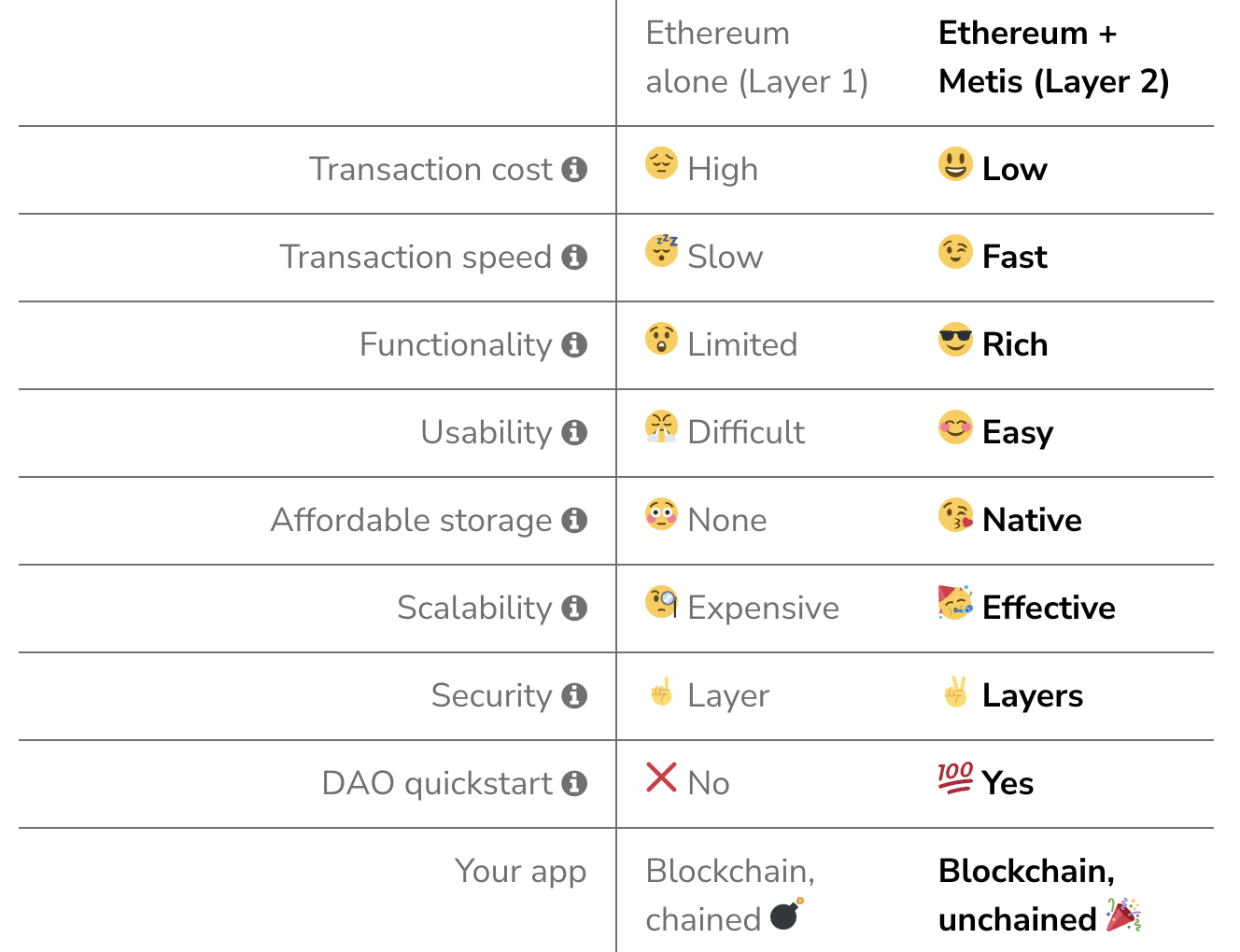 Vision of Metis
Metis arose from 3 years of hard work by co-founders that got inspired by Vitalik Buterin's cryptocurrency, Ethereum. They're now ready to broaden the scope of that original concept significantly by:
Decentralization: Metis' unique EVM equivalence with Ranger optimistic rollup solution will keep Layer 2 decentralized, with no doubt. 
Scalability: Metis' multi-chain, multi-VM solution will unleash dynamic, flexible, almost infinite scalability supporting DAC-based DApps.
Functionality: Metis will integrate decentralized storage features to the mainnet which will improve its performance and add more functionality space to enable new Web2 + Web3 hybrid dApps.
Usability: Metis envisions a dynamic DAC economy in which new users, builders, and inventors can join without having to go through the pains of blockchain creation. Metis will use its Polis middleware architecture and plug-and-play DAC initiation procedure to do this.
Memolabs-based decentralized storage 
This feature is set to release by the end of Q1 2022. For rollup data and fraud-proof challenge processes, distributed storage is employed, allowing a substantially larger number of transactions to be rolled up at once, resulting in a huge drop in transaction costs – from around $2-$3 now to mere pennies once the new storage layer becomes live.
NFT Bridge
Most NFTs are now generated and exchanged on Ethereum Layer 1, causing high transaction fees and, at times, congestion on the Ethereum network. Andromeda, a Layer 2 network, solves the concerns of high transaction fees and network congestion, making it the natural choice for users to mint and trade NFTs. To explain it simply, Metis made a native NFT bridge to support the transfer of NFTs from L1<>L2.
Ranger Feature
The Metis Ranger system will be released at the end of Q2 2022 and it will decentralize the process of verification that is still single-layered. Rangers work for those peers, by staking and making themselves available for on-chain verification jobs. Each batch of transactions will be verified by multiple Rangers, similar to the current verifier system of Metis. The Ranger system will be powered by their DAC infrastructure, and operating on Metis Layer 2 network.
To find out more about the roadmap of Metis, check out this blog.
Token Information (METIS)
Metis has a native token MetisDAO that has been launched through Initial DEX Offering (IDO) in May 2021 at a price of $5. Since then, the token exploded to around $315 by January 2022 and delivered astonishing returns. Currently, Metis has a $330 million market cap with an 8-figure trading volume. The token's listed on many prominent exchanges like KuCoin, Gate, Poloniex, MEXC, etc. 
More than 72,000 people have Metis in their watchlist (according to coinmarketcap) and the token is in the top 250 coins by market cap. Will Metis get to the top 100 this year?
Follow Metis Here: Website | Twitter | Discord | Medium | Telegram | Github
Conclusion
Metis is one of the most interesting crypto projects of 2021 as they're bringing innovations and upgrades where it's needed. The only question left is if they can actually deliver the results. To find that out, stay tuned by watching their social media.