Quick Summary
Komodo is a multi-chain platform focusing on security and blockchain interoperability with development roots going back to 2014. One of the latest innovations of Komodo is AtomicDEX, a non-custodial wallet and cross-chain DEX.
There are dozens of crypto projects created regularly, however, only a few of them really survive the test of time. Komodo Platform is several things: a one-of-a-kind blockchain, a rewarding coin, a decentralized exchange, and a multi-chain ecosystem with many more features in the works. Let's have a look at this cryptocurrency which survived both the 2018 and 2022 bear market.
related blog: Boba Network: The Smartest Layer-2 Ethereum Solution
What Is Komodo
Komodo is an open, composable multi-chain platform with blockchain development roots going all the way back to 2014. Komodo is reportedly one of the pioneers of multi-chain architecture in the blockchain space.
The Komodo blockchain is a fork of the ZCash blockchain, which itself was forked from the Bitcoin blockchain. Komodo is basically a Bitcoin descendant. Komodo created a proof of work coin and added an additional security layer called delayed Proof of Work (dPoW), allowing it to recycle Litecoin's hash rate to ensure the immutability of Komodo's blockchain.
About Komodo Cryptocurrency (KMD)
Komodo's native coin  (KMD) launched at the beginning of 2017, which was the most successful year for this cryptocurrency. The price of the coin made a 100x return that year but as the whole crypto market turned around, KMD fell. However, the project is still alive and it's upgrading the coin  and creating other projects like AtomicDEX (explained below.) The maximum supply of KMD coins is 200 million and 66% of them are currently in circulation. The current market cap of KMD is $64 million (at the time of writing) and it's available on the biggest crypto exchanges in the world, such as Binance, KuCoin, Huobi, etc.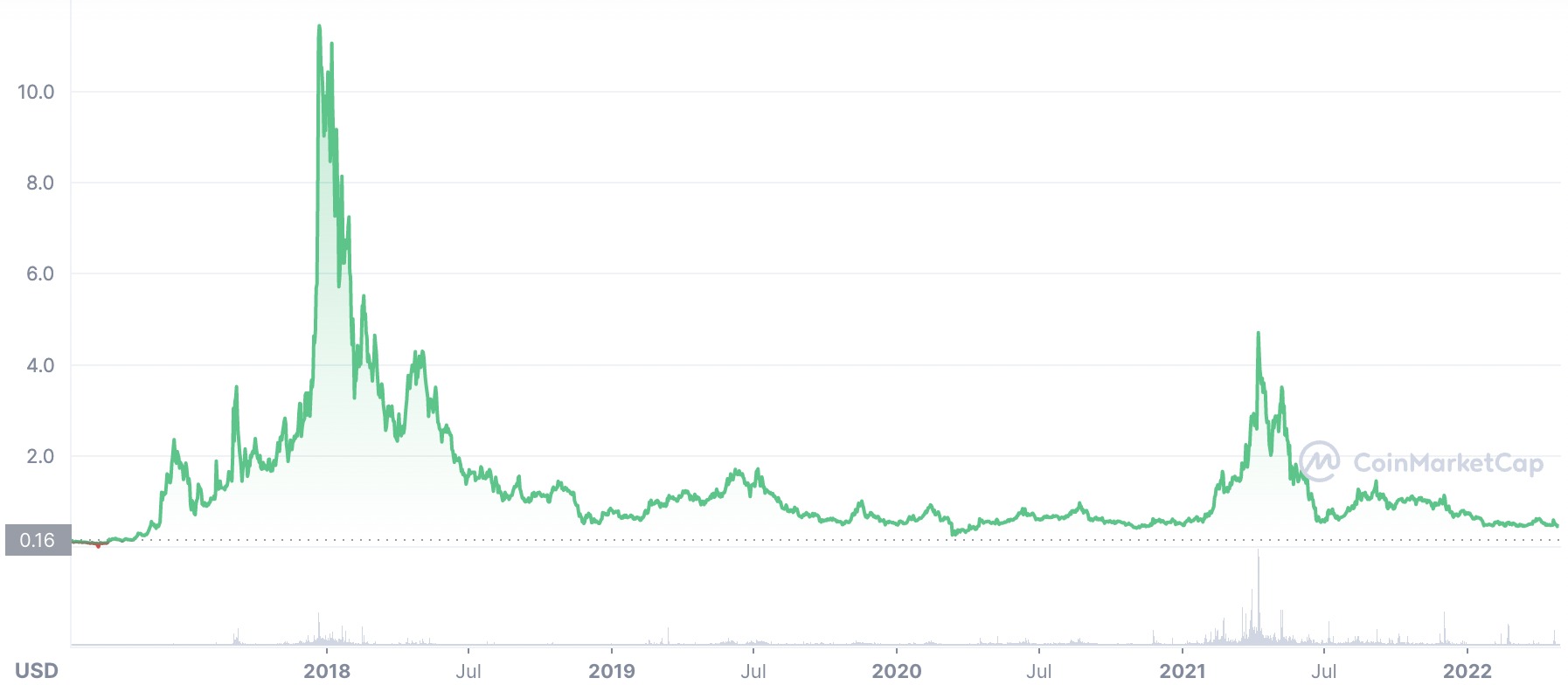 AtomicDEX Explained
Komodo has also created a non-custodial wallet and atomic swap cross-chain DEX (decentralized exchange) rolled into one application. It encourages you to manage your own crypto and be your own bank. It's available for download on PCs as well on smartphones (Android and iOS). Later in 2022, AtomicDEX will launch as a web browser app called WebDEX.
AtomicDEX doesn't limit trading to a single blockchain protocol. AtomicDEX offers the widest cross-protocol support in the entire blockchain space. It's easy to trade BTC, ETH, all ERC-20 tokens, KMD, and hundreds of other digital assets natively across dozens of blockchains — no proxy tokens required.
Trades on AtomicDEX use atomic swaps — a peer-to-peer trading technology. Atomic swaps are designed such that both traders either receive the funds they desire, or nothing happens at all and both traders retain the funds they started with. Embrace DeFi 2.0, and adopt atomic swap technology. With AtomicDEX, you can even create your own DEX using AtomicDEX API, become a liquidity provider, or list your asset!
Conclusion
Most projects have a small life span, however, Komodo is one of the pioneering crypto projects of multi-chain and DEX technology while also focusing on security. Komodo withstood the bear market of 2018 and this year and continues to innovate the crypto space.
Follow Komodo: Website | Twitter | YouTube | Discord | Telegram
more to read
Reef: The Next-Gen Blockchain For DeFi Apps
Gamerse Is The Future Of NFT Gaming
Does Elon Musk Support The Idea Of Web3?
---
NFT World News Social Media: Twitter, Instagram, Telegram, Tiktok, Youtube, Twitch
---
sources: komodo, coinmarketcap, twitter, coinbureau
author: Rene Remsik
Disclaimer: This article is provided for informational purposes only. It is not offered or intended to be used as legal, tax, investment, financial, or other advice.