Quick Summary
Kusama is a parallel network built on the same code & structure as Polkadot but it works faster. Kusama is a full-fledged blockchain with its own governance, DAO and native token KSM.
The cryptocurrency world is bigger than ever, and only the best projects survive. Kusama is one of the most complex projects that received large public interest and it caused a huge price growth of its native token. What exactly is Kusama anyway? Let's have a look.
related: VeChain – The Combination of Governance and IoT Technologies
Kusama Explained
Kusama blockchain is intended to be a canary development for the Polkadot platform. Kusama is a parallel network that has been launched in 2019 and it is built on the same code base and structure as Polkadot, but it works faster. This project provides the same environment as Polkadot for developers to experiment with new technologies, improve existing projects, and more.
Although Kusama is frequently used as a test bed or development foundation before products are posted on Polkadot, some projects remain on Kusama's network, providing them with a varied and developing ecosystem.
Technical Description
Kusama is the canary in the Canary Network, alerting developers to any issues with their projects, as well as any risks and/or vulnerabilities in the code they're writing. Kusama is also known as Polkadot's cousin, and developers that build on the Kusama network are generally cautioned to expect mayhem and a lack of guarantees.
This project may contain several vulnerabilities because of its unaudited nature, yet it provides developers with the tools they need to modify and perfect their creations. Kusama isn't just a testnet; it's a full-fledged blockchain with its own governance, a decentralized autonomous organization (DAO), and its own native coin (KSM). Kusama's goal is to give developers a scalable blockchain platform that allows them to interact with developers from different chains and collaborate on apps.
Kusama is made up of users, each of whom can play multiple roles to help the network, platform, and ecosystem run. There are builders, who are programmers and they create parachains, bridges, and parathreads, and network maintainers, who make sure the platform is secure, stable, and progressing.
Kusama employs an Adaptive Quorum Biasing voting system, which is highly unusual. Kusama uses this approach to ensure that enough people vote for a proposal by setting a threshold that varies from proposal to proposal, and the system adapts by decreasing the threshold if the votes do not add up.
Token Information (KSM)
The introduction of the KSM token was initially as an airdrop to those who took part in Polkadot token sale. Kusama has a total of 10 million tokens with around 8.5 million of them in circulation. Kusama currently has a $1.13 billion market cap, down 78% from its top as most cryptos which may offer a great investment opportunity. Kusama is very famous and more than 235k people have this token in their watchlist (according to coinmarketcap).
KSM is in the TOP 100 coins on coinmarketcap and it's listed on the most prominent exchanges in the world, such as Binance, Gate, KuCoin, Huobi, Kraken and many more.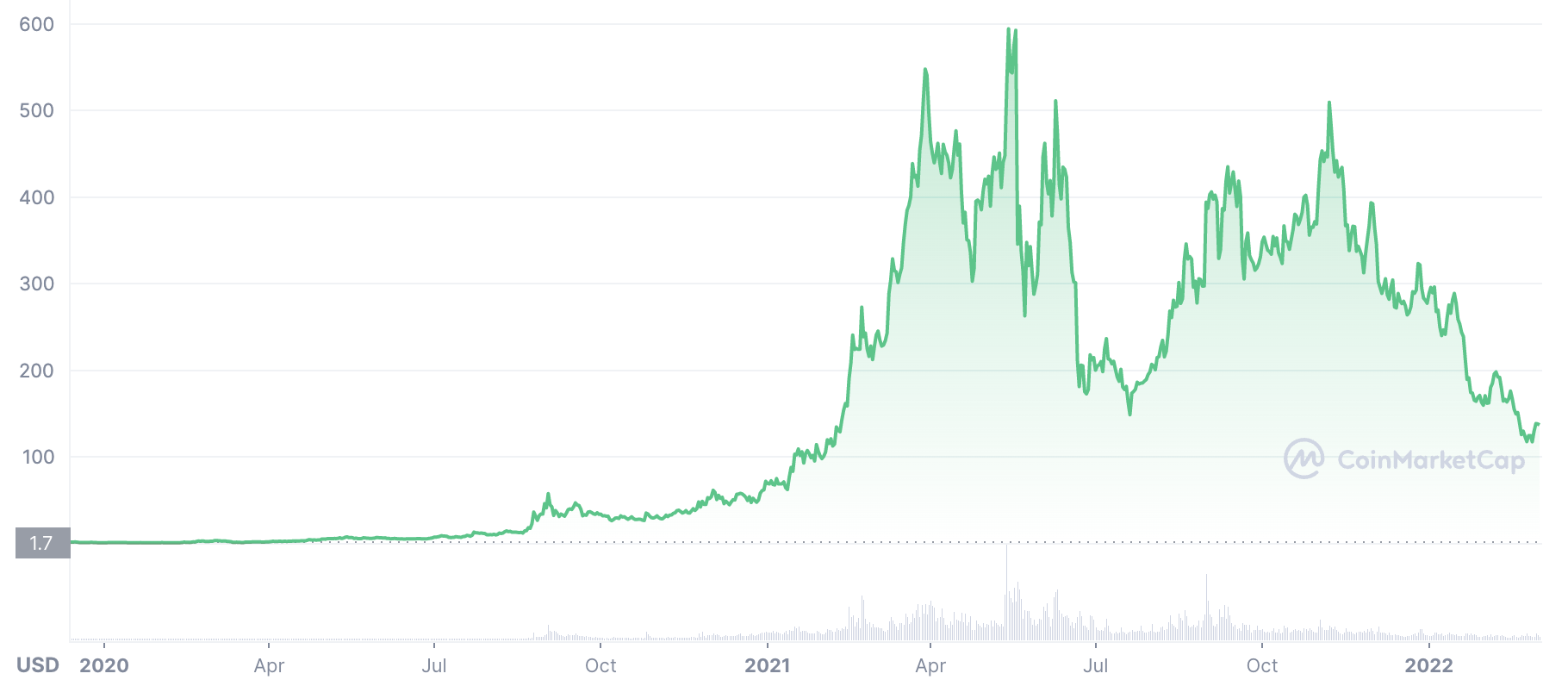 Conclusion
Many projects did not have a future in DeFi. The Polkadot and Kusama ecosystems, as well as projects based on this technology, have a lot of room for growth in the future, and as adoption accelerates, token growth and value become more measured and realistic. Kusama may be a newcomer to the blockchain business, but it already has a lot of promise thanks to Polkadot's support, which will make it an appealing investment opportunity for many people.
more to read
Monster Energy Expressed Clear Interest For NFTs And Metaverse
BlockFame Created The Most Original NFT Collection
Maple Finance Partnered Up With Celsius To Launch "WETH Lending Pool"
---
NFT World News Social Media: Twitter, Instagram, Telegram, Tiktok, Youtube
---
sources: coinmarketcap, sashares, banknoteworld
author: Rene Remsik
Disclaimer: This article is provided for informational purposes only. It is not offered or intended to be used as legal, tax, investment, financial, or other advice.