Quick Summary
Lil Baby Ape Club is a newly launched NFT project of cute little apes with different and unique attributes. This collection of NFTs skyrocketed in trading volume and became famous overnight.
The initial floor price was only 0.02 ETH and the first 200 mints were free. Two days later, it's at least 0.135 ETH and the most expensive LBAC #1604 sold for $33k!
It all started with Crypto Kitties, then CryptoPunks and Bored Ape Yacht Club (BAYC). Now, there's a totally new project which exploded overnight. This NFT project is called Lil Baby Ape Club, and it got sold out within a very short period of time. While many people expected some form of consolidation in the NFT market, Lil Baby Ape Club proved total opposite.
this might interest you: Luffy – Anime Token Review
Lil Baby Ape Club (LBAC)
Important note: Lil Baby Ape Club is not associated with Bored Ape Yacht Club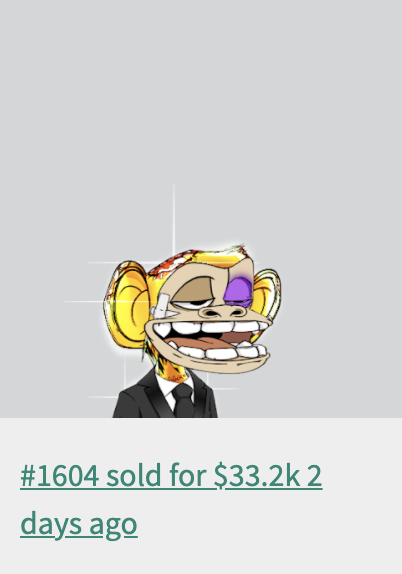 Data from Dune Analytics shows that on Nov. 14, the daily amount of Ethereum (ETH) traded on OpenSea catapulted from $48 million to $105 million in a matter of few hours due to high trading volume on projects BAYC and LBAC.
It's a common saying that imitation is the sincerest form of flattery and it proved to be true in the NFT market lately. A newly launched project called the Lil Baby Ape Club is currently seeing massive volume on Opensea with 1,417 ETH in volume, reflecting a 207,344% surge over the past 24-hrs and a floor price at 0.438 ETH. However, the floor price changes over time, and now Opensea shows a floor price of 0.135 ETH after two days.
However, the initial floor price was only 0.02 ETH, so the minimal increase in value in a matter of a few days is at least 20x. Also, the first 200 mints were free! This is certainly an exciting part of NFT launches. The most expensive sale was made on LBAC #1604 for $33,200!
More interesting Data
Lil Baby Ape Club already has 3K owners in just a few days and the total trading volume is 3.5K ETH in just 3 days, which is more than $15 million. Moreover, they gained more than 11,000 followers on Twitter in such a short time. The average sale price for LBAC NFT was $1.6K. The trading volume on the launch was almost $12 million on November 15.
Conclusion
While the LBAC project showed some impressive numbers shortly after minting, it'll be interesting to see whether the current hype will last and maybe even grow over time. LBAC came out of nowhere and became the center of all NFTs which shows that anything is possible.
more to read
Global Brands Test NFTs in the Metaverse
Zombies of Metaverse – Unique NFT Collection
Sentiment: positive
---
NFT World News Social Media: Twitter, Instagram, Telegram, Tiktok, Youtube, Facebook
---
sources: opensea, cointelegraph, nft-stats
author: Rene Remsik
Disclaimer: This article is provided for informational purposes only. It is not offered or intended to be used as legal, tax, investment, financial, or other advice.