Link in bio platform Linktree includes a new feature to help NFT creators become the latest company to integrate NFTs service to their platform. Linktree makes it easier to build a community around ownership as revealed by the company with a new set of features.
related: Robinhood Preparing to Enter The NFT Market With New Web3 Wallet
Linktree NFTs
Linktree is a platform that enables brands and creators to curate an online stage and monetize their passion. With 1.2 billion unique monthly visitors, Linktree is one of the top 300 websites globally. The platform is currently being used by over 24 million creators and artists and the platform was visited by 1 million artists in 2021 alone.
Linktree, in partnership with the largest NFT marketplace OpenSea, develops new features where creators will be able to pave new ways to monetize their digital identity. The first feature in the list is "NFT Gallery," where you can link the NFT images so that users can flex their fantastic collection of NFTs on the Linktree platform. Adding NFTs to the Linktree is very easy.
The creators just need a URL to preview the NFTs. Anyone can add any NFT to their collection, but Linktree allows users to verify their collection to deal with this. To verify the ownership, users will be required to connect their wallets with the NFTs to verify the added NFTs. Users can display up to 6 NFTs hyperlinked to the Opensea collection page.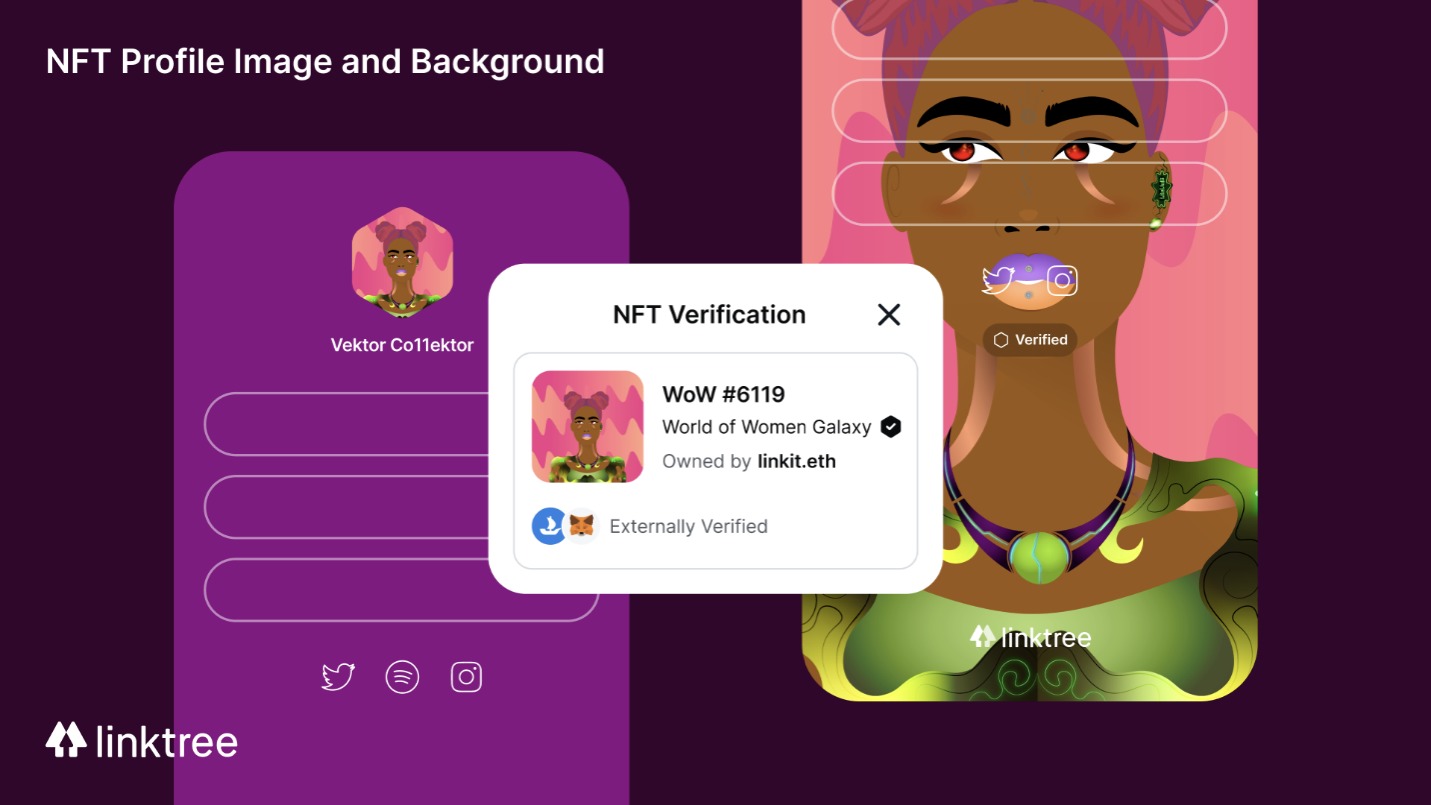 The verified NFTs can later be used as PFPs or background images on Linktree. Like Twitter, the verified NFTs will be displayed in a hexagonal frame to stand out from other non-NFT profile images. As far as background is concerned, the verification badge will be added at the bottom of the NFT background. Linktree is offering these services with the help of Opensea and Metamask, mainly to verify NFTs. User can also lock their NFTs using smart contracts on Liktree, which can only be unlocked by providing proof of ownership by connecting to the Metamask wallet.
Conclusion
This is the first step towards Web 3 space, as claimed by Linktree CEO Alex Zaccaria. "This adds value by extending the core utility of NFTs — verified ownership, monetization, and community." Since major names are converting to the NFT trends, including Twitter, Spotify, and Instagram, the Linktree platform needed to include the representation of the non-fungible assets.
Linktree raised around $110 million for the venture, which has spiked the Linktree valuation to $1.3 billion. Linktree is helping the NFT community, whether the creator or the buyer, through its platform.
more to read
Join This NFT Project And Save Majestic Platypuses
Becoming a Virtual Landlord and Buying Virtual Real Estate
SpongeBored: SpongeBob Goes NFT
---
Follow NWN: Twitter, Instagram, Telegram, Tiktok, Youtube, Twitch
---
sources: linktree, opensea
author: mnmansha
Disclaimer: This article is provided for informational purposes only. It is not offered or intended to be used as legal, tax, investment, financial, or other advice.