Quick Summary:
Magic Eden proposed to build an official ApeCoin NFT marketplace for the ApeCoin community. Rarible Proposed a counter offer to build an ApeCoin-centric NFT marketplace with zero fees.
Related Article: BAYC's ApeCoin Highlights Power Problem With NFTs
Magic Eden Offer to ApeCoin Community:
In the ApeCoin Improvement Proposal (AIP) 93 Magic Eden proposed to develop an NFT marketplace 'for the Apes, by the Apes, built by Magic Eden'. Magic Eden envisions this ApeCoin DAO marketplace to be a space exclusively for the Ape community, where they can trade not only BAYC but also the child collections MAYC and BACK. The NFT marketplace proposed to charge 0.75% fees and no cost to DAO. The proposal also includes the future updates and features Magic Eden has to offer.
The upcoming features of the proposed ApeCoin marketplace include combo ETH / APE bidding, discounts for APE payments, merch functionality, and custom engineering & marketing resources. This idea was pitched to the Ape community on August 9 and a week later, Magic Eden competitor, Rarible dropped a counter offer for the community.
Rarible Zero Fee Offer to the Ape Community
On August 17, 2022, Rarible dropped the AIP idea of pitching a zero-fee NFT marketplace for the ApeCoin holders. The NFT marketplace will be for ApeCoinDAO with 0% marketplace fees on the decentralized & cross-chain Rarible Protocol.
The proposed marketplace will support all current and future NFT collections released by the Ape community including BAYC, MAYC, BAKC, and BACC. There are zero fees for the traders trading in $APE and $Ethereum. A day after this idea was pitched, Rarible tagged ApeCoin and tweeted,
hey, @apecoin our new proposal to build you a community marketplace is the only one you'll ever need.
Which Offer is better?
Magic Eden came up with this great idea and offered some of the prolific features to the blue chip community. However, the feature with Rarible is pitching includes everything offered by Magic Eden plus the zero fees and more. The Rarible also included a mockup design in their proposal.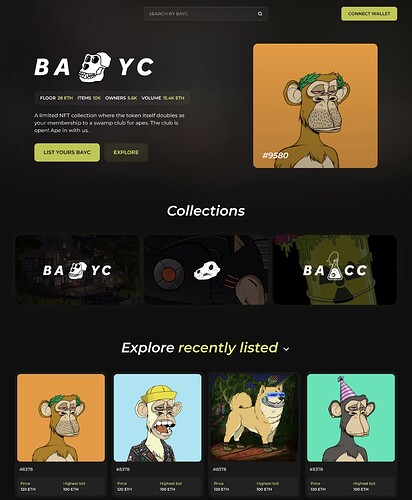 Rarible discussed the features of the upcoming NFT marketplace in detail. The Rarible marketplace will be based on an open-source API and will include the listings from the other NFT marketplaces like Rarible, Opensea, and LookRare. There's a long list of the features you included in the idea.
Conclusion
Conclusively, the DAO marketplace proposed by Rarible with zero fees is more considerable. The ApeCoin community will be picking one of the proposed ideas through a consensus mechanism.
more to read
OtherSide Metaverse and the BAYC's ApeCoin Crash
Big Time – The First AAA Game That Integrates Web3
Duet Protocol – The World's First Multichain Ecosystem For Synthetic Assets
Follow NFT World News: Twitter, Instagram, Telegram, Tiktok, Youtube, Twitch
author: mnmansha
Disclaimer: This article is provided for informational purposes only. It is not offered or intended to be used as legal, tax, investment, financial, or other advice.