Introduction: Legends of Elumia
Legends of Elumia is a Massively Multiplayer Online Role Playing Game (MMORPG) living on top of Solana Chain. The P2E game offers gameplay in a medieval fantasy world where the in-game assets and economy are based on NFTs.
Elumia is a bustling city where players may form virtual communities and engage with other players to form friendships and more. The Infinite Tower, located in the center of Elumia, is an ancient structure. This tower existed long before recorded history, and the opening in its entryway caused the land surrounding it to rise, eventually producing Elumia.
The Infinite Tower is filled with unknown energy and powers, such as crystals, which can be utilized to improve weapons and armor or traded with other players.
Legends of Elumia: Beta Gameplay
Overview:
Elumia is the main hub for social interaction and trading, where players can form alliances, communicate, trade, and obtain new quests. Players in the tower can engage in PvP combat and duels, explore dungeons, and form guilds. Players can also mint goods in the game and bring them out into the world via the tower.
Elumia Gameplay:
Fast-paced multiplayer RPG action game
PvE:

Explore the world and dungeons
Team up with other players
Create and join guilds
Power-up and upgrade characters

PvP:

Duel with other players
Fight team battles in the arena
Try different battle modes
Participate in eSports with a team.
Elumia's gameplay is fast-paced, with players able to challenge themselves and other players in both PvE and PvP modes. Players can explore the world and dungeons, engage in team combat or duels, and level up their characters and equipment. Players can mingle, trade, and buy new things in the city of Elumia.
NFT Rarity:
In Legends of Elumia, players use their artwork character avatar as their primary tool for navigating and participating in the game world. The avatars are unique, generated NFTs with a variety of cosmetic options, ensuring no two avatars look the same.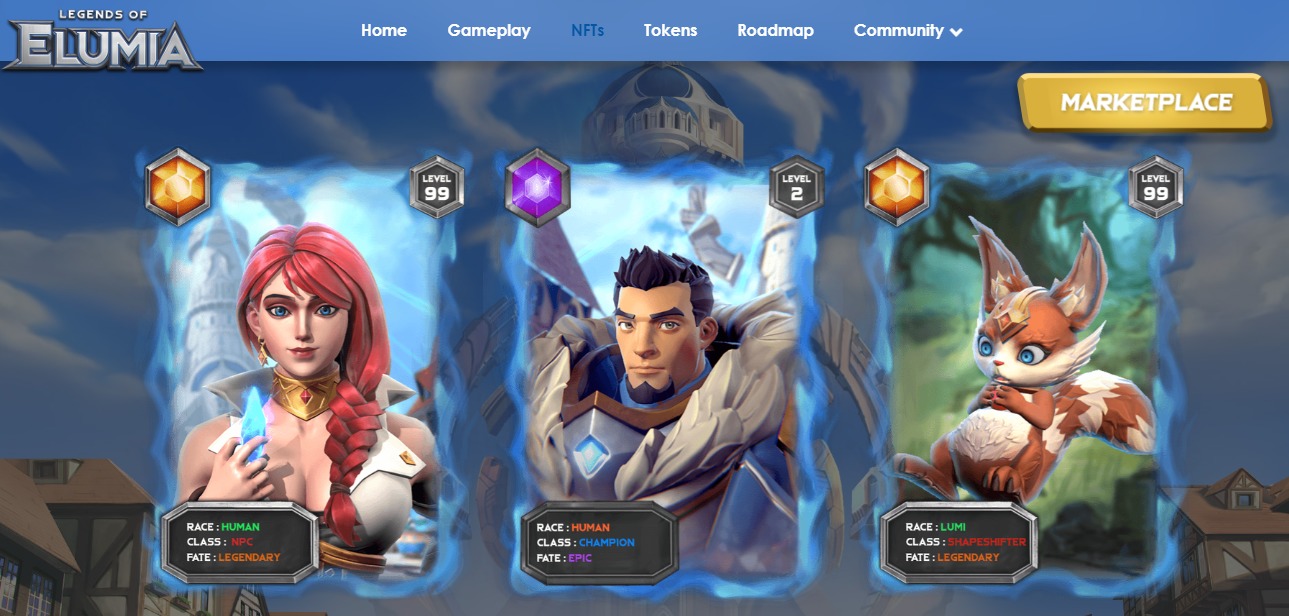 As far as the rarity of the NFTs is concerned, Elumia shares very little of it. The lack of information on the prime economy of the game leaves a lack of trust in the players and investors.
Tokenomics:
In the Legends of Elumia game, the ELU token serves as a governance and staking token. It allows users to participate in the game's decision-making process via a DAO (decentralized autonomous organization). The ELU token can also be used to purchase power upgrades and participate in other game-related activities. It also acts as a means of obtaining in-game incentives. The ELU token is created on the Solana blockchain to enable players with quick, safe, and low-cost digital asset ownership.
Here is the token distribution of the ELU token.
Summary:
Legends of Elumia is an MMORPG on the Solana Chain with NFT-based in-game assets and an economy set in a medieval fantasy world. Players use unique artwork avatars as their primary tool and can use ELU tokens for power upgrades and game activities.