Quick Summary
The metaverse industry is growing space as it converges the digital and physical worlds using internet and blockchain. With a CAGR of 47%, the industry is predicted to reach $1527 billion by 2029.
Metaverse is a digital virtual world that combines VR (Virtual Reality), AR (Augmented Reality), and blockchain to create a world that is full of possibilities. This future tech is used to create a rich social experience in a world that is backed by cryptocurrencies and blockchains.
Related: Meta Places: Luxury Properties In The Metaverse
Not Just Virtual Land
Facebook has rebranded itself to Meta to solidify their intent to build this digital space. The platform is pouring $10 billion and hiring over 10,000 employees to build its hardware and software infrastructure. Also, other companies including Meta, Microsoft, Epic Games, Adobe, Nvidia, Sony, and Apple are joining hands to decide on the rules and terminologies for the digital world. Sales that are performed within different Metaverses, especially of land plots have exploded have reached near $2 billion.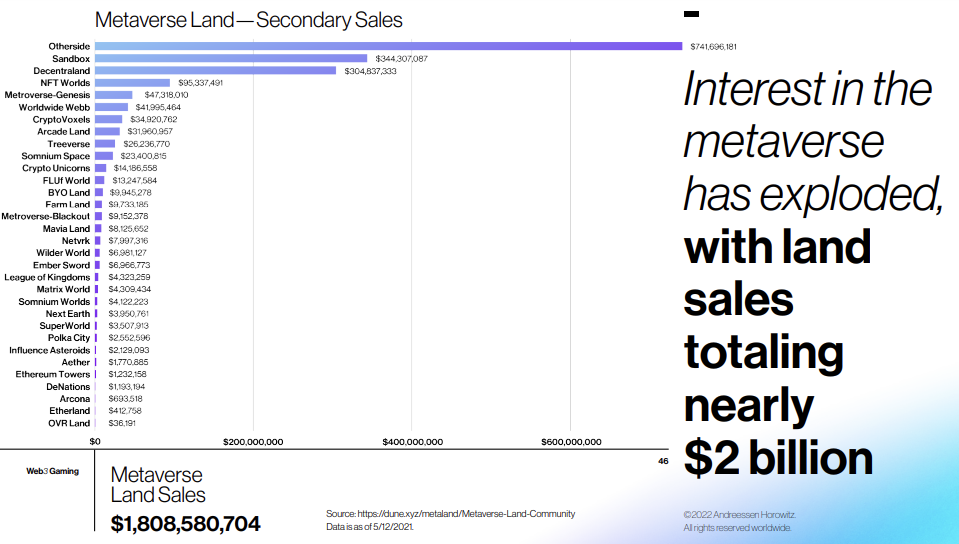 And it is not just land; Metaverse is predicted to bring rich socializing experiences to social and business platforms, a stage for performers to hold concerts and meet-ups, and much more. Creators use the virtual land plots and build infrastructure to lend them for the events. Imagine getting a virtual land plot in the neighborhood of Snoop Dogg.
Metaverse is not all about land plots – it's a whole new world waiting to be explored and the people are loving the idea of it. Right now, Metaverse is a $100 billion market that is expanding like none other. With a CGAR (Cumulative Annual Growth Rate) of 47.6%, it is expected to near a trillion dollar digit in 2028 and by 2029 it is expected to grow to a market size of $1527 – and that is not the end of it.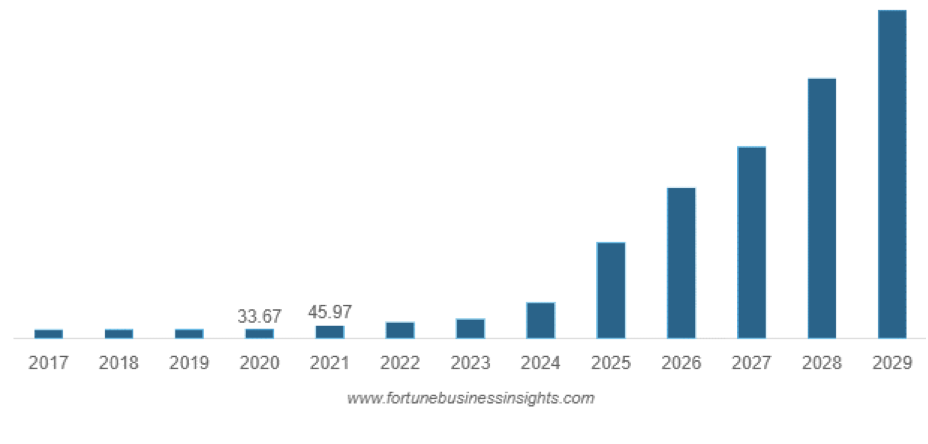 Metaverse is changing almost everything and whichever niche is connected to its domain is also rising at a similar pace. Take classic video games. They are evolving to play to earn games GameFi, including sophisticated tokenomics. Music, sports, shoes, dresses, bars, and social media – are all in line with this technology and will be a part of the virtual world. Likewise, Immersive technologies like AR and VR are growing rapidly, particularly in first-world countries.
Conclusion
The metaverse growth rate is insane but we should not expect the full-scale or mainstream adoption of it in near future. Namely because it requires expensive gadgets and a seamless internet connection of at least 4G. That seamless internet connectivity is only available in first-world countries and only a small percentage of people can afford to use or buy the expensive gadgets we need to interact with metaverse. Security, rules and regulations, privacy, and interoperability are the issues that hinder the way of metaverse adoption. Since the top companies have joined hands to venture into it, Metaverse will eventually become a part of our lives.
more to read
The Meta Key: Enter The Metaversehttps://www.nftworldnews.tech/the-meta-key-metaverse/
Everything You Need To Know About The Metaverse
Follow NFT World News: Twitter, Instagram, Telegram, Tiktok, Youtube, Twitch
author: mansha
Disclaimer: This article is provided for informational purposes only. It is not offered or intended to be used as legal, tax, investment, financial, or other advice.