Business intelligence firm MicroStrategy has acquired $10 million more worth of Bitcoin. The firm paid $31,808 per coin on average. MicroStrategy now owns 70,784 coins that are worth over $1.13 billion at press time.
MicroStrategy Incorporated is a company that provides business intelligence (BI), mobile software, and cloud-based services. Founded in 1989 by Michael J. Saylor and Sanju Bansal, the firm develops software to analyze internal and external data in order to make business decisions and to develop mobile apps. It is a public company headquartered in Tysons Corner, Virginia, in the Washington metropolitan area. Its primary business analytics competitors include companies like SAP, IBM, and Oracle. Saylor is the CEO and chairman of the board.
Shareholders are happy
The company is in profit more than 1,1 billion USD with its Bitcoin asset allocation as shown on the Bitcoin treasuries website. Considering its annual revenues of around 480 million USD and profit of 30 million USD it's clear that the shareholders are satisfied even because the stock prices had risen more than 200 % from the time of the first Bitcoin purchase.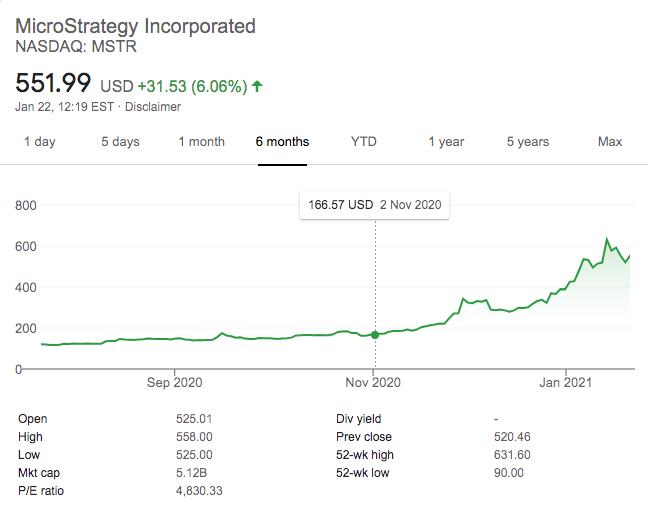 Will other public companies follow?
It is quite realistic that other public traded companies will follow this precedent and protect their balance sheets full of cash flow sitting in the bank account. More about Bitcoin on its way to become the reserve currency read also the recent article.
Source: https://www.wikipedia.org/