Quick Introduction:
The game starts off as an action-adventure role-playing game. By trading, managing, and recruiting new members, players will build out their syndicate. As the syndicate expands its control zone, they will set up a crew of four to participate in street battles.
The game mechanics of Mobland are similar to those of a real-time card battler. The character's abilities can be used in real-time whenever they are not on cooldown, so you don't have to wait for your turn. Players will be able to acquire their four crew members for free when they enter the game for the first time. While the members are free, the player has to pay for the gas fee that comes with minting them on the blockchain. An existing team, however, could be used during combat if a user already has one.

Basic Overview:
As far as our research goes, Mobland has one of the strongest teams. Over the years, these guys have played an integral part in many of the games we've come to enjoy. The two co-founders have gathered a group of experts based on their previous ventures. Nobody can deliver a game if this crew can't!
Each member is an expert in their field. The majority of them have extensive leadership experience. It is likely that this will lead to a great dynamic among the members, where everyone understands what needs to be done. It's probably also why they've attracted so many investors and partners.
Roy Liu – Co-founder https://www.linkedin.com/in/roylxy/
Head of Business & Marketing (2018-2021) in the TRON Foundation, one of the world's top blockchain projects.
Mihai Pohontu – Co-founder https://www.linkedin.com/in/mihaipohontu/
Chief Executive & Chairman (2017-present) of Amber, a full-service game development and creative services agency.
Francesco Sullo – Blockchain Lead https://www.linkedin.com/in/francescosullo/
Senior Software Engineer & Technical Lead Manager (2018-2019) at the TRON Foundation. Leading the Dev Tools team, wrote the new version 2 of TronGrid, making the Infura-like infrastructure scalable and fast.

NFT Game Assets:
There are a variety of NFTs in Mobland. NFTs include characters, equipment, turf, and licenses. MOBLAND has released its own decentralized marketplace that lives on the BSC network. Users can buy, sell and trade their in-game items using BUSD and BNB at present In the near future, $sSYNR will be useable on the MOBLAND NFT Marketplace and will provide up to a 25% discount on the price for mystery boxes and other limited edition items.
There are 4 different categories on Opensea:
SYNR PASS: It functions as a key to Mobland.
Blueprints: players can acquire characters in-game with it.
Turf: Modland's real estate. An NFT land asset in the Metaverse.
License: Mobland's business license.
Tokenomics:
A central part of the Mafia-as-a-DAO is the token of the game, $SYNR. Stake $SYNR for $sSYNR, a synthetic SYNR. With this currency, you can purchase discounted items in-game on the marketplace. By staking your $SYNR, you will gain $sPOWER. It can be delegated to your syndicate leader. Staking $SYNR also gives you additional yield and boosts your in-game characters. Overall, there are a lot of benefits to staking in this metaverse.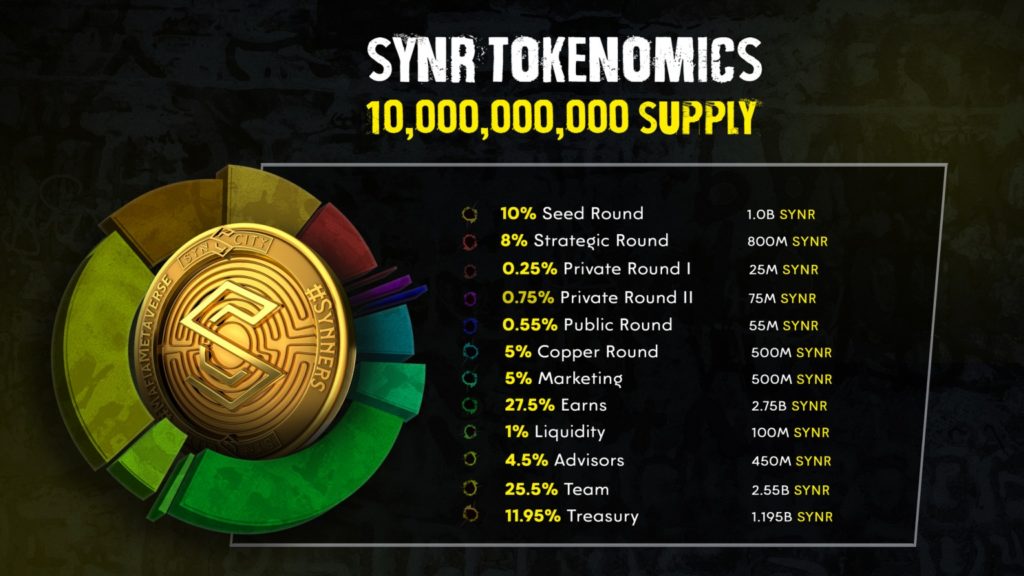 Roadmap: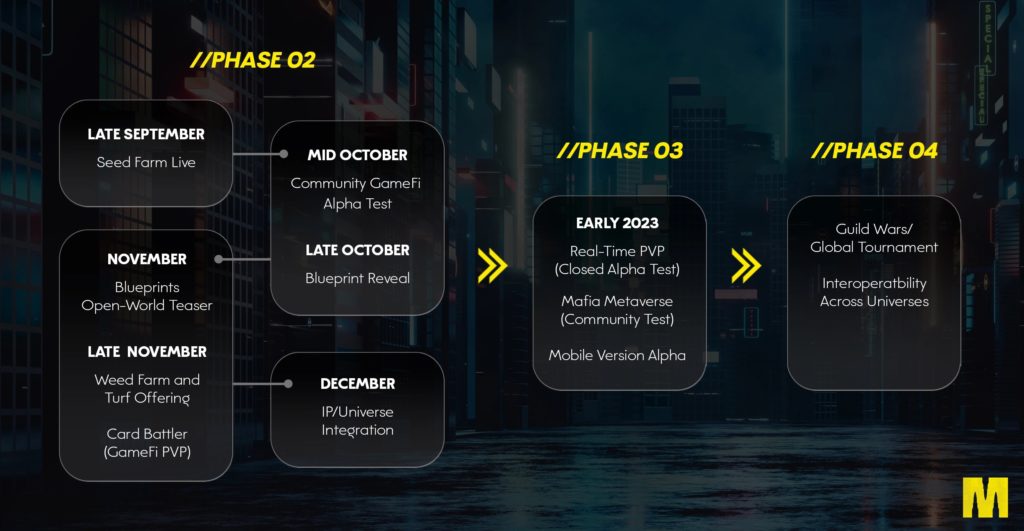 Social Media Statistics:
| | |
| --- | --- |
| Platform | Followers |
| Discord | 159.6k |
| Telegram | 15.9k |
| Twitter | 169.7k |
Gameplay:
Conclusion:
Play-to-earn games have been put to the test by the mafia world of Mobland. Players shouldn't have to spend hundreds or thousands of dollars just to play the game. They want to ensure that millions of players can be online and play in real-time simultaneously using Unity and C#. Don't miss out on the opportunity to explore the exciting world of Mobland and build your own syndicate – head over now to see what all the hype is about!