Quick Introduction
Moonray is a competitive 3rd-person action RPG game focused on competitive play. It was designed for true gamers, the developers claim. A flexible system lets you choose your own character, weapon, and item leveling so you can play the way you want. As you take on your opponents in Moonray, you'll experience intense combat and a competitive environment that will allow you to hone your skills. Take a look at Moonray and earn tokens and NFTs, climb the leaderboards, defeat your rivals, and practice.
Basic Overview
On the Ethereum blockchain, Moonray is a Play-2-Earn 3rd-person action RPG game from Moonray PBC. This sci-fi-themed game allows players to explore a surreal and creative open world while progressing through beautiful landscapes. An Unreal Engine 5 engine was used to create the game.
In addition to PvP combat, the game developers love big, expansive MMO worlds. A Moonrays Ethereum NFT marketplace lets you trade items, weapons, and characters as you level up.
There are hour-long videos on their YouTube channel with different members of the team so you can see who is behind the game.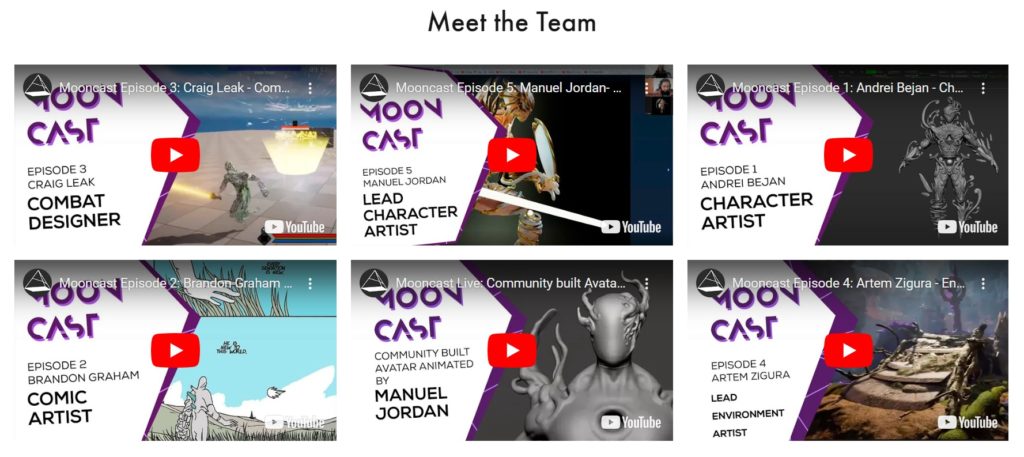 NFT Game Assets
There are 4 different collections on the OpenSea right now.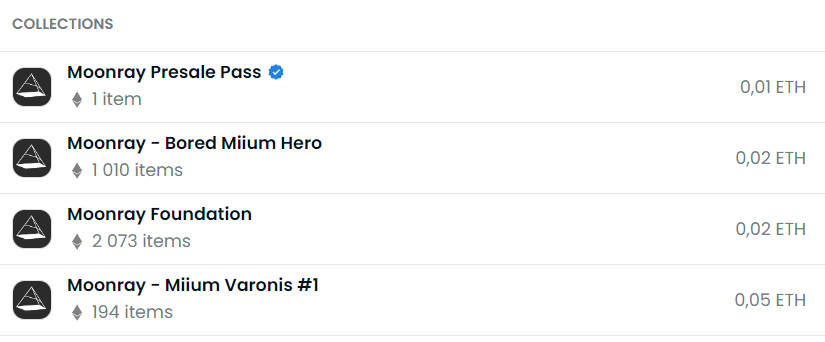 There is still a lot of work to be done on Moonray. According to the webpage, NFTs will be upgradeable, and in-game assets will include a progression system.
There is a video on Moonrays YouTube that elaborates on the Foundation Collection, detailing several benefits of owning NFTs.
Exclusive NFT Airdrops
Whitelist for Genesis drop and future Moonray NFT drops
Whitelist for Land Sales
Lifetime access to Moonray's closed Alpha experiences
Access to Foundation Club, an exclusive area in the Moonray metaverse
Access to special events and tournaments in-game
Founders Skin

Roadmap
An easy-to-read, short, and concise roadmap is provided by Moonrays. There isn't much information in this roadmap. As Moonray remains in early stages of development, it might be best for them to only show what they're sure of at this point on their roadmap. They are promising Open World Battle Royale in Q1 2023, but there is no more info. Although we would've liked to see more goals and aims in the roadmap, we can respect Moonray's no-promise, overachieving approach.
Whitepaper
As of January 2023, there is no whitepaper available on Moonray website.
Social Media Statistics
| | |
| --- | --- |
| Platform | Followers |
| Twitter | 26.9k |
| Youtube | 1k |
| Instagram | 655 |
| Facebook | 240 |
| TikTok | 127 |
| Discord | 72.6k |
Gameplay
Conclusion
In conclusion, Moonray is a competitive action RPG game built on the Ethereum blockchain and Unreal Engine 5, with a play-to-earn system. The game is still in development and has a planned open world battle royale for Q1 2023. Exclusive NFTs can be earned through airdrops and land sales, which provide in-game benefits. The team behind the game is active on their website and YouTube channel, allowing players to follow their progress. Based on the information provided, we recommend keeping an eye on Moonray's development and considering participating in the NFT airdrops and land sales.