After a remarkable bull run, Bitcoin's price started to slide a bit over the past week. As of this writing, it has fallen nearly 15% against the USD over the past seven days, although with a price above $32,000, it's still well above where it was a month ago.
So what's happening to the altcoin market? Altcoin prices are inevitably influenced by Bitcoin's price, but interestingly, they don't seem to be following BTC on its most recent slide yet. Can we expect alt season next and what indicators to follow?
Using Messari's price data, we looked at 69 tokens with a daily reported trading volume of at least US$100M. Among these, only 33% have seen their price slide against USD. The remaining 66% have seen their prices rise over the past week, and more than half of the 46 tokens that gained against the US are up by more than 10%.
Among tokens that have seen their prices slide, Bitcoin has seen one of the most dramatic drops. Just five tokens like Wrapped BTC, Dash, Bitcoin SC, Zcash, and Maker, have seen their prices drop by more.
Result: 92% of crypto tokens have outperformed Bitcoin over the past seven days.
Of course, it's important to keep Bitcoin's slide against other crypto tokens in perspective. First, there's a good chance it's only temporary. And second, it would have to drop much, much further to lose the first-place crown among cryptocurrencies.
What about the Bitcoin dominance
Bitcoin dominance is one of the indicators that need to be followed in order to get the altcoin market trend overview. It is a metric used by traders to measure the demand between bitcoin and the rest of the cryptocurrency market. The Bitcoin Dominance Index is used to assume trader sentiment. Low levels of bitcoin dominance can indicate heightened interest in other cryptocurrencies.
We have hit the level of dominance around 75 % which seems to be a resistance lastly touched in September 2019 and we are in a downtrend today. Some of you maybe remember the last altcoin season in January 2018 with the dominance at 35 % or last summer with the level of 57 % as shown in the chart below.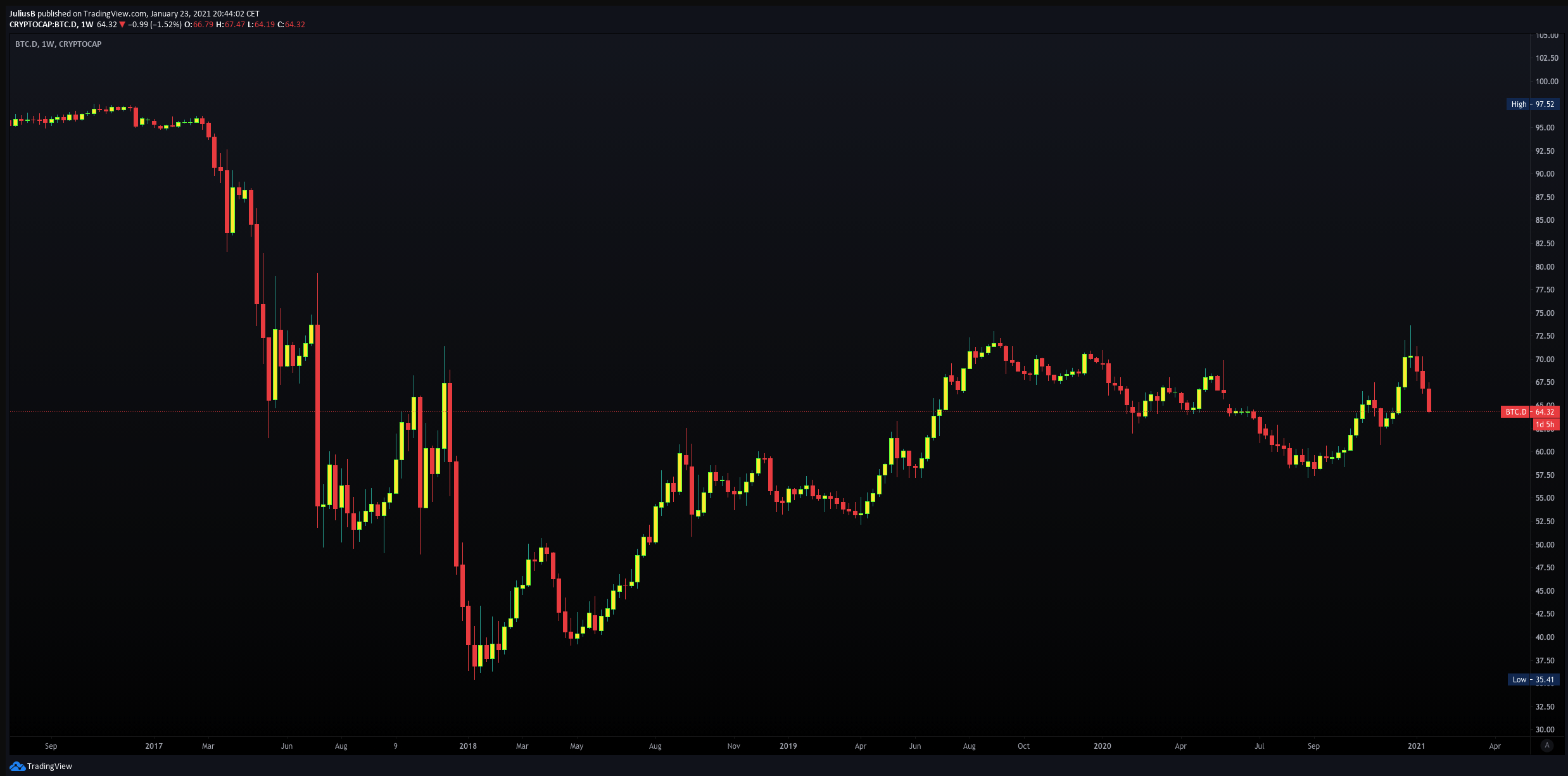 Alt season soon?
The question is if we are going to see the altcoin bull run in the coming weeks or not. Bitcoin has shown us its power and its clear that "everything is possible in crypto". But like in every market what goes up definitely also goes down since traders want their profits. Big institutional investors are currently also searching for cheaper coins with a better risk-reward ratio since it is their job to find profitable investment assets.
The Grayscale has opened the gate for institutional players to gain exposure in the cryptocurrencies like Link, Tezos, Bat, Filecon, Mana as we have explained in the recent article hence this can be a starting point.
Let's hope for the Alt season in 2021.
Source.www.longhash.com