Quick Summary
Cereal Club is a collection of 10,000 food-themed NFTs that became very popular recently. In just a few days, they reached a trading volume of more than 1,700 Ethereum on Opensea.
Cereal Club is a new collection of non-fungible tokens (NFTs). Small colorful cereal bowl illustrations are a significant new item in the world of NFTs, and we appreciate the way they look.
you might wanna read this: Become A Crypto Citizen And Conquer The Metaverse
Cereal Club NFTs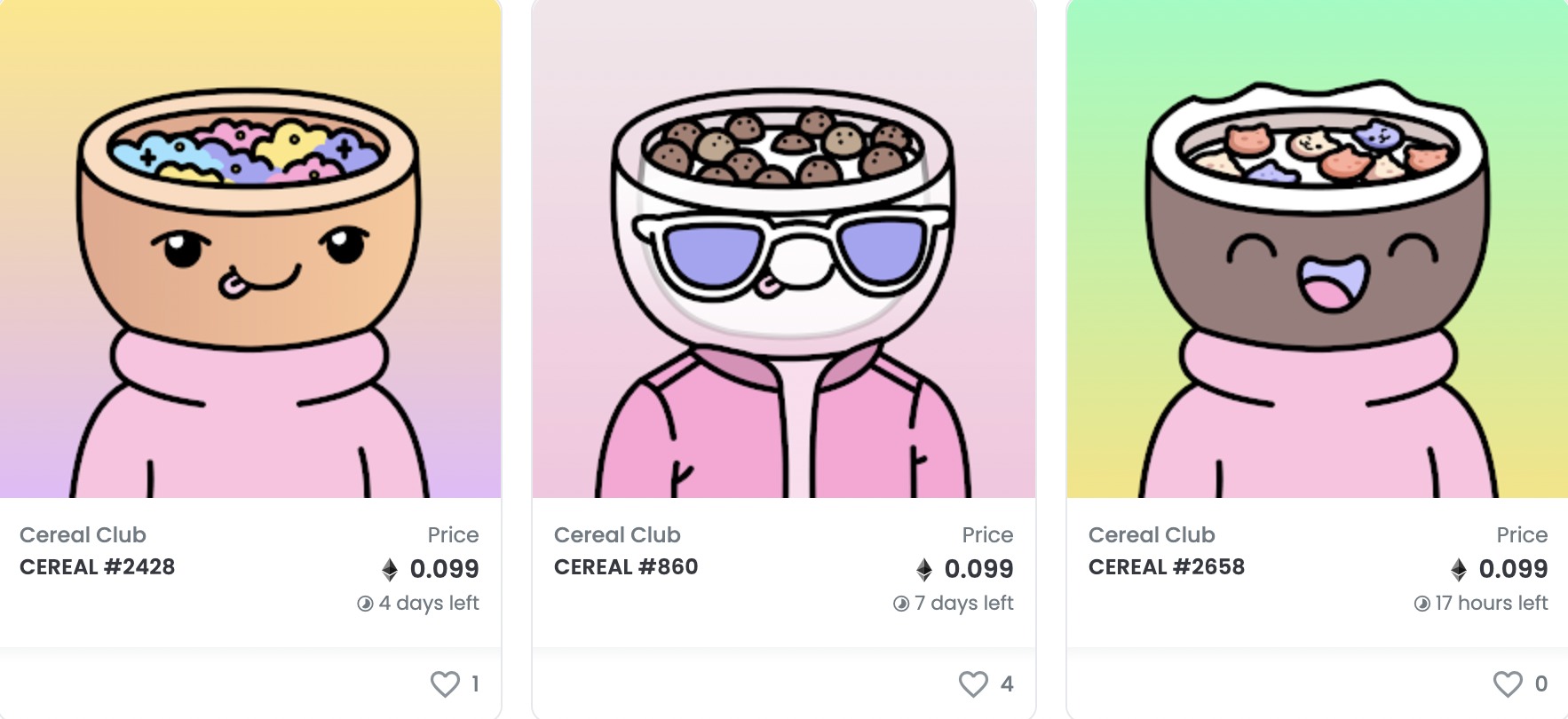 Cereal Club's collection of 10,000 NFTs was sold out in barely 24 hours after the public auction. The success comes with a caveat since the official Dutch auction price of 1 Ethereum was lowered by 50% – as is customary in these auctions, the price declines until buyers decide it's the perfect time to bid. This boosted sales, but it didn't lessen the buzz. However, for NFT collectors,
Cereal Club is a new obsession that might be significant this year. Cereal Club did not disclose the price at which the NFTs were sold in light of the transaction. The Cereal Club also left out the trader's name who purchased the NFT collection. The public sale was initially planned for February 17th, 2022. However, it was no longer required because the collection had already sold out.
Trader of Cereal Club NFTs
The craze of the Cereal Club NFT appears to be building a buzz with a tremendous stride with it, as the NFT community continues to mistrust the ways and means by which the acquisition was begun. Furthermore, the purchase has elicited reactions and assumptions from NFT supporters across the board.
Its Colorful Appearance
Furthermore, the Cereal Club NFT's success was due to its vibrant and blooming appearance in the market. Despite the excitement, a large portion of plaudits was reserved for how the NFTs were created with the goal of funding web3.
"All of the support from our great community has overwhelmed us," said Sako Waves, the project's co-founder. "They are the soul of our program, and we are looking forward to what this year has in store for everyone."
Avatar on Cereal Box
Cereal Club NFT owners will be able to see their one-of-a-kind avatar on the front of an actual cereal box that will be offered only to club members. Owners of Cereal Club can gaze at their art while eating and delve into the box to earn virtual 'treatz,' a redeemable gift and AR experience that is unique to them.
Conclusion
Users of Cereal Club NFT, on the other hand, have the ability to vote on philanthropic projects relating to campaigns of their choice. It allows its owners to observe and interact with a "one-of-a-kind avatar" on the phase of their actual physical box.
more to read
Melania Trump Is Launching NFTs About Trump's "Iconic" Moments
New Zombie Mystery Box NFTs have been released by Seascape and Binance
JP Morgan Launched Virtual Lounge In Decentraland
---
NFT World News Social Media: Twitter, Instagram, Telegram, Tiktok, Youtube
---
sources: creativeblog, coinquora, opensea, twitter
author: Rene Remsik, Hafiz Awaiw
Disclaimer: This article is provided for informational purposes only. It is not offered or intended to be used as legal, tax, investment, financial, or other advice.