Quick Summary:
Top NFT marketplace opensea announced on Tuesday it will support the layer 2 Arbitrum integration.
Arbitrum is the 5th chain added on Opensea alongside Solana, Ethereum, Polygon, and Klaytn.
Now you can access Arbitrum-based NFT projects Smolverse, GMX Blueberry Club, and Dopex.
What is Arbitrum?
Arbitrum is an Ethereum rollup and layer 2 scalability solution which is developed to increase the scalability of the Ethereum mainnet. Ethereum (PoW) is very congested and has higher gas fees. layer 2 scalability solutions are added as protocols on the base layer of Ethereum. These protocols, like Arbitrum, take the whole blocks of transactions and validate. The transactions are validated using multichannel support and then deposit them back to the base layer. The base layer limits to just the creation of the blocks and then adding the blockchain to the chain.
Opensea Arbitrum Integration
On September 20, Opensea, from its Twitter handle tweeted that they're excited to share that OpenSea will soon support Arbitrum.
1/ We're excited to share that OpenSea will soon support @arbitrum! 💙🚀

This is a first step in building our goal of a web3 future where people have access to the NFTs they want on the chains they prefer.

— OpenSea (@opensea) September 20, 2022
Opensea also shared the final date of September 21, 2022, for the addition of support to the chain and it was added on the same date. This was also announced through a Tweet on September 21st. Opensea also directed the NFT creators to set up the secondary sales fees or royalties for their NFTs on Opensea.
1/ @arbitrum is officially live on OpenSea 💙🚀
We're excited to welcome and support this active community of creators, collectors & builders 🎉

— OpenSea (@opensea) September 21, 2022
All other projects are rushing to add support to this new feature to support their users. For example, Trust wallet announced that it would support the integration to help the users trade and store their NFTs.
We recently integrated #Arbitrum NFTs to #TrustWallet!

You can now buy @arbitrum NFTs on #OpenSea in your Trust Wallet dApp browser and store them in your Trust Wallet too 💙

See the full announcement from @opensea👇 https://t.co/HMFXYF6Nsn

— Trust – Crypto Wallet (@TrustWallet) September 21, 2022
Arbitrum is not the 5th blockchain supported by the largest NFT marketplace Opensea followed by Solana, Ethereum, Polygon, and Klaytn. In the last 24 hours, Smol Brains, Bridged World Legions, and Arbitrum Odyssey NFT are among the top 5 projects ranking on Opensea.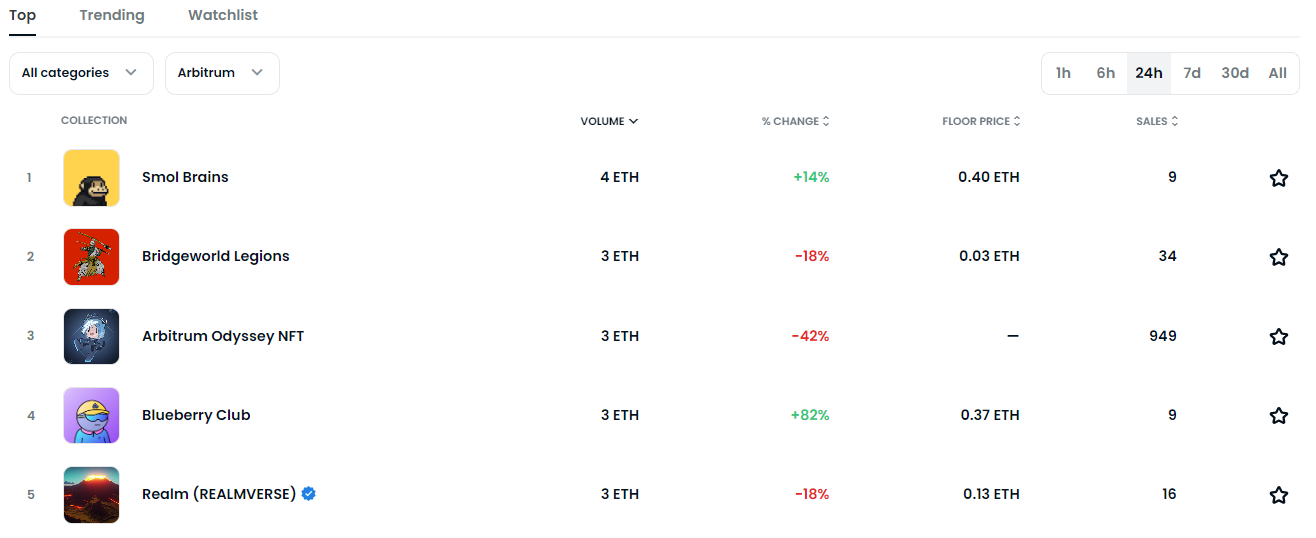 Currently, only 22 Arbitrum-based NFT projects will be available on Opensea. Arbitrum NFTs have a high rate of profiting their holders. The examination from Nansen states that Arbitrum NFTs saw a 205% gain in one year and the main 20 wallets earned a profit of over 10,000% from these projects.
Year-to-date, we have witnessed 205% growth in @arbitrum NFT users.

Top 20 wallets made more than 10,000% return on their Arbitrum-based NFTs.

Nansen now offers real-time Arbitrum One dashboards 📊

More from @polarsnack88 and @researcher_paul:https://t.co/vQkOzK0yuU

— Nansen 🧭 (@nansen_ai) April 1, 2022
Conclusion:
Adding new chains to the NFT marketplace is the best approach to expand the community circle by inviting creators from other projects and chains. However, this means the platform becomes even more competitive and the newer projects will have to struggle more to win exposure.