Quick Summary
NFT sales grew from $1.3 billion in the second quarter to the massive amount of $10.7 billion in the third quarter. This is an eightfold increase in just three months
The cryptocurrency growth since the beginning of the pandemic may be the driver behind an NFT boom. The most popular NFTs in September 2021 were collectibles
The mania in the non-fungible tokens (NFT) market continued over the third quarter (Q3) of 2021. The on-chain NFT sales were only $52.8 million in the last quarter of 2020. In the first quarter (Q1) of 2021, this number skyrocketed to $1.2 billion and then to $1.3 billion in Q2. Even though the market is already in mania mode, it was able to grow even more. NFT sales in Q3 reached $10.7 billion, which is an eightfold increase from the previous quarter. These data are still just on-chain. There are also transactions happening off-chain, so the real number may be somewhat higher.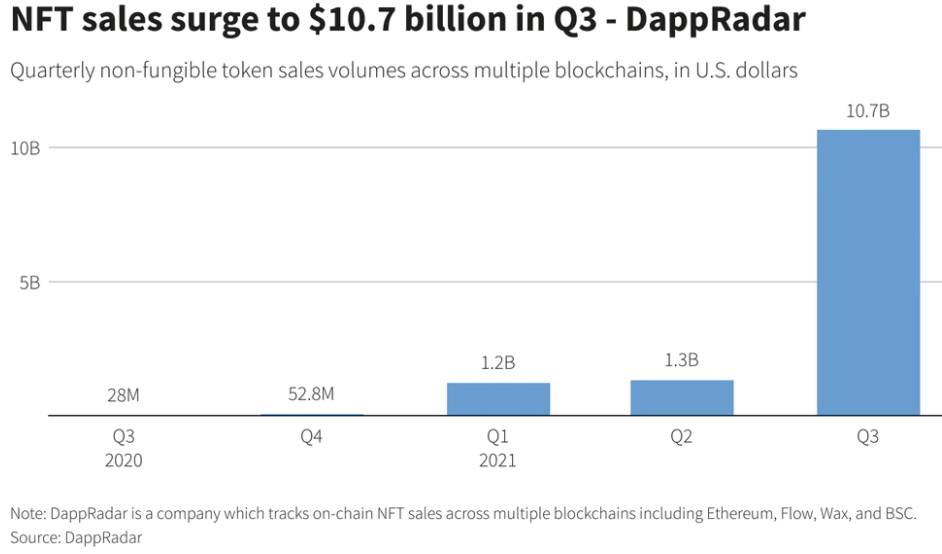 Unlike cryptocurrencies, NFTs are unique in a way that no two tokens can be replicated. These blockchain-based tokens represent the ownership of digital assets such as images, videos, items, etc. NFTs typically represent the ownership of a scarce digital asset.
People think that those big cryptocurrency gains during the pandemic are driving the growth of the NFT market because people use cryptos to buy NFTs. Some crypto enthusiasts may say cryptocurrencies are an independent market, but they are correlated.
The most popular NFTs
There are different categories of NFTs, such as gaming NFT, collectibles, etc. The biggest category winner amongst them are collectibles in the past 30 days. People are starting to believe in digital art. But with the emergent of metaverses (like Facebook is doing), there may be a bigger interest in 2022 for NFTs oriented on metaverse.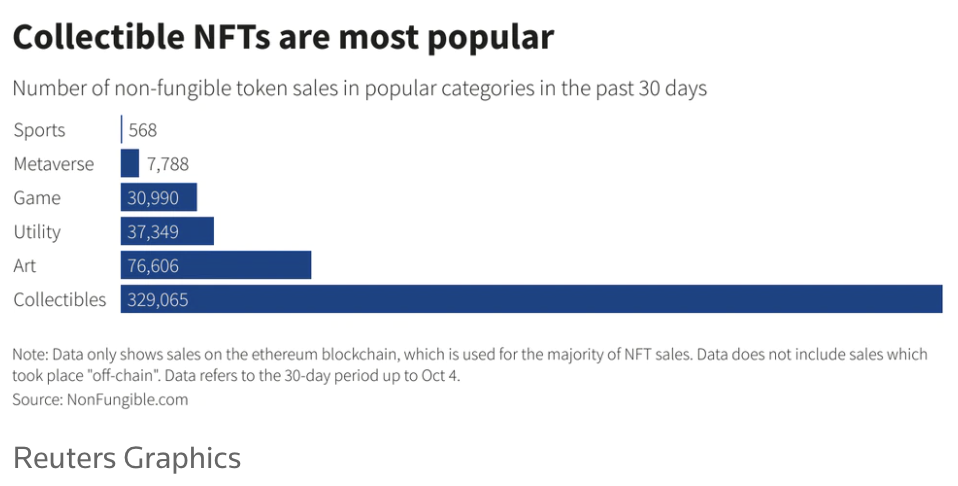 However, despite growing sales and celebrities and other investors jumping on the trend, the number of NFT buyers remains relatively small. There were only 265,927 active wallets trading NFTs on the Ethereum blockchain in Q3. More than half of NFTs sold in Q3 were priced between $101 and $1,000, while those in the $1,001-$10,000 bracket accounted for 20% of sales, and 17% fetched less than $100.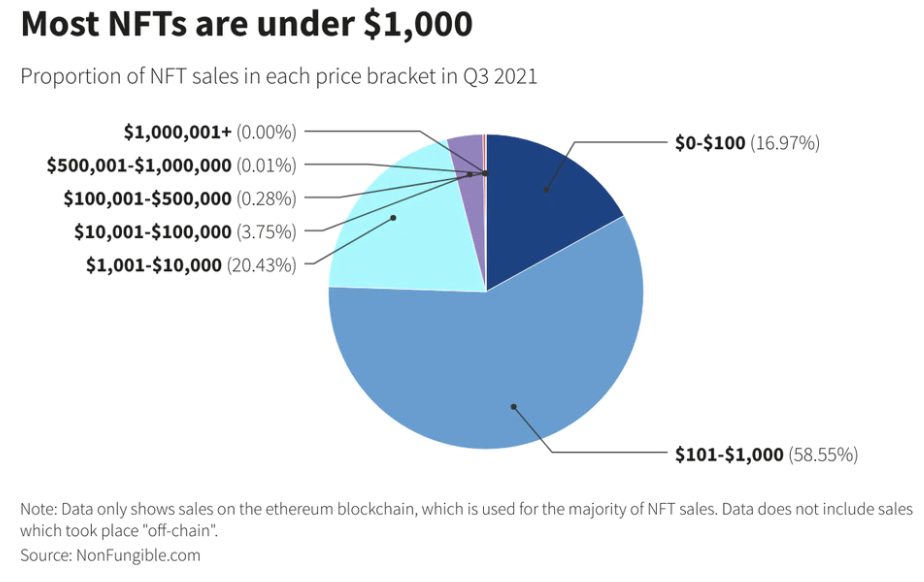 Conclusion
The rise of NFTs seems huge, but there are a few million active wallets at best. This is a similar situation to the crypto boom in 2017. Now, there are more than 100 million people trading or investing in cryptocurrencies. The number of NFT users is still relatively small compared to the one of crypto, so there is still a huge potential for growth.
Sentiment: positive
sources: reuters, coingape, non-fungible
Rene Remsik